Helsinki Summit: Trump, Putin hold first one-on-one talks
In a historic first, US President Donald Trump held one-on-one talks with Russian President Vladimir Putin on July 16 in Helsinki, Finland. The historic summit opened with Donald Trump promising an extraordinary relationship.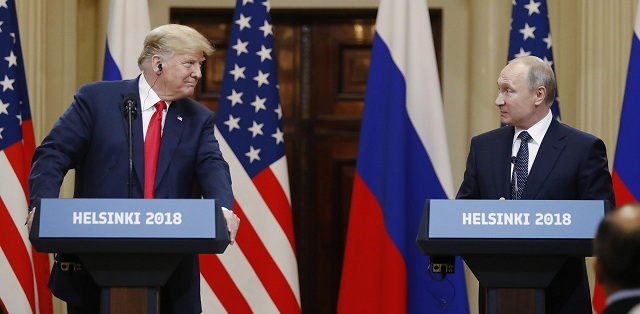 Helsinki Summit: Trump, Putin hold first one-on-one talks
US President Donald Trump held first-ever one-to-one talks with Russian President Vladimir Putin on July 16, 2018 in Helsinki, Finland.

The historic summit opened with Donald Trump promising an 'extraordinary relationship' and Vladimir Putin saying it was high time to thrash out disputes around the world.

Trump congratulated Putin on Russia's hosting of the 2018 FIFA World Cup tournament, which concluded on July 15 in Moscow with Putin in attendance.

What they said!

Donald Trump: "The summit would cover everything from trade to military to missiles to nuclear disarmament to China. I think we have great opportunities together as two countries. Frankly, we have not been getting along for the last number of years. I have not been here too long (as president), it's getting close to two years, but we'll be having an extraordinary relationship, I hope so."

Putin: "The time has come to talk in a substantive way about our relations and problem areas of the world."

After almost 2 hour long talks and a working lunch, the two of the world's most powerful leaders held a press conference detailing the topics that were touched upon during the discussions.
Press Conference: Key Highlights

US-Russia Relations

Russian President Vladimir Putin stated that the Cold War was a thing of the past and today both Russia and the United States face a whole new set of challenges.

Putin said in the negotiations the two leaders outlined first steps for improving this relationship and to restore an acceptable level of trust.

US President Donald Trump, on the other hand, said the US relationship with Russia had "never been worse" than it was "until four hours ago," just before the two spoke

Trump stated that to address world problems the two countries were going to have to work together. Trump also held both the countries responsible for the damaged relationship between the US and Russia and added that the United States had been foolish and was to blame.

Syria

Putin stated that the major concern in Syria was the huge amount of refugees in Lebanon, Jordan and Turkey.

Then he spoke about how to bring Syrian refugees back to their home and how the US and Russia have communicated about their intervention there.

Trump said that the US and Russia could save hundreds of thousands of lives in Syria.

North Korea

Putin said that the two nations are glad that issues with North Korea are starting to resolve.

Ukraine

Putin stated that the United States could be more decisive in nudging Ukrainian leadership.

Business Relations

The two leaders agreed to put together a high-level working group of Russian and American businessmen.
Russian interference in 2016 US elections

Trump and Putin agreed there was "no collusion" between his campaign and Russia in the 2016 election.

Putin stated that Trump had raised the issue of Russian meddling in the US election, to which he said that Russia never interfered and doesn't plan to interfere in US domestic politics, including elections.

He said if any such material or such things arise, then the two leaders are ready to discuss them together.

However, Putin did say that he supported Trump in the election. "I wanted Trump to win because he spoke about normalizing Russian relations," Putin said.

On the other hand, Trump stated that the two leaders had spent a great deal of time talking about it and he thought that it was best done in person. He also went on to repeatedly defend his win in the 2016 election.

Nuclear Disarmament

On nuclear proliferation, Trump said that he updated Putin on his meeting with North Korean dictator Kim Jong Un on the denuclearisation of the Korean Peninsula.

Trump stated that nuclear proliferation, in terms of stopping was the most important thing for them to work on together.

Putin also acknowledged that as two of the world's leading nuclear powers Russia and the US bear a special responsibility for maintaining international security.

Russian Annexation of Crimea in Ukraine

Putin said that Trump continued to maintain that it was illegal on the part of Russia to annex the region, however, he added that Russia's viewpoint was different.

Putin did say he supported Trump in the election. "I wanted Trump to win because he spoke about normalizing Russian relations," Putin said.

Natural Gas Pipeline

Trump said that the two nations would be competing with regards to a natural gas pipeline. He said he was not sure necessarily it's in the best interest of Germany to pursue a deal with Russia.

Putin meanwhile suggested as two major oil and gas power producers, Russia and the US could work together on the regulation of international markets.
Trump disappointing at the summit!
• Trump's performance at the press conference was called as one of the most "disgraceful performances by an American president" ever.
• Trump was criticised for neglecting to hold Putin accountable for Russia's role in interfering in the 2016 presidential election and saving most of his criticism for America itself.
• Despite being offered multiple chances to denounce Russia's actions, Trump instead placed blame on the FBI and said that he had 'confidence' in both parties -the intelligence community and Russia.
• He, in fact, went ahead to say that Putin's denial of having been involved in the election was "extremely strong and powerful."
• He also hailed the summit as the first step towards a brighter future and one towards a strong dialogue and a lot of thought.
• He said that he expects the US and Russia to participate in more dialogue sometime in the future.
Summit ends with no clear resolution

The US President's summit with Putin and their subsequent joint press conference came to a close without any real resolution to the ongoing tensions with Russia.
Helsinki 'not neutral ground'!
• Despite the city's history of hosting key Cold War summits, several protestors came out in Helsinki on July 15 to attack both Donald Trump and Vladimir Putin before the controversial summit between the two leaders in the Finnish capital.
• The country's largest newspaper had put up adverts in English and Russian language, which read "Mr President, welcome to the land of free press."
• Helsinki often served as a crucial neutral ground for the US and the Soviet Union during the cold war.
• In the post-Cold War era, after the fall of the Soviet Union, Finland established itself as a part of the west with the EU membership and an enhanced partnership with NATO.
• Russia, however, still maintains some strong ties with the nation.