IAF and Royal Air Force of Oman begins Joint Exercise 'Ex-Eastern Bridge-V'
Indian Air Force and Royal Air Force of Oman will also promote the exchange of experience during Ex-Eastern Bridge-V.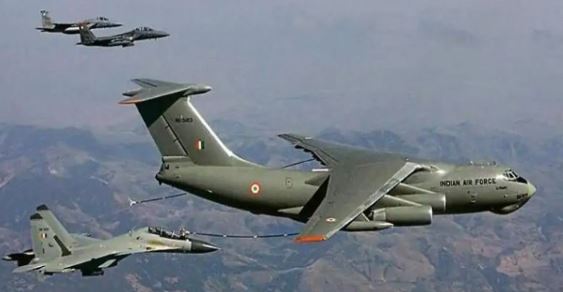 Representative Image
Indian Air Force (IAF) and Royal Air Force of Oman (RAFO) started participating in a bilateral joint exercise named Ex-Eastern Bridge-V. The joint exercise will be held at Air Force Base Masirah in Oman. Earlier in 2017, the exercise Ex-Eastern Bridge-IV was held at Jamnagar, India.
Indian Air Force and Royal Air Force of Oman will also promote the exchange of experience, operational knowledge and professional interaction during the participation in a joint exercise. The Ex-Eastern Bridge-V joint exercise will conclude on October 26, 2019.
Key Highlights
• It is for the first time when MiG-29 fighter aircrafts are participating in an international military exercise outside India.
• The Indian Air Force's contingent comprises of C-17 aircraft, MiG-29 fighter jets, and other fighting art latest equipment.
• On the other hand, Royal Air Force of Oman contingent comprises of F-16 next-generation fighter jet, Hawk fighter aircraft and Oman's Eurofighter Typhoon.
• As per the reports, this joint exercise can improve inter-operability during mutual operations between both Air Forces and it will provide an opportunity to learn from each other's best practices.
Also Read | Exercise Yudh-Abhyas 2019 begins between India and USA
India-Oman bilateral relations
India and Oman are enjoying deep-rooted bilateral and friendly relations inspired by historical links spanning over five thousand years. India-Oman established diplomatic relations in 1955 with share shared interests, respect of each other and mutual understanding.
India and Oman cover cooperation in the several areas like defence, outer space, tourism, education, criminal matters, cultural cooperation, visa exemption, joint investment front among other fields. In May 2016, then Indian Defence Minister visited Oman and Oman's Defence Affairs Minister visited New Delhi on October 2018. Both the countries organise Joint Military Cooperation Committee Meeting every year to understand challenges and improvements in the relations and requirements.
India and Oman also share strong economic ties as their bilateral trade increased by 67% to reach USD 6.7 billion in 2017-18 which was earlier USD 4 billion in 2016-17. India exports some items to Oman like mineral oils, mineral fuels, boilers, heavy machinery, coffee, spices and meat products among several other items. However, India imports from Oman include organic chemicals, stones, lime and cement, sulphur, aluminium and fertilizers.
Also Read | UAE announces world's first graduate-level research-based AI University
Also Read | Livestock population in India up by 4.6% in seven years