India condemns Turkey's military offensive in Syria
India has strongly condemned Turkey's unilateral military offensive in north-east Syria, asking for it to exercise restraint.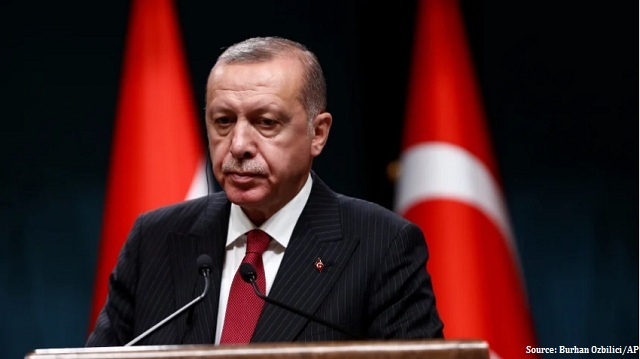 Turkish President, Recep Tayyip Erdogan
The Indian government has officially condemned Turkey's unilateral military offensive in north-east Syria. The Union Ministry of External Affairs issued a statement expressing its concern over Turkey's actions on October 10, 2019.
The External Affairs Ministry said its statement that turkey's actions can undermine stability in the region and the fight against terrorism. "Its action also has the potential for causing humanitarian and civilian distress," the MEA said.
Further, India called upon Turkey to exercise restraint and respect the sovereignty and territorial integrity of Syria and urged the nation for peaceful settlement of all issues through dialogue and discussion.
Also read: Modi-Trump address at Howdy Modi event: Top quotes
India's full statement on Turkey's offensive in Syria:
India's strong statement comes after Turkey launched a military operation in north-east Syria against Kurdish fighters. According to media reports, at least 15 people died in the airstrikes and artillery fire, out of which at least eight were civilians.
The attack was reportedly carried out across Turkey's long border with Kurdish-controlled regions of Syria. This is Turkey's third such attack since 2016. It comes after Turkish President Recep Tayyip Erdogan announced the launch of 'Operation Peace Spring' against Syria Defence Forces to defuse terror threats against Turkey and establish a safe zone.
India was however, not the only nation to hit out at Turkey for its military move against Syria. US President Donald Trump threatened to destroy the entire economy of Turkey if it does anything off limits.
Donald Trump's full tweet:
India's strong statement: Why is it significant?
India's strong call to Turkey to exercise restraint and respect the sovereignty of Syria comes shortly after Turkey's President Recep Tayyip Erdogan took a pro-Pakistan stance during his speech at the UN General Assembly on the Kashmir issue earlier in September 2019.
Turkey and Malaysia both had sided with Pakistan's stance on Kashmir. India now seems to be departing from its earlier softer measures to express its displeasure and is looking for more direct ways to retaliate against nations that seem 'hostile' to India's internal affairs.
According to reports, India plans to end Turkey's participation in a project for the Indian Navy.
Also read: Jammu and Kashmir opens for tourists after two-month travel ban
Also read: World Mental Health Day 2019: Everything you need to know!
Download our Current Affairs & GK app for Competitive exam preparation. Click here for latest Current Affairs: Android|IOS
Take Weekly Tests on app for exam prep and compete with others. Download Current Affairs and GK app
एग्जाम की तैयारी के लिए ऐप पर वीकली टेस्ट लें और दूसरों के साथ प्रतिस्पर्धा करें। डाउनलोड करें करेंट अफेयर्स ऐप
Android
IOS