India-Russia missile deal: What is CAATSA law and its Implications?
Last year, India and Russia had signed an S-400 missile defence system during the visit of Russian President Vladimir Putin to India.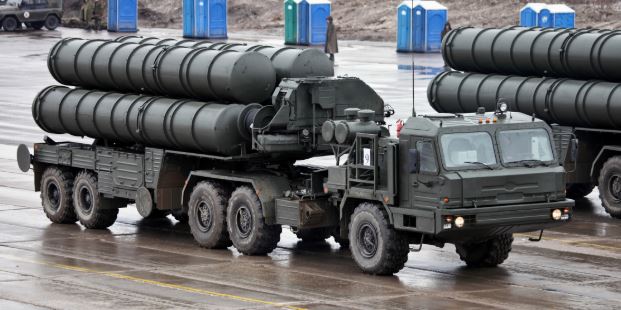 S-400 missile system
India-Russia missile deal: India's External Affairs Minister S Jaishankar is on an official tour to the United States where he firmly defended India's right to buy S-400 missile weapon system from Russia despite the threat of sanctions from the US. He said "We would not like any state to tell us what to buy or not to buy from Russia any more than we would like any state to tell us to buy or not buy from America. That freedom of choice is ours and we think it's in everybody's interest to recognize that" ahead of a meeting with US Secretary of State Mike Pompeo.
In 2017, the United States of America issued sanctions against countries over big arms purchase from Russia. It was imposed because the US government believes that Russia has some military involvement in Syria and Ukraine disputes. India-Russia's S-400 missile system deal was signed during the visit of Russian President Vladimir Putin to India in 2018.
The experts of US region said that the S-400 missile deal can attract sanctions under the Countering America's Adversaries Through Sanctions Act (CAATSA) law that restricts defence purchases from Russia, Iran and North Korea.
What is S-400 deal?
India signed an agreement with Russia last year to purchase the S-400 missile defence system. The US has expressed its displeasure and threatened to ban India through CAATSA. India will receive the first shipment of the S-400 missile defence system from Russia in 2021. India signed USD 5.43 billion agreement with Russia to procure five S-400 systems during the 19th Indo-Russian Annual Bilateral Conference in New Delhi on October 2018.
What is CAATSA?
The US Congress passed Countering America's Adversaries through Sanctions Act (CAATSA) in 2017. It was signed by current US President Donald Trump on 02 August 2017 with an aim to counter the aggressions by Russia, Iran and North Korea. The US President has delegated his powers through CAATSA to ban 39 Russian entities, dealings with which could make third parties liable to sanctions. Its major objective is to discourage exports of Russian defence equipment.
Implications on India's weapon purchase
• If CAATSA comes into the effect, it will directly affect India's arms procurement from Russia.
• India has already signed a deal for S-400 air defence system. Some other projects like 1135.6 frigates and Ka226T helicopters will also come under the US scanner.
• CAATSA can affect India-Russia joint defence ventures. Top India-Russia joint ventures are - Brahmos Aerospace, Indo Russian Aviation Ltd and Multi-Role Transport Aircraft.
• Indian manufacturing entities generally import spare parts from various Russian companies for defence equipment.
• Raw materials, components, spare parts and research products will also affect with CAATSA.
Sanctions can be imposed
• The president of the USA can impose five or more sanctions as described in section 235 of CAATSA.
• CAATSA can prohibit loans to the sanctioned persons/organisation.
• It can impose a prohibition on procurement by the US Government to procure goods or services from the sanctioned person.
• As per section 235 of CAATSA denial of visas to persons closely associated with the sanctioned person can be imposed.
• Prohibition of export-import bank assistance for exports can be issued.
Download our Current Affairs & GK app for Competitive exam preparation. Click here for latest Current Affairs: Android|IOS
Take Weekly Tests on app for exam prep and compete with others. Download Current Affairs and GK app
एग्जाम की तैयारी के लिए ऐप पर वीकली टेस्ट लें और दूसरों के साथ प्रतिस्पर्धा करें। डाउनलोड करें करेंट अफेयर्स ऐप
Android
IOS