UNCCD COP14: What is it and why is it relevant?
UNCCD COP14 is aimed at adding to the global discourse on environmental issues, especially those relating to desertification and land management.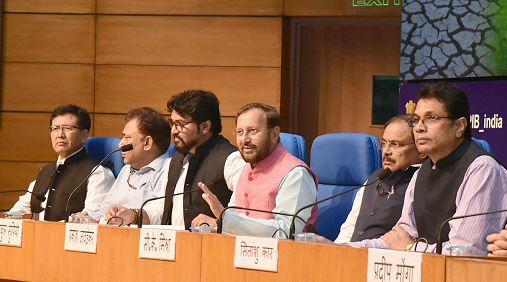 India to host 14th Session of UNCCD COP
Prime Minister Narendra Modi addressed a high-level segment meeting at the gathering at the Conference of Parties (COP14) to United Nations Convention to Combat Desertification (UNCCD). He said that climate change was leading to land degradation of various kinds.
It was discussed during the bilateral meeting between India and China that bilateral cooperation in the area of combating desertification within the framework of UNCCD will be fortified. National Forestry and Grassland Administration officer of China, Zhang Jianlong and Ibrahim Thiaw, Executive Secretary UNCCD were also present during the discussion.
Desertification: Degradation of land in arid, semi-arid and dry sub-humid areas (Not the natural expansion of existing deserts)
Land Degradation: Deterioration in the quality of land (its topsoil caused by excessive or inappropriate exploitation)
Causes of desertification are - overexploitation, overgrazing, deforestation and poor irrigation practices. Some of the solutions are – prevention of soil erosion, water resource management and sustainable practices. About 40,000 Lakh Hectares (1/3rd of total geographical area) of land is undergoing degradation. And in India, it is about 960 Lakh Hectares (29.32% of the total geographic area) land is facing degradation.
India will resolve to do three things
1. Restore 50 lakh hectares of degraded land in 10 years.
2. Provisions of the New Delhi declaration to be adopted at the end of the conference.
3. Center of Excellence to be established at Forest Research Institute.
UNCCD 2018-2030 Strategic Framework

• The Parties adopted a new strategic framework for implementing the Convention for the period of 2018-2030. It was adopted during 13th Meeting of the Conference of the Parties (COP13) held in China.
• Parties agreed to establish national policies, measures and governance for drought preparedness and management, including drought contingency plans, according to the mandate of the Convention.
• Through this Strategy and in accordance with their obligations as stated in the Convention, Parties aim to Increase mobilization of financial and non-financial resources for the implementation of the Convention from international and domestic, public and private sources as well as from local communities, including non-traditional funding sources, and climate finance.
• According to the framework, parties aim to Establish policies and enabling environments for promoting and implementing solutions to combat desertification/land degradation and mitigate the effects of drought, including prevention, relief and recovery.
About Conference of Parties (COP)
• It is the supreme decision-making body of UNCCD and 197 country parties (including EU) are constituent members of this body.
• Main functions of COP are to review reports submitted by the Parties and make recommendations, adopt new annexes to the Convention.
• It guides the convention about global circumstances and changes in national needs.
• COP meeting held biennially since 2001. COP13 was held at the Ordos, China in September 2017.
• India will take over COP presidency from China for the next two years (2019-2021).
About LOGO of UNCCD COP14
• COP14 logo has been given by India and it signifies a successful use of Government's IT outreach through crowd sourcing.
• Sapling rising from bottom to top shows progress while the leaves on the top represent life itself, while Sun's rays depict hope.
• Land and water in the logo shows importance as being the source of life.
• The hand represents the importance of human involvement for the betterment of life.
About UNCCD
• United Nations Convention to Combat Desertification (UNCCD) was established in 1994.
• It is the sole legally binding international agreement linking environment and development to sustainable land management.
• UNCCD addresses semi-arid, arid and dry sub-humid areas, known as the dry-lands, where some of the most vulnerable ecosystems and peoples can be found.
• All parties (197) of convention work together to improve the living conditions for people in dry-lands, to maintain and restore land and soil productivity, and to mitigate the effects of drought.
• The Convention is specifically committed to a bottom-up approach, encouraging the participation of local people in combating desertification and land degradation.
Previous Summits
The Conference of the Parties (COP) started its biennial sessions from 2001 earlier it was an annual summit. The first session of COP was held at Rome (Italy) in 1997 while the last session was held at Ordos (China) in 2017.
List of All COP Sessions
COP 1: Rome (Italy), 29 September to 10 October 1997.
COP 2: Dakar (Senegal), 30 November to 11 December 1998.
COP 3: Recife (Brazil), 15 to 26 November 1999.
COP 4: Bonn (Germany), 11 to 22 December 2000.
COP 5: Geneva (Switzerland), 1 to 12 October 2001.
COP 6: Havana (Cuba), 25 August to 5 September 2003.
COP 7: Nairobi (Kenya), 17 to 28 October 2005.
COP 8: Madrid (Spain), 3 to 14 September 2007.
COP 9: Buenos Aires (Argentine), 21 September to 2 October 2009.
COP 10: Changwon (South Korea), 10 to 20 October 2011.
COP 11: Windhoek (Namibia), 16 to 27 September 2013.
COP 12: Ankara (Turkey), 12 to 23 October 2015.
COP 13: Ordos City (China), 6 to 16 September 2017.
COP 14: New Delhi (India), 2 to 13 September 2019
Download our Current Affairs & GK app for Competitive exam preparation. Click here for latest Current Affairs: Android|IOS