India vs Bangladesh: World Cup head-to-head, World Cup 2015 match highlights, 2011 World Cup, 2007 shocker
India vs Bangladesh World cup 2015 full match highlights: Defending Champions India beat Bangladesh by 109 runs in the quarter finals of 2015 World Cup.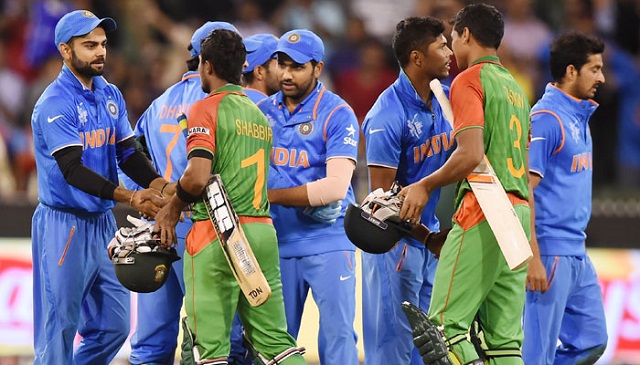 India vs Bangladesh World Cup 2015 match highlights: India won by 109 runs 2011 World Cup, 2007 s
India vs Bangladesh in Birmingham: World Cup head-to-head| India is all set to take on Bangladesh in Match 40 of ICC Cricket World Cup 2019 from 3pm today at Edgbaston, Birmingham. The world cup encounter is crucial for India but more crucial for Bangladesh. India needs one more win to qualify into the semi-finals, while Bangladesh needs to win its remaining two matches, against India and Pakistan.
India vs Bangladesh World Cup head-to-head
Total matches played: 3
India wins: 2
Bangladesh wins: 1
2007: Bangladesh beat India in the group stage
India vs Bangladesh Match Preview:
India after its loss to England will be more cautious, as it needs to win one more match to enter the world cup semi-finals. Bangladesh, on the other hand, cannot afford to lose the match against India. The form of the Indian middle continues to be a concerning factor. India has relied a lot on its top order in this world cup, however its middle order needs to perform for India to go ahead in the world cup tournament and maintain itself as one of top sides. India was the only unbeaten team, till it was defeated by England by 31 runs on June 30. The result of India vs Bangladesh match will have a huge impact on the other two semi-final contenders, Pakistan and England.
Looking at the world cup head-to-head of India and Bangladesh, India has had an upper hand over Bangladesh, as they have won two matches from their three world cup encounters, with the exception of the 2007 World Cup, when Bangladesh gave a India a shocking exit from the world cup tournament.
2015 World Cup: India vs Bangladesh World cup 2015 full match highlights

India, who were the defending champions, beat Bangladesh by 109 runs in the quarter finals of the 2015 World Cup to reach the semi-finals. Bangladesh had reached the quarter finals by defeating England, but they could not get past India, who were unbeaten till then. India's Rohit Sharma made a century in that match, backed by splendid perfomances by bowlers, especially Mohammed Shami and Umesh Yadav.
2011 World Cup India vs Bangladesh
India defeated Bangladesh by 87 runs in their first match of World Cup 2011, which India then went on to win. Virender Sehwag and Virat Kohli had made centuries in that match while Munaf Patel had taken his first-four wicket haul. India had posted a massiv total of 370/4 in 50 overs in that match.
2007 World Cup: Bangladesh gives India shocking early exit
The 2007 Cricket World Cup was not less than a nightmare for India, as after reaching the finals in the 2003 World Cup, India had to exit early in the group stage itself after its loss to Bangladesh. Bangladesh by led Habibul Bashar had stunned India with a 5 wicket victory over them in the world cup knockout stage.