Indian Navy launches 'Imphal'; Malaysia to revive major China-linked project- Current Affairs
The first ship of Project 15B, a guided missile destroyer christened 'Visakhapatnam', was launched on April 20, 2015.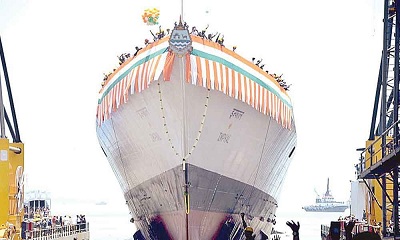 Indian Navy launches 'Imphal'
Story 1-Indian Navy launches Guided missile destroyer 'Imphal'

The Indian Navy on April 20, 2019 launched guided missile destroyer 'Imphal' at Mazagon Dock Shipbuilders in Mumbai.

Imphal is the third ship to be launched under Project 15B. The ship successfully slipped into the waters at 12:20 pm.

Key Highlights

• The Indian Navy has achieved enhanced stealth features in the new destroyer through the shaping of the hull and use of radar transparent deck fittings, which make the ships difficult to detect.

• The ship, comprising state-of-the-art equipments, is expected to contribute to achieving the Indian Navy's dream of transforming from a "buyers" to a "builders" Navy.

• Speaking on the occasion, Navy Chief Admiral Sunil Lanba said, he is satisfied with the force's fleet and more aircraft and submarines will be inducted in the days to come.

• He said, over the years, Navy has become a builder from a buyer and was slated to excel in coming years.

Project 15B

The warships built under the project are propelled by four gas turbines to achieve speed in excess of 30 knots.

They have a length of 163 metres and 17.4 metres at the beam and a displacement of 7.300 tonnes.

The ships are built to carry and operate two multiple role helicopters.

The first ship of Project 15B, a guided missile destroyer christened 'Visakhapatnam', was launched on April 20, 2015.

Story 2- Malaysia to revive second major China-linked project

Malaysia has resumed a China-backed rail link project, after the Chinese contractor agreed to cut the construction cost by one third to 10.6 billion US dollars.

The Malaysian government said it will also take up a multibillion-dollar property and transportation project in Kuala Lumpur involving a Chinese state company, calling it a contribution to China's global "Belt and Road" infrastructure initiative.

The two projects are expected to boost Malaysia's ties with China and add economic value.

Key Highlights

• The multibillion-dollar Bandar Malaysia project is expected to cost around 140 billion ringgit ($33.8 billion).

• The project, which is 40 percent owned by the government, will be developed with the same consortium partners, Malaysian developer Iskandar Waterfront Holdings and China Railway Engineering Corp.

• The 500-acre (202-hectare) project will boost urban development and serve as a hub to woo global finance, technology and entrepreneurial firms.

• It was initiated by the indebted 1MDB state investment fund in 2011 but it later sold a 60 percent stake to the consortium.

• The government took over 1MDB's stake due to its debt problems, but the project was terminated by the previous government in May 2017 due to a payment dispute with the consortium.

• The 1MDB scandal led to the election ouster last May of former Prime Minister Najib Razak, who is currently on trial for alleged corruption.
• The revived project will now include construction of 10,000 affordable homes and a people's park and will prioritize the use of local construction material.
China's Belt and Road Initiative
Chinese President Xi Jinping has made the Belt and Road initiative a signature policy.
The estimated $1 trillion-plus plan aims to weave a network of ports, bridges and power plants linking China with Africa, Europe and beyond.
These two major projects will also be a significant contribution to the Belt and Road Initiative, which Malaysia expects to be able to tap on and exploit its multiplier effects along the value chain.
The rail project was originally designed to house the main hub for a high-speed rail line connecting Singapore to Kuala Lumpur that would cut travel time to 90 minutes, but Mahathir's government suspended the rail project on the grounds that it was too costly.