Yoga Day 2019: PM Modi Yoga address-10 Key Points
Prime Minister Narendra Modi performed Yoga asana at Prabhat Tara Ground in Ranchi along with 40,000 participants. PM Modi said in a tweet that Yoga provides a perfect blend of knowledge, work and devotion.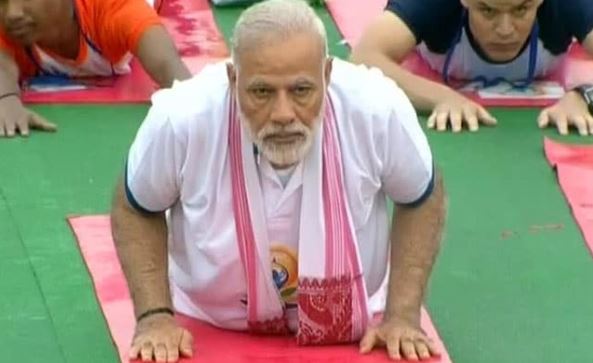 PM Modi at Ranchi
International Yoga Day 2019: Prime Minister Narendra Modi led fifth International Yoga Day 2019 at Prabhat Tara Ground, Ranchi. He led to around 40,000 people in Ranchi to mark International yoga Day. Union Ministers, BJP leaders and top government functionaries participated in similar events across the country.
• After reaching at the ground he addressed the Yoga enthusiasts; he said that I thank everyone here for coming on Yoga Day. Yoga has always been part of our culture.
• Talking about its benefits PM Modi said, medicines are not only solution to illness, we all should come together to spread the benefits of Yoga.
• He added in his motivational speech that Yoga is discipline that must be followed lifelong and Yoga is vital for health of poor people.
• PM Modi said that It is the poor who suffer the most due to illness. Yoga will help poor take care of their health. Yoga can help prevent heart diseases.
• "Today, we can say that awareness of Yoga in India has reached every corner of the world" said PM Modi at Ranchi during International Yoga Day.
• PM Modi urged each and everyone to perform Yoga everyday for a sound body and sound mind. He concluded event with greeting people.
• Modi shared his views with gathering, he said that we should make efforts to take yoga from cities to villages, tribal areas. Yoga is above region, above faith, above everything.
• He informed people that for yoga to become popular, infrastructure for it must be strengthened and said the government was working towards it. "Peace and harmony are related to Yoga. People across the world must practice it." Modi added.
• President Ram Nath Kovind celebrated International Yoga Day 2019 at Rashtrapati Bhavan. He said on this occasion, "I'm happy that like previous years, we are celebrating Yoga Day this year too. It's not just an event, but a way to make yoga an integral part of our life," the President said." He sent this message in a tweet.
• Yoga was performed on-board INS Viraat (decommissioned) at western Naval Dockyard in Mumbai.
PM Narendra Modi tweeted two yoga videos for yoga lovers recently that show detailed procedure of various asanas. PM Modi's videos will be helping in develop spiritual wellness also. The latest videos featuring PM Modi's animated version have been shared a day before the International Yoga Day is celebrated across the nation.
First Video
First video of PM Modi explaining how meditation is important and integral part of Yoga. PM Modi tweeted, "Meditation is the most important and integral part of Yoga". The step-by-step video on yoga meditation poses elaborates why meditation is important and how proper breathing techniques and yoga asanas help in improving concentration to meditate for longer duration.
Second Video
In the second video, benefits of various asanas have been elaborated. In this video Nadi Shodhana, or "alternate nostril breathing" have been explained. Also known as Anuloma-Viloma Pranayam, the exercise is beneficial for the heart patients. "Nadi Shodhana is extremely beneficial. Watch its techniques and benefits," PM Modi tweeted with video.
Click here to see PM Modi's animated Yoga video
PM Modi is reaching at Rachi to host main event of International Yoga Day 2019. Preparations are in full swing in Ranchi, Jharkhand as Prime Minister Narendra Modi will perform Yoga along with 18,000 participants including Chief Minister Raghubar Das, Ministers and senior officials of the state on June 21, 2019. World Yoga Day event will be observed at Prabhat Tara ground in the morning.
A Special Protection Group (SPG) team has been deployed at this place to look into the security issues. About 4,000 security personnel of the state and para military forces will be deployed at Prabhat tara ground. This would be fifth International Yoga Day since its inception.
Theme For International Yoga Day 2019
The theme for International Yoga Day 2019 is Climate Action and it will be celebrated at the United Nations on Thursday (June 20) with "Yoga with Gurus," followed by a panel discussion on 21 June.
UN says that Yoga is an ancient physical, mental and spiritual practice that originated in India. The word 'yoga' derives from Sanskrit and means to join or to unite, symbolizing the union of body and consciousness.
History of International Yoga Day
The United Nations General Assembly on December 11, 2014, announced that June 21 will be seen as International Yoga Day or World Yoga Day. Since 2015, International Yoga Day is been celebrated worldwide. Prime Minister Narendra Modi in September of 2014 addressed the UN assembly and discussed the essence of Yoga. Previous themes of International Yoga Day:
2015: Yoga for Harmony and Peace
2016: Connect the youth
2017: Yoga for Health
2018: Yoga for Peace
2019: Yoga for Heart
Significance of International Yoga Day
Yoga is ancient Indian practice and International Yoga Day provides a holistic approach to health and well-being. Yoga is a blend of physical, mental, as well as spiritual practices that are said to have originated 5,000 years ago. The practice of yoga comprises of breath control, meditation and adoption of particular body postures.
Also Read: Shikhar Dhawan ruled out of World Cup 2019, Rishabh Pant named replacement