Puri Jagannath Rath Yatra begins: 7 key attractions that you must know
Jagannath Rath Yatra begins with various rituals. 'Pahandi' ritual of Lord of the universe, Mahaprabhu Jagannath has also started at Puri.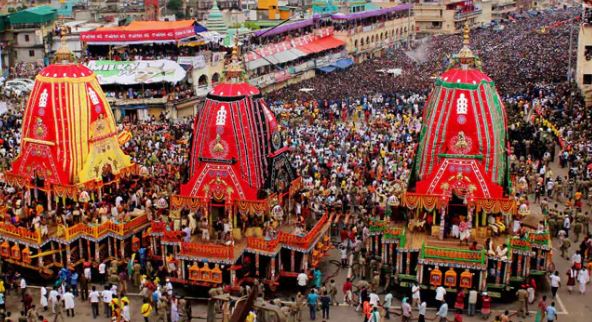 File Photo: Puri Rath Yatra
Puri Jagannath Rath Yatra dedicated to Lord Jagannath, brother Balabhadra and sister Subhadra begins today. Jagannath Puri Rath Yatra started with early rituals in the morning. The Mangala Alati was conducted at 6 AM, Mailama at 6:10 AM, Tadapalagi and Rosa Homa at 6:30 AM today. The pulling of chariots will begin at 4 PM after completion of other rituals including Chera Panhara.
Prime Minister Narendra Modi wished people of the country on the occasion of Puri Rath Yatra. He said in his tweet, "Best wishes to everyone on the special occasion of the Rath Yatra. We pray to Lord Jagannath and seek his blessings for the good health, happiness and prosperity of everyone. Jai Jagannath."
President Ram Nath Kovind said in his tweet, "Greetings and good wishes to fellow citizens on the auspicious occasion of Rath Yatra. May the blessings of Lord Jagannath bring peace, happiness and prosperity to everyone's lives"
Jagannath Puri Ratha Yatra is one of the most awaited festivals in India and Odisha. Jagannath Rath Yatra is one of the grandest festivals and believed to be the oldest chariot festival of the world. This festival is this much old that it is mentioned in Brahama Purana, Padma Purana and Skanda Purana, however, this year Rath Yatra will be celebrated on July 4.
Three decorated chariots of Lord Jagannath, along with his brother Lord Balabhadra and their sister Goddess Subhadra are pulled through the streets of Puri. The festival commemorates the siblings annual visit to their aunt's temple Gundicha Temple.
Rath Yatra procession
• Wooden idols of three deities are prepared every year and taken from Jagannath Temple to the Gundicha Temple. Before commencement of Yatra, idols are bathed with 109 buckets of water, which is Snana Pornima.
• After that idols are placed in isolation till the day of procession, as it is believed that they are ill. This event is called Ansara.
• On the day of the procession, the holy ritual of Chhera Pahara is performed by the royal successor of Orissa. At this time, hordes of locals and devotees gather around the temple area.
• During Chhera Pahara, the deities are brought from the temple by the King and are placed on the chariot.
• Before keeping idols on Rath, king himself sweeps the chariot with a broom that has a gold handle. He also decorates the chariot with flowers with his own hands.
• The ground on which the chariot will move is also cleaned by him, after which sandalwood is sprinkled on it.
• Then devotees started pulling the Rath. The three deities remain at the Gundicha Temple, their aunt's place for a span of 9 days. Later, they are back to their home. This return journey is called the 'Bahuda Yatra'.
The Chariots

The three chariots of Balabhadra, Subhadra and Jagannatha are newly constructed every year with wood of specified trees like phassi, dhausa, etc. They are customarily brought from the ex-princely state of Dasapalla by a specialist team of carpenters who have hereditary rights and privileges for the same. The logs are traditionally set afloat as rafts in the river Mahanadi. These are collected near Puri and then transported by road.
The main chariot of Lord Jagannath is of 45 feet is decorated beautifully and is called Nandighosa. The three chariots look like temples and are decorated with idols, diyas and garlands. The processions begin with drums, trumpets and devotional songs. There are traditional dances and performances that make this procession a very vibrant affair. Getting a chance to pull the chariots is considered to be a good omen and is considered to bring a lot of luck and prosperity to people's lives.
Also Read | Amarnath Yatra 2019: More than 11K pilgrims visited shrine so far
Take Weekly Tests on app for exam prep and compete with others. Download Current Affairs and GK app
एग्जाम की तैयारी के लिए ऐप पर वीकली टेस्ट लें और दूसरों के साथ प्रतिस्पर्धा करें। डाउनलोड करें करेंट अफेयर्स ऐप
Android
IOS