Jair Bolsonaro, Brazil's President, to be chief guest at Republic Day 2020
Prime Minister Narendra Modi invited Brazil's President Jair Bolsonaro to the Republic Day, 2020.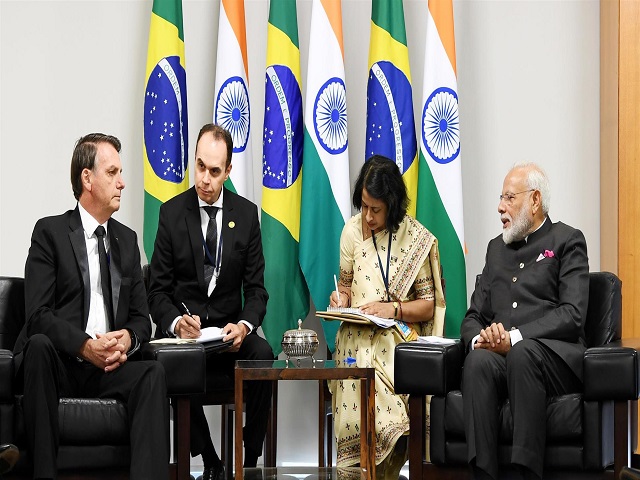 Image: PIB
Brazilian President Jair Bolsonaro accepted Prime Minister Narendra Modi's invitation to become the chief guest at India's Republic Day celebrations 2020. Modi has reached Brazil to attend the 11th BRICS Summit. Modi met with Bolsonaro on the sidelines of this summit.
BRICS is a group of five emerging economies in the world which includes Brazil, Russia, India, China and South Africa. This BRICS summit was focused on creating mechanisms for counter-terrorism cooperation and strengthens India's relations with the world's five major economies. The two leaders held meaningful talks to strengthen bilateral relations.
PM Modi's invitation to Bolsonaro
According to an official statement, Prime Minister Narendra Modi invited Bolsonaro to the Republic Day, 2020. The President of Brazil accepted this invitation with pleasure. This statement said that both leaders agreed on to broaden their strategic partnership further.
Potential Investment opportunities
PM Modi said that he looks forward to discussing business-related opportunities with Brazil. He also welcomed potential investment from Brazil during Bolsonaro's visit. The President of Brazil expressed his readiness and told Prime Minister Modi that a large business delegation would accompany him to India. Both the leaders also discussed cooperation in various areas including space and defence sectors. PM Modi also welcomed the President's decision to make visa-free travel arrangements for Indian citizens.
Also Read | Vashishtha Narayan Singh, a mathematician who challenged Einstein's theory, passes away
About Jair Bolsonaro
• Jair Messias Bolsonaro is a 38th president of Brazil. He joined the politics in 1988 as a city councillor in Rio De Janerio.
• Earlier, he was the member of Christian Democratic Party (CDP) but in 2018 he joined Social Liberal Party (PSL)
• In 2018, he was nominated as the presidential candidate of PSL. He became the front-runner after the arrest of Lula Da Silva in April 2018.
• Jair Bolsonaro took over the office as the President of Brazil on January 1, 2019
Also Read | Delhi Pollution: All Delhi schools to be shut till November 15
Also Read | Supreme Court refers Sabarimala review petitions to larger 7-judge bench