NCW allies with Netflix, Discussion on Women Empowerment through Cinema
The National Commission for Women along with the online streaming platform, Netflix jointly organizes a conference on the "Role of Media & Entertainment in Empowering Women". This was done on account of the upcoming International Women's Day celebrations. Read more on how cinema acts as a tool for the portrayal of women's empowerment.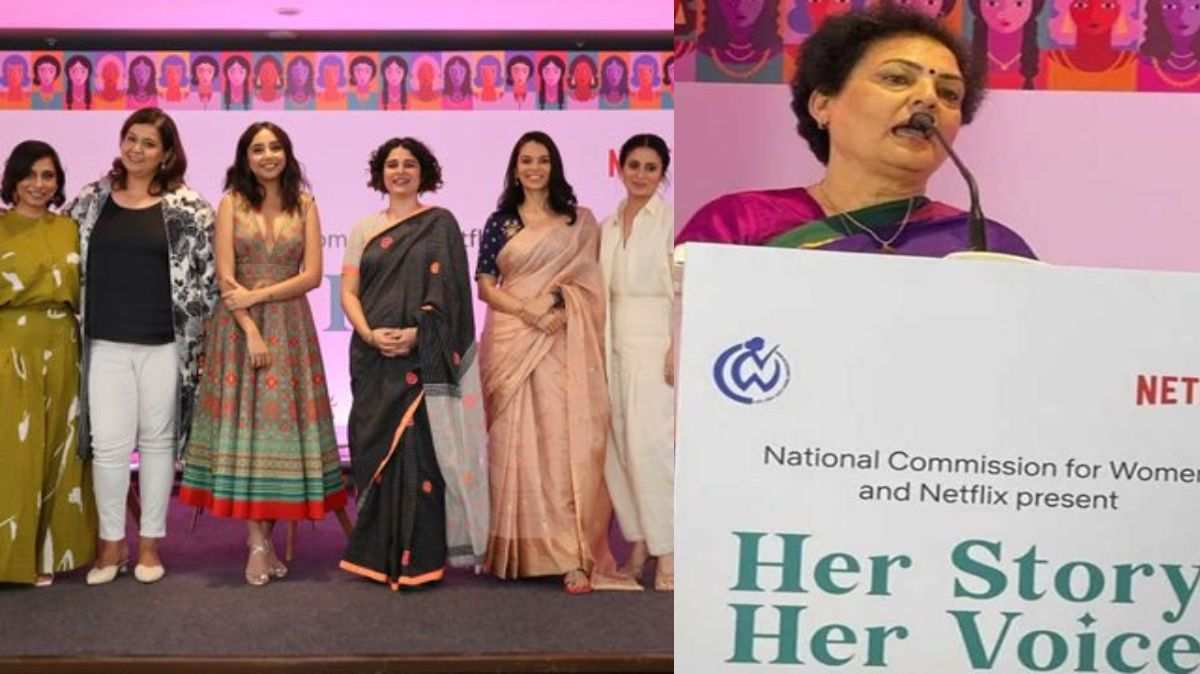 Netflix-NCW Collaboration for Women's Empowerment
The National Commission for Women (NCW) collaborates with one of the world's leading entertainment portals, Netflix on March 03, 2023. The two-panel discussions were organized where renowned figures from various industries, NGOs, female actors as well as directors gathered.
A noteworthy conference was held as a part of the International Women's Day celebrations. The main theme was the "Role of Media and Entertainment in Empowering Women". The interlocutors shared their distinctive perspectives on how storytelling in cinema shapes or portrays women's empowerment.
The Chairperson of the NCW organization of India, Ms Rekha Sharma insisted upon the fact that no inequality should ever happen to anyone.
Change in Cinema Depicting Women
Cinema or Film is often regarded as a stimulus for social change. As the Over-The-Top (OTT) platforms popularized, the number of women in the cinema industry significantly improved. Women now play variant roles such as that of an actress, producers, directors, photographers etc. In the panel discussion that was hosted by NCW, the Chairperson commenced with a special speech.
Glimpses of the special discussions hosted by @NCWIndia in collaboration with @NetflixIndia on the Role of Media and Entertainment in Empowering Women as part of the International Women's Day celebrations. #HerStoryHerVoice
@sharmarekha @PIBWCD pic.twitter.com/sf6PnUGQhF

— NCW (@NCWIndia) March 3, 2023
Ms Rekha Sharma emphasises the different levels of challenges faced by women in the industry and a ray of hope for inclusivity. She postulated that Cinema can act as a substantial tool to bring about change in women's lives and in characterising them in society. However, their full potential cannot be realised until they are given acceptance and their unheard voices and stories are listened to and encouraged.
Women's Involvement & Status in Film Industry
The Chairperson of NCW added in her discourse that women's involvement can be witnessed in all facets of the film industry and it helps encourage women everywhere around the globe. Roles of women in cinema and in other walks of life have greatly increased since earlier times. This further promotes a futuristic approach and fair-mindedness where everyone is welcomed.
Mission of Netrflix-NCW Collaboration
In today's technology-driven world, Netflix is considered one of the world's leading entertainment services having 231 million paid memberships in more than 190 countries. It offers a plethora of TV series, films and games available online in a variety of genres and languages.
Talking about the recent collaboration between NCW and Netflix, the women's commission aims to underline the awe-inspiring capabilities of women in films so that new future generations can get motivated and have a wide area of perception in terms of women.
Tanya Bami, Series Head at Netflix India spoke about the role of storytelling in driving female forward narratives by saying that "A story well told is a story that stays with you and at Netflix, we try to do that very deliberately." She also presented an example of the web series, Delhi Crime and Emily in Paris and discussed how female forward stories broadcasted on the screen gives power to the audience. She also mentioned that 51% of Netflix's workforce are women in today's date.
'Her Story, Her Voice: A Conversation with Women in Media & Entertainment'
The second-panel discussion titled 'Her Story, Her Voice: A Conversation with Women in Media & Entertainment' was carried forward by the film critic Sucharita Tyagi. The panel featured women actors along with directors who are known for their stellar work in the cinema industry. The list of panellists comprises Rasika Dugal (Indian Actress known for her role in Delhi Crime), Jasmeet K. Reen (Director of the movie 'Darlings'), and Mrunmayee Lagoo Waikul (Director of the Tapsee Pannu starrer movie 'Thappad') among several other famous personalities who attended the meet.
Female Actresses and Directors shared their experiences of working as strong, progressive and resilient women across their stories. The session gave thoughtful insights on supporting female representation in the entertainment industry. The talkers also shared the feedback they used to get from the masses on their connectivity with the characters and stories in films.
Functions of NCW
The National Commission for Women (NCW) has a pivotal role as it is focused on addressing a wide range of issues concerning women. It includes women's safety, economic empowerment of women and also creating awareness of violence against women among other such powerful campaigns.
The Commission was set up in 1992 and since then the organization has implemented several schemes to elevate the status of women in society. It further aims at including women as equal owners in contributing to India's growth and development and not leaving them as compliant beneficiaries. President Draupadi Murmu applauded the efforts put up by NCW in transforming women's lives.
Also Read: Indian Men's National Hockey Team Appoints South Africa's Craig Fulton as New Head Coach
Take Weekly Tests on app for exam prep and compete with others. Download Current Affairs and GK app
एग्जाम की तैयारी के लिए ऐप पर वीकली टेस्ट लें और दूसरों के साथ प्रतिस्पर्धा करें। डाउनलोड करें करेंट अफेयर्स ऐप
Android
IOS