Ruling Party Candidate Bola Ahmed Tinubu Wins Nigerian Presidential Elections 2023
Nigeria's Election body recently announced Bola Ahmed Tinubu as the winner in the Presidential Elections of 2023. However, it led to a court challenge by his main rivalries Atiku Abubakar and Peter Obi. Know more about the elections here.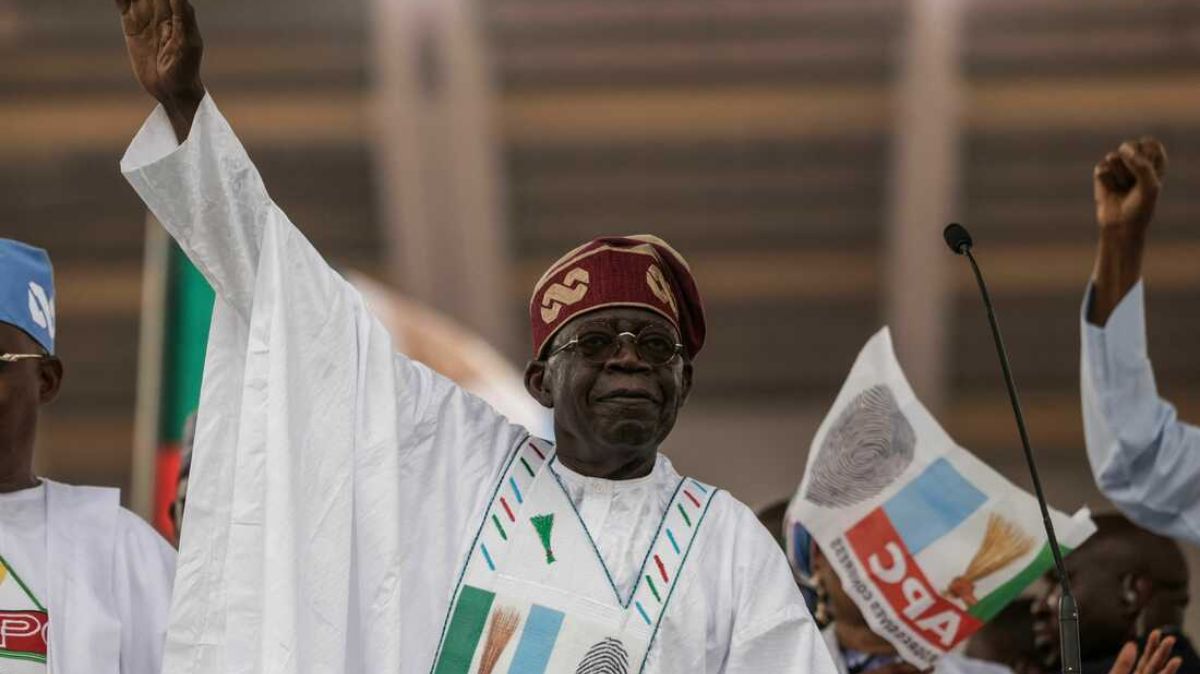 Nigerian Bola Ahmed Tinubu declared winner in 2023 Presidential Elections
The President-Elect of the Federal Republic of Nigeria, Bola Ahmed Tinubu has been declared the winner of the Presidential Elections held on February 25 2023. The results of the Presidential elections were announced recently. As far as the elections are concerned, two leading opposition candidates are already demanding a revote in Africa's most populated country.
As soon as the concerned official authorities of elections announced the results, the main opponents Atiku Abubakar and Peter Obi challenged the court and insisted upon a second round of elections. Abubakar acquired the second position in the last vote of 2019 and then also appealed the revaluation of those results before his lawsuit ultimately was cancelled.
Nigeria's 2023 elections | Bola Ahmed Tinubu@officialABAT (@OfficialAPCNg) has been declared the winner of 🇳🇬's presidential election.

Chatham House hosted @officialABAT in January, where he joined our @AfricaProg in conversation.

Watch in full:https://t.co/KrA80VWZOH

— Chatham House (@ChathamHouse) March 1, 2023
Controversial Presidential Elections
On February 28 (Tuesday) two of the leading opposition parties argued that a revote must be done and further stated that delays in uploading election results have led to irregularities. The ruling All Progressives Congress Party asked the opposition to accept the outcome of defeat and also not to cause further difficulties.
Bola Ahmed Tinubu received 37% of the vote which is probably around 8.8 million while the main opposing candidate Abubakar won 29% with approximately 7 million. One of the adversaries, Peter Obi secured third place and the results reveal that he took 25% with nearly 6.1 million, according to the officially announced live telecast by the Independent National Electoral Commission.
Election Celebrations
Nigeria's Electoral Chief Mahmood Yakubu said that Tinubu satisfied the requirements of the law and therefore he is declared the winner and is considered elected.
After 4 am, the results were announced however celebrations had already commenced the day before at the ruling party's National Secretariat Office where Tinubu's supporters were gathered in the excitement of his victory.
in all parts of this country, who contributed to our party's successful nationwide campaign. You should be proud of what we have achieved; as I am.

Together we will win this election. Together, we will build a nation of renewed hope. pic.twitter.com/IMEFnH9HMq

— Bola Ahmed Tinubu (@officialABAT) February 21, 2023
Babafemi Akin proclaimed that "None of the others matches his record!" and also expressed his excitement over the achievement as well as the prospects of a Tinubu administration. He expressed faith in him and ensured his glory and victory.
70-year-old Tinubu served as the former Governor of Lagos state between 1999 to 2007 and also as the Senator for Lagos West. However, he lost the state to Obi in elections held recently. Obi has a strong following among younger voters who are enthusiastic about change.
Nigeria's Electoral Body
The parties now have three weeks to reconsider results but an election can be invalidated or disproved only if it is proven that the National Electoral Body did not follow the rules and regulations or the case acted in ways that could have changed the result.
The Supreme Court of Nigeria has never revoked a presidential election, though court challenges are often common including President Muhammadu Buhari who tenaciously fought his past election losses for several months but all in vain.
Nigeria's Presidential Elections have been carefully evaluated as the country is not only the continent's largest economy but it is also one of the continent's top oil producers.
Observers said that recent presidential elections were mostly peaceful though some voters had to wait due to delays. Various Nigerians had issued getting to their polling stations because of a currency reformation that resulted in a shortage of bank notes.
Also Read: Vice Admiral Dinesh K Tripathi Assumes Control of Flag Officer Chief in Western Naval Command
Take Weekly Tests on app for exam prep and compete with others. Download Current Affairs and GK app
एग्जाम की तैयारी के लिए ऐप पर वीकली टेस्ट लें और दूसरों के साथ प्रतिस्पर्धा करें। डाउनलोड करें करेंट अफेयर्स ऐप
Android
IOS