Pandit Jasraj: First Indian artist to have planet named after him
The International Astronomical Union (IAU) has named a minor planet, discovered in 2006, after Indian classical singer Pandit Jasraj.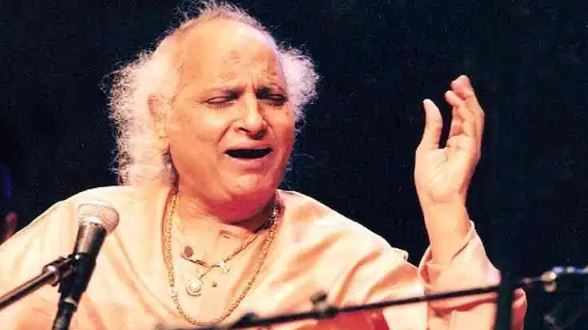 Pandit Jasraj
Pandit Jasraj, who is famous for classical singing, will now be named in the universe. A minor planet discovered 13 years ago by National Aeronautics and Space Administration (NASA) astronomers and space scientists from the International Astronomical Union (IAU) has named it after the classical singer Pandit Jasraj. Pandit Jasraj is the first Indian artist to receive this honour.
It was officially announced by the IAU with a citation on 23 September. It was said in a quote that classical music legend Pandit Jasraj is the pioneer of Indian classical singing. A NASA-funded project, Catalina Sky Survey, discovered this minor planet 2006 VP32 on November 11, 2006.
Key Highlights
• Pandit Jasraj was born on January 28, 1930, while the number of this planet is 300128.
• This minor planet was discovered by Catalina Sky Survey in the year 2006. It was temporarily named as 2006 VP32 (300128) but now it will be known as 'panditjasraj'.
• International Astronomical Union (IAU) announced to name this planet on September 23 followed by a citation.
• Earlier, other artists like Mozart, Tenor Luciano Pavarottia and Beethoven have been received this honour.
About Pandit Jasraj
• Sangeet Martand was born on 28 January 1930; he belongs to Mewat Gharana of music. Pandit Jasraj got his primary education of music at home.
• Pandit Maniram, his elder brother, initially trained him as a classical vocalist and later Gulam Kadar Khan of Mewat Gharana trained him.
• Pandit Jasraj is famous for singing khayals with some addition of thumri in it.
• He was awarded Padma Vibhushan (2000), Padma Bhushan (1990), Padma Sri (1975), Lata Mangeshkar Award among many more.
What is Minor Planet?
A minor planet orbits the sun but it doesn't look like a planet or comet. The Ceres, found in 1801, was the first minor planet. Minor Planets are also known as dwarf planets. More than 4 lakh minor planets have been discovered till date, however, 15,000 minor planets have been given official names.
Download our Current Affairs & GK app for Competitive exam preparation. Click here for latest Current Affairs: Android|IOS