PM Modi's address at UN Climate Action Summit: Everything you need to know
"In India, we have decided to increase the use of non- fossil fuel in the fuel mix," said Prime Minister Narendra Modi.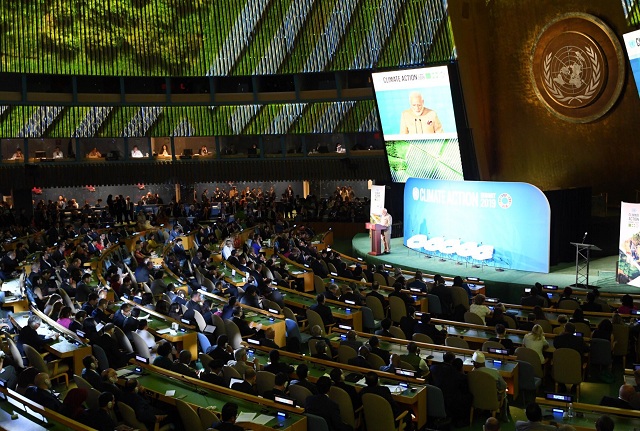 Modi at UN Climate Summit
PM Modi speech at UN Climate Action Summit: Prime Minister Narendra Modi spoke on climate change and how India is tackling the issue during the 2019 UN Climate Action Summit in New York, US on September 23, 2019.
PM Narendra Modi began his speech by thanking the UN Secretary-General for organizing the global climate action summit. He said that this was his first opportunity to address the United Nations after receiving the 'Champions of the Earth' award last year and said that it was a happy coincidence that the subject was climate.
PM Modi said, "Various efforts are being made by different countries to fight climate change but we must accept that if we have to overcome a serious challenge like climate change then what we are doing at the moment is not enough."
The Prime Minister continued by saying, "Today, we need a comprehensive approach, which will cover everything including education, values, lifestyle and development philosophy. A worldwide mass movement is the need of the hour today to bring about a behavioural change."
"Need, not greed has been our guiding principle and because of this India has come today with a practical approach and a road map. We believe that an ounce of practice is worth more than a tonne of preaching," PM Modi added.
PM Modi speech at UN Climate Action Summit: Key Points
1. In India, we have decided to increase the use of non- fossil fuel in the fuel mix.
2. We are going to increase the capacity of our renewable energy to 175 gigawatts till 2022 and we are committed to further increase the capacity to 450 gigawatts.
3. In the transport sector, we are placing more emphasis on e-mobility.
4. We are making advances in mixing of petrol and diesel with biofuel on a large scale.
5. We have provided 150 million families with clean cooking gas connection.
6. We have begun Mission Jal Jeevan for water conservation, rainwater harvesting and water resource development and in a few years, we further plan to invest an estimated amount of 50 billion USD on this mission.
7. On the global front, almost 80 nations have joined our International Solar Alliance. Further, I am happy to say that India and Sweden along with various other partners are working together to launch the leadership group for the industry transition track. This initiative together with the government and private sector will play a significant role in creating low-carbon pathways for polluting industries.
8. To better deal with natural disasters, India has begun the process of setting up the Coalition for Disaster Resistance Infrastructure. I invite all member states to join this effort.
9. This year, on the occasion of India's Independence Day on August 15, we launched a mass movement to eliminate the use of single-use plastic. I hope with this we can raise more awareness regarding the harmful effects of single-use plastic.
While concluding, Prime Minister Narendra Modi said, "I am happy to share with you that in this UN building, we will inaugurate solar panels made and installed by India tomorrow." The Prime Minister stressed that the time for talking is over, the world needs to act now!
Take Weekly Tests on app for exam prep and compete with others. Download Current Affairs and GK app
एग्जाम की तैयारी के लिए ऐप पर वीकली टेस्ट लें और दूसरों के साथ प्रतिस्पर्धा करें। डाउनलोड करें करेंट अफेयर्स ऐप
Android
IOS