Chandrayaan 2 Updates: PM Modi's address to ISRO Scientists - Key Highlights
Chandrayaan-2's Vikram Lander lost contact: Prime Minister Narendra Modi addressed ISRO scientists at the ISRO Control Centre after setback. Have a look at the key highlights of PM Modi's speech.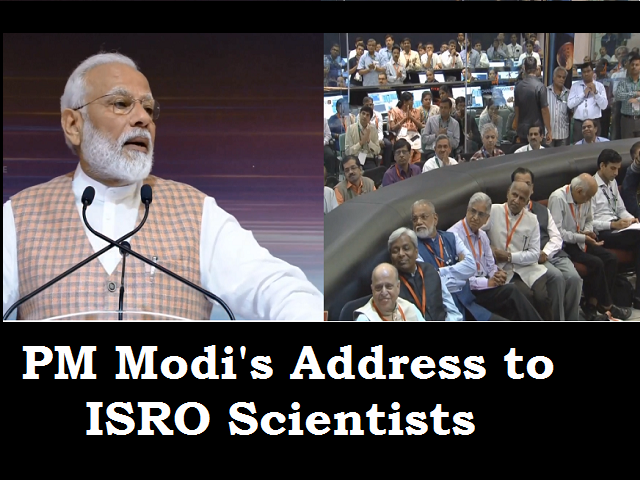 PM Narendra Modi
Chandrayaan 2 Vikram Lander lost contact with ISRO's ground station. Prime Minister Narendra Modi addressed scientists at Bengaluru's ISRO control centre after this setback. Beginning his speech with "Bharat Mata Ki, Jai", the Prime Minister motivated the hardworking ISRO Space Scientists by highlighting their key achievements and throwing a light at the moments of proud and success. PM Modi said that India is yet to witness the best in the Space arena. Here are the key highlights of PM Modi's speech from Key Petals of Wisdom, Achievements to Moments of hurdles and failures.
Currently, the status of Chandrayaan 2 mission is unknown to the ISRO scientists. After Chandrayaan 2's Vikram Lander journey towards the moon, the ISRO's ground station lost contact with the lander when it was around just 2.1 km away from the lunar surface. However, Chandrayaan-2 orbiter is intact and functioning normally in the Lunar orbit at over 100 altitude. The Orbiter is loaded with advanced payloads which will be functioning as planned. It will scan Moon in search of water ice and minerals and will also undertake 3-dimensional mapping of the Moon.
PM Modi was at the ISRO Headquarters to witness the event, which could have been a historic feat, if contact had remained intact. Seeing the dejected ISRO Chairman and space scientists, the Prime Minister rendered a motivational speech. Have a look at key highlights of speech:
1. Prime Minister Modi acknowledged the hard work of ISRO Scientists towards the Chandrayaan 2 Mission by saying, "You people live and work for nation's progress. You live for India's honour, I salute you."
2. "I could feel what you all were going through last night. Your eyes conveyed a lot. You all have given your maximum to the mission and have not slept since so many nights."
3. "The whole country was awake to witness the event and to encourage you all who had worked on this most ambitious mission of space. You all have contributed insignificantly for nation's progress. India is with you."
4. PM Modi also recognised the continuous support of the families of Space scientists. He said, "I salute to your families who supported you throughout this journey."
5. "There have been the moments of slowdown and hurdles, but they could never crush our spirits. India has always managed to bounce back and go on to achieve spectacular feats."
6. Uplifting the mood of ISRO scientists, PM Modi said, "There will be a new dawn and a brighter future very soon. The journey and efforts are as important as the final results. In science, there is no failure, only experiment and efforts. I am proud of your efforts no matter what the result is."
7. "Every struggles teaches us something. Chandrayaan 2 mission journey has gave us so many teachings. These teachings and learnings will always remain with us and will make us stronger and better. It will motivate us for new inventions and technologies"
8. "Science is the greatest teacher of knowledge. It is not a failure. The journey of Chandrayaan-2 was 'Shandaar', 'Jaandaar."
9. Concluding his speech, PM Modi said, "India is one of the major space powers in the world. It was due to all your efforts that we were the first to reach Mars. We have made many records. I trust your confidence. I am not giving a lecture, just meeting you all to get inspired from you."
10. PM Narendra Modi consoled the ISRO Chief K Sivan and hugged him tightly after Sivan broke down following losing of contact with the Vikram Lander.