Rahul Gandhi to continue as Congress President, confirms Congress spokesperson
'Rahul ji was, is and will remain the Congress president. We have no doubt about it,' said Congress spokesperson Surjewala.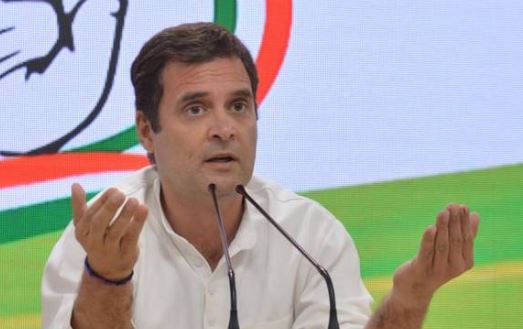 Rahul Gandhi to continue as Congress President
Rahul Gandhi will continue to be Congress President. The announcement was made by the Congress party's Chief spokesperson, Randeep Surjewala on June 12, 2019.
The announcement ends days of uncertainty over who will lead the Congress following Gandhi's insistence to quit the position.
Surjewala said, "Rahul Gandhi was, is, and will remain the Congress president, we have no doubt about it." The information was shared an informal meeting of the senior Congress leaders under AK Antony where they discussed the party strategy for the upcoming state assembly elections in Maharashtra, Haryana, Jammu and Kashmir, and Jharkhand.
Many senior Congress leaders including Mallikarjuna Kharge, Ghulam Nabi Azad, P Chidambaram and KC Venugopal were present in the meeting.
Background
Following Congress's dismal performance in Lok Sabha Elections 2019, Congress President Rahul Gandhi had offered to quit his post as party chief.
Gandhi had insisted on quitting his position during a meeting of the Congress Working Committee on May 25 2019. The CWC meeting was convened to analyse the party's poor performance in the recently concluded polls, where it managed to win only 52 seats.
The Congress Working Committee unanimously rejected Gandhi's offer to quit, despite him being firm on his stand. Many senior party leaders also requested Gandhi to continue in his role, saying that the party will split if a Gandhi did not helm it.
Rahul Gandhi while insisting on stepping down from his post had stated that it wasn't necessary for a member of the Gandhi family to lead the party in the next phase.