Dhyan Chand Anniversary, remembering magician of hockey in 10 points
Dhyan Chand was legendary hockey player of India. He had scored more than 400 goals in his career.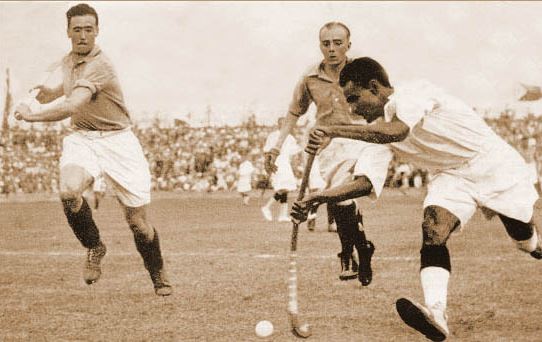 Dhyan Chand (with the ball) in the 1936 Olympic semi-finals. (Image: wikipedia)
Today is the 115th birth anniversary of Dhyan Chand, he is popularly known as the magician of hockey. Dhyan Chand's birthday is celebrated as National Sports Day in India.
Dhyan Chand had scored more than 400 goals in his career and won gold medals for India at 1928, 1932 and 1936 Olympics. Every year, President of India confers the National Sports Awards on the National Sports Day to celebrate the achievements of Indian athletes. Major Dhyan Chand Award is the top award in sports in India.
Also Read| Fit India Movement to be launched on National Sports Day: All you need to know about it
10 important points about Major Dhyan Chand:
Major Dhyan Chand was born on 29 August 1905 in Prayagraj (Allahabad), Uttar Pradesh. He represented India in 1928, 1932 and 1936 Olympics and won gold medals in each Olympic.
He joined the Indian Army when he was just 16 years old. Dhyan Chand had so much of passion for hockey that he used to practice even during the night, for this reason, his friends started calling him 'Chand'.
Dhyan Chand was the highest goal scorer in the 1928 Olympics in Amsterdam. Indian team won the gold medal because of his of 14 goals in the tournament.
In the match against the USA, In the Los Angels Olympics 1932, India won 24-1, a world record (until it was broken in 2003). Dhyan Chand scored 8 goals while his brother Roop Singh scored 10 goals.
Indian Hockey Federation appointed Dhyan Chand as Captian of team India for New Zealand tour in December 1934. India played 48 matches on this tour, Dhyan Chand played 23 matches and scored a total of 201 goals.
In 1948, he played his last match leading Rest of India team against the Bengal. This match was ended with a draw.
Dhyan Chand' autobiography 'Goal' was published in 1952. He was awarded India's third highest civilian award – Padma Bhushan in 1956.
After retirement he taught at coaching camps, later, he was appointed as Chief Hockey Coach at National Institute of Sports in Patiala.
He spent his final days in Jhansi. He was suffering from liver cancer and was admitted to a general ward at AIIMS, New Delhi. Dhyan Chand was died on December 3, 1979, at AIIMS but he was cremated at Jhansi.
The Government of India renamed The National Stadium in Delhi to Dhyan Chand National Stadium in 2002. The British Government has named an Astroturf hockey pitch in London after Chand.
Download our Current Affairs & GK app for Competitive exam preparation. Click here for latest Current Affairs: Android|IOS