RIL AGM 2019: Another disruption by reliance, Jio 4K LED TV, Set top box, free calls with GigaFiber
RIL AGM 2019: Reliance Industries once again disrupted the industry with its revolutionary launch of Jio GigaFiber.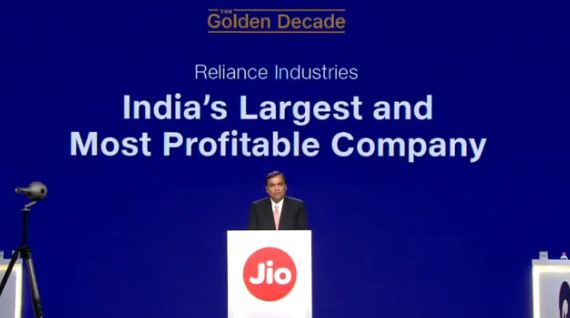 RIL AGM 2019
Mukesh Ambani announced the launch date of Jio Giga Fiber, Jio set-top box and some other plans in annual RIL AGM. Mukesh Ambani announced that Jio GigaFiber will be launched on September 5, 2019 however details are not completely revealed.
According to the RIL chairman and managing director Mukesh Ambani, last year RIL announced that the Saudi Aramco will buy 20 percent stake in RIL's oil-to-chemical division for USD 75 billion. Mukesh Ambani also announced Internet of Things (IoT) for the entire country, home and enterprise broadband, broadband for SME.
Major Announcements in RIL AGM 2019
• RIL Chairman said that we stand committed to support the people of Jammu & Kashmir and Ladakh in all their development needs. RIL will create a special task force for developmental activities in J&K and Ladakh.
• Jio Fiber will be commercially launched on September 5, 2019.
• Reliance Jio is adding 3.5 million new subscribers every month. Also, Jio has become the second-largest telecom company in the world.
• RIL chairman Mukesh Ambani said that the future of India is the future of Reliance. Reliance Jio has freed India from the darkness of data, just like Tamso Ma Jyotirgamaya.
• It will be a revolution in the Internet world and Jio GigaFiber will provide up to 1 Gbps speed.
• It was also announced during RIL AGM 2019 that Jio-Microsoft alliance will accelerate digital transformation with the launch of new cloud data-centres.
• Mukesh Ambani announced that Jio-Azure cloud service to Indian technology startups will be absolutely free. He also announced that Jio-Microsoft datacenters to be launched to ensure more organizations can access the tools and platforms they need to build their own digital capability.
• Reliance Jio will provide unlimited ISD calling service from Jio landline at a fixed monthly rental of Rs. 500 to US and Canada.
What is JioGigaFiber
Jio GigaFiber is the latest offering by Reliance Infrastructure Limited (RIL). Jio offers a superior internet experience to explore Digital Life. Jio GigaFiber provides ultra-fast upload and download speeds & effective functioning in merely 'milli-seconds'.
Jio GigaFiber Current plan/offer
According to the official Jio website, the current offer is Jio GigaFiber preview offer which gives ultra-high-speed internet up to 100Mbps free for a Limited Preview Period and a complimentary access to a host of Jio's premium apps. As this is a preview offer, there are no installation charges levied but there is a refundable security Deposit of Rs.2,500 taken for the ONT device (GigaHub Home Gateway). This amount needs to be paid through Debit card, Credit Card, Jio Money or Pay TM.
Also Read | Google Doodle celebrates Vikram Sarabhai's 100th birth anniversary