Second Offshore Patrol Vessel 'Vijaya' launched
The second Offshore Patrol Vessel (OPV), 'Vijaya', which is a part of a series of seven such vessels, was launched at the L&T shipyard, Kattupalli, on January 22. The indigenously built vessel is equipped with state-of-art radar, navigational and communication system.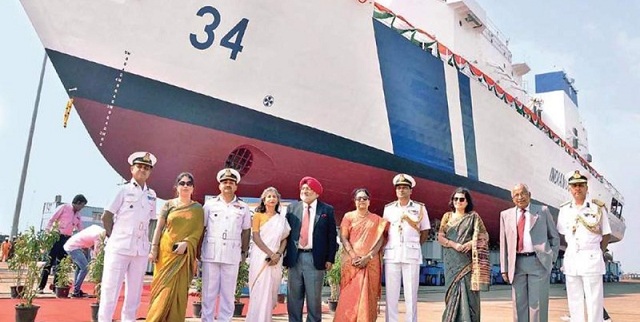 Second Offshore Patrol Vessel 'Vijaya' launched
The multi-national construction and engineering firm, Larsen & Toubro (L&T) announced on January 22, 2018 that it has launched the second offshore patrol vessel (OPV) for the Indian Coast Guard at its greenfield defence shipyard in Kattupalli near Chennai.
According to JD Patil, Senior Executive Vice-President and whole- time Director (Defence), L&T, the OPV-2 is the ninth defence vessel launched by L&T in the current financial year.
Key Highlights
• The indigenously built vessel 'Vijaya' is equipped with state-of-art radar, navigational and communication system.
• It will be utilised for day and night patrol and surveillance, anti-terrorist, anti-smuggling operations and coastal security.
• It is fitted with 30 mm automatic gun with Fire Control System (FCS) and two units of 12.7 mm gun with FCS and a navigation and communication system, which is capable of operating even in tropical conditions.
• The 98 metre long and 14.8 metres wide ship with a gross tonnage of 2,100 tonnes has an endurance of 5,000 nautical miles with a cruising speed of 12-14 knots that can be increased to 26 knots.
• Besides this, the ship is fitted with two units of diesel driven engines of 9,000 kw each with low fuel consumption.
• It has the capacity to carry one integral twin-engine helicopter that would further enhance the operational, surveillance, search and rescue capability.
• It was formally lowered into the waters of the Bay of Bengal on January 20 and is expected to be inducted into service by September 2018 after trials on the equipment.
• It would be manned by a crew comprising 102 people including 14 officers.
Background
• L&T is the first private Indian shipyard to construct and deliver OPVs for the Indian Coast Guard.
• The firm signed a Rs 1432 Cr contract with the Defence Ministry for the design and construction of seven OPVs in March 2015.
• The first OPV, the country's first-ever such defence craft to be built in a private shipyard, was launched in October 2017. It is presently undergoing trials.
• The launch of the second OPV, within three months from the launch of the first vessel and with overall completion of 85%, bears testimony to L&T's proven project planning and execution capabilities.
• In December 2017, the construction firm also completed the delivery of all 36 Interceptor Boats to the Indian Coast Guard, which were contracted to it in March 2010, well before the contractual delivery schedule.
• The first indigenously designed and constructed Floating Dock-2 for the Indian Navy has also been dispatched to Port Blair this month for final trials and handing over.
• In addition, L&T is also progressing well on the Medium Refit (MR) of a Naval survey vessel at the Kattupalli shipyard.
• Overall, the firm undertakes repairs and refits of Naval and Coast Guard ships regularly and has till date completed repair/refit of four Naval ships and two Coast Guard ships.
About OPV
• An OPV is a long-range surface ship with helicopter operation capabilities.
• Its role mainly includes coastal and offshore patrolling, policing maritime zones of India, control and surveillance, anti-smuggling and anti-piracy with limited wartime roles.
• In size, the OPVs are approximately 97m long, 15m wide and have a 3.6m draught, 2140 T displacement with a range of 5,000 nautical miles and can attain sustained speeds of up to 26 knots.
• The entire design and construction processes of the ships have undergone dual certification from the American Bureau of Shipping and Indian Registrar of Shipping, and the project is being overseen by the Indian Coast Guard's resident team at Kattupalli shipyard.
Defence Acquisition Council clears procurement of small arms worth Rs 3,547 Cr