Top 10 Weekly Current Affairs: 02 September to 07 September 2019
It was a huge disappointment for the entire nation as communication with lander Vikram was lost in the last minute.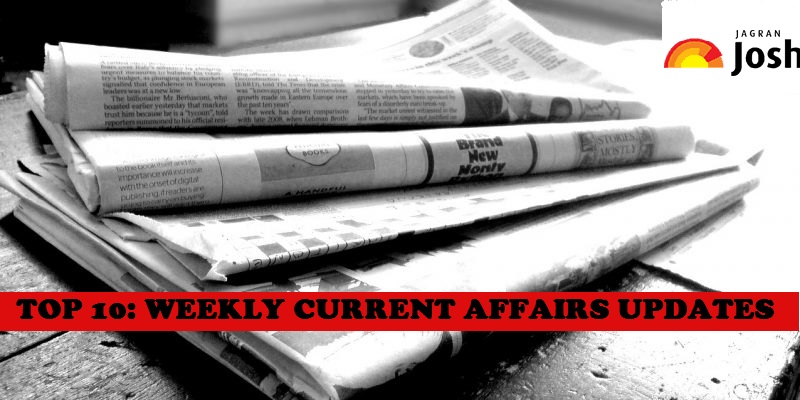 Top-10 Weekly Current Affairs
1. ISRO Chandrayaan-2 Setback will give a new hope: PM Modi to ISRO scientists
ISRO Chandrayaan 2 landing: It was a huge disappointment for the entire nation as communication with lander Vikram was lost in the last minute. ISRO chief K Sivan released a message to the media that Vikram lander descent was going as planned. Normal performance was observed up to 2.1 km. Subsequently, communication was lost. All the collected data is being analysed. He also called off the planned press conference.
2. Robert Mugabe: Former Zimbabwe President passes away
Robert Mugabe, former Zimbabwe President passed away at the age of 95 on September 6, 2019. Robert Mugabe had ruled Zimbabwe for almost four decades before he was ousted from power in a military coup two years ago.Robert Mugabe passed away in a hospital in Singapore, where he had been received medical treatment since April 2019.
3. Jio Fiber Plans launched: Know all rentals, offers and other details
Reliance Jio Fiber broadband services have been launched. Jio Fiber plans will be started at Rs. 699 and will go up to Rs. 8,499 with several facilities. The lowest rental will provide 100 Mbps speed while the highest plan will give 1 Gbps speed.Now, Jio Fiber broadband services will be available for all customers in 1600 cities across the country. Jio Fiber offers free voice calling anywhere in the country, unlimited data and video conferencing with all plans.
4. INX Media case: P Chidambaram sent to Tihar jail till September 19
P Chidambaram has been sent to Tihar jail till September 19, 2019. The order was given by Rouse Avenue Court in Delhi where the CBI's case against the former Finance Minister in relation to INX Media corruption case was being heard. The Supreme Court has rejected P Chidambaram's anticipatory bail plea in the INX Media case filed by the Enforcement Directorate (ED). The judgement comes as a huge setback for the former Finance Minister.
5. Eastern Economic Forum: India pledges 1 billion USD as 'Line of credit' for development of Far East
Prime Minister Narendra Modi attended the 5th Eastern Economic Forum at Vladivostok, Russia as its Chief Guest at the special invitation of Russian President Vladimir Putin. While speaking at the Eastern Economic Forum, the Prime Minister made a landmark announcement. The Prime Minister announced that India would be giving 1 billion dollar worth 'Line of Credit' for the development of the Far East. This is the first time that India would be giving line of credit to an area of another country.
6. Exercise Yudh-Abhyas 2019 begins between India and USA
The joint military exercise, Yudh Abhyas 2019, begins on September 5, 2019, at the Joint Base Lewis Macard near Washington between India and USA. This exercise will last until 18 September. It is one of the biggest joint military exercise and defence corporation endeavours between India and the USA. Yudh Abhyas 2019 is the 15th edition of the joint military exercise hosted alternately between the two countries.
7. ICC Test Rankings: Virat Kohli loses top rank to Steve Smith
Virat Kohli has lost his number 1 ICC Test ranking to Steve Smith. The former Australian captain reclaimed the top spot, toppling the Indian skipper after Kohli scored a duck in the second innings of the second test match against West Indies in Jamaica.Virat Kohli had scored 76 runs in the first innings of the second test. Kohli has not yet made a century this year. In contrast, Steve Smith had scored two consecutive centuries in Australia's Edgbaston test against England and before that he had scored 92 in the first innings of the Lord's test and was forced to sit out of the second innings due to concussion.
8. Apache AH-64E combat helicopter inducted into IAF: Features, weapons systems and attack capabilities
Eight Apache AH-64E combat helicopters were inducted into the Indian Air Force on September 3, 2019. Apache AH-64E is one of the world's most advanced attack helicopters with multi-role combat capabilities. The helicopters will provide a major boost to IAF's combat capabilities.The induction ceremony of the Apache AH-64E helicopters took place at the Pathankot Air Force station. IAF Chief BS Dhanoa will be the chief guest of the induction ceremony.
9. Mithali Raj retires from T20I: T20 records, total runs, top score
Mithali Raj has retired from T20 Internationals. The former India T20 captain announced that she wanted to focus on the 2021 ODI World Cup. Mithali Raj was the first Indian cricketer to reach the landmark of 2000 T20I runs.Mithali Raj had captained India in 32 T20Is, including three women's T20 World Cups in 2012 (Sri Lanka), 2014 (Bangladesh) and 2016 (India). Mithali Raj had also captained the Indian side when India played its first-ever women's T20 International in Derby in 2006.
10. Qatar 2022, FIFA World Cup logo unveiled
The official logo of Qatar 2022 FIFA world cup has been unveiled in the capital Doha recently. FIFA world cup 2022 will be hosted by the Gulf emirate and preparations are in full swing. Qatar celebrated the release of the 2022 world cup logo by displaying in its public space in Doha and cities around the world.