Top 5 Current Affairs: 16 August 2017
Milkha Singh appointed as WHO Goodwill Ambassador for Physical Activity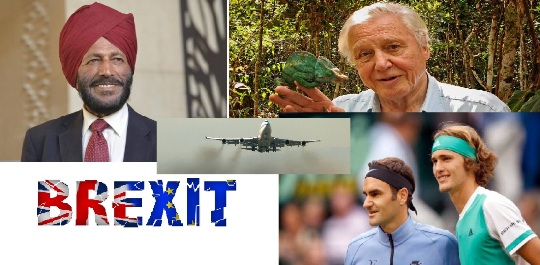 Top 5 Current Affairs of 16 August 2017
Milkha Singh appointed as WHO Goodwill Ambassador for Physical Activity
Indian track and field sprinter Milkha Singh was on 11 August 2017 appointed as WHO Goodwill Ambassador for Physical Activity in South-East Asia Region.
As a WHO Goodwill Ambassador, Milkha Singh will promote Non-Communicable Diseases (NCDs) Prevention and Control Action Plan in South-East Asia Region which seeks to reduce the level of insufficient physical activity by 10 per cent and NCDs by 25 per cent by 2025.
Alexander Zverev beats Roger Federer to win 2017 Rogers Cup
Germany's Alexander Zverev on 13 August 2017 defeated Roger Federer 6-3 6-4 to claim his second Masters 1000 title in Montreal, Canada.
With this, Zverev became the third man to beat Federer in the year 2017.
By claiming the 2017 Rogers Cup, Zverev became the first player outside the Big Four to win multiple Masters 1000 titles in a season since David Nalbandian in 2007.
100 million years old damselfly named after Sir David Attenborough
A 100 million year old damselfly species, discovered in Myanmar, was on 16 August 2017 named after British broadcaster and naturalist Sir David Attenborough.
This damselfly species belongs to a group known as shadowdamsels and has been named as Mesosticta davidattenboroughi.
The damselfly was named after Attenborough for his long-standing appreciation of dragonflies and to celebrate his 90th birthday.
With this, Mesosticta davidattenboroughi joins a long list of animals which have been named after Sir David Attenborough a carnivorous plant, a butterfly, a tiny spider, a Peruvian frog and a Namibian lizard.
Aeroplanes may be affecting ozone, monsoon: Study
A recent study, conducted by climate researchers from multiple institutions in India, concluded that aeroplanes may be ejecting significant amounts of black carbon that may be depleting the ozone layer.
Given the shape and location of the black carbon particles, the scientists, including from the Indian Institute of Science and ISRO's Vikram Sarabhai Space Centre, believe that they could only derive from emissions from aviation fuel. The scientists went on to state that these particles pose a problem because they can linger long enough to provide a fertile ground for other chemical reactions that can deplete the ozone layer.
It is the first time that any group in the world has shown that black carbon from aircraft can go to the stratosphere and affect the ozone layer.
The study was published in the peer-reviewed Atmospheric Chemistry and Physics.
Britain seeks invisible border for Northern Ireland in Brexit negotiations
The British Government has sought to not have any border posts between Ireland and the British province of Northern Ireland after Brexit.
Britain, as a part of its negotiations with the European Union on its exit, said that it wanted a seamless and frictionless border without physical border infrastructure and border posts.
Northern Ireland is the only part of the UK that will share a land border with a European Union member state when Britain leaves the EU in March 2019. Hence, management of the border is a highly sensitive issue and one of three main priorities in the Brexit negotiations.