Top 5 Current Affairs: 5 September 2017
The Union Ministry of Health and Family Welfare has launched two new contraceptives- an injectable contraceptive under 'Antara' programme and a contraceptive pill 'Chhaya' to meet the changing needs of couples.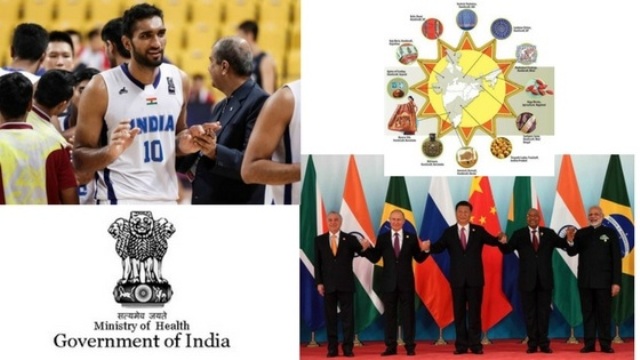 Top 5 Current Affairs
CIPAM-DIPP launches social media campaign to promote Geographical Indications
The Cell for IPR Promotions and Management (CIPAM) on 4 September 2017 launched a social media campaign to promote Indian Geographical Indications (GIs).
The CIPAM comes under the aegis of the Department of Industrial Policy and Promotion (DIPP), Union Ministry of Commerce and Industry.The campaign will be promoted with #LetsTalkIP which is an ongoing movement initiated by CIPAM to make more people aware about the importance of Intellectual Property Rights.
The promotion of GIs is in line with the Government's 'Make in India' campaign.
Union Health Ministry launches two new contraceptives Antara and Chhaya
The Union Ministry of Health and Family Welfare on 5 September 2017 launched two new contraceptives- an injectable contraceptive MPA under the 'Antara' programme and a contraceptive pill 'Chhaya' in the public health system to expand the basket of contraceptive choices for couples.
These contraceptives have been launched in 10 states including Delhi, Maharashtra, Uttar Pradesh, Madhya Pradesh, Rajasthan, Karnataka, Haryana, West Bengal, Odisha and Goa. They are presently available for free in Medical Colleges and District Hospitals.
These contraceptives are safe, highly effective and thus, will help meet the changing needs of couples and help women plan and space their pregnancies.While the 'Antara' injectable is effective for three months, the 'Chayya' pill is effective for one week.
BRICS Summit 2017: Xiamen Declaration condemns Pak-based terror groups
The leaders of all five BRICS nations including Brazil, Russia, India, China and South Africa convened for the 9th BRICS Summit on 4 September 2017 in Xiamen, China.
The main theme of the summit was, "BRICS: Stronger Partnership for a Brighter Future". It saw the leaders come together and discuss various international and regional issues of common concern and adopt the Xiamen Declaration by consensus.
The leaders jointly agreed to energise their practical cooperation to boost development of BRICS countries by promoting exchanges of good practices and experiences on development and facilitating market inter-linkages as well as infrastructure and financial integration.
Environment Ministry launches environment awareness initiative, Prakriti Khoj, on Teachers' Day
The Union Environment Ministry on 5 September 2017 launched an environment awareness initiative on the occasion of Teachers' Day.
Under the initiative, an online environmental quiz competition named Prakriti Khoj will be conducted at the national level.
The Prakriti Khoj will be an ideal medium to reach out to young minds through a fun-filled interactive learning mode to trigger their sensitivity towards environment protection and conservation. This quiz will provide a unique platform for students to measure their awareness level regarding environmental issues.
Amritpal Singh becomes first Indian to be signed by Australian Basketball Team
Captain of Indian basketball team Amritpal Singh on 31 August 2017 created history by becoming the first Indian player to be signed by an Australian Basketball team.
Earlier, Singh had been a part of the four-member Indian team of Amjyot Singh, Yadwinder Singh and Vishesh Bhriguvanshi, who were a part of the National Basketball League (NBL) Draft Combine in Melbourne, Australia in 2017.
Later, he was invited by the Sydney Kings for the Atlas Challenge 2017 tournament in China. They were impressed by his performance at the Atlas Challenge tournament, where he was a part of winner team and scored a massive 17 points and 16 rebounds in the championship match.