Top Current Affairs Quiz: 23 October 2019
The day's updated quizzes cover topics such as Canada Election 2019 results, India's travel advisory, UNWFP campaign and United Nations Day among others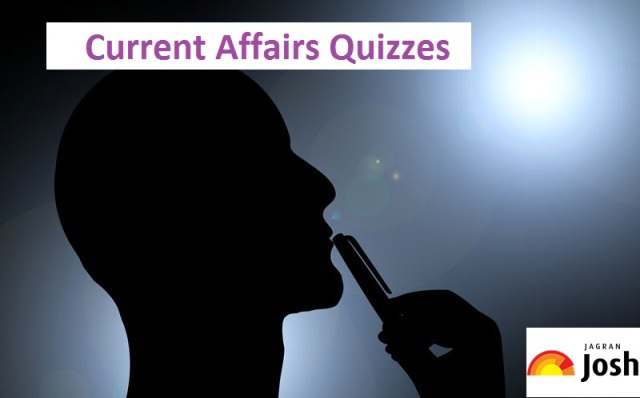 Current Affairs Quiz
23 October 2019: The Current Affairs Quizzes section of Jagranjosh aims to help every competitive exam aspirant to revise the day at ease. The day's updated quizzes cover topics such as Canada Election 2019 results, India's travel advisory, UNWFP campaign and United Nations Day among others
1. India has issued a travel advisory for Indians traveling to which nation?
a) United States
b) Turkey
c) China
d) Russia
2. In Canada Elections 2019, the Justin Trudeau-led Liberal Party won how many seats?
a) 157
b) 167
c) 121
d) 134
3. Who is slated to be the kingmaker in the Canada Elections 2019?
a) Yves-François Blanchet
b) Jagmeet Singh
c) Andrew Scheer
d) Elizabeth May
4. Which state government has decided to impose spot fines for storage, sale and purchase of banned firecrackers?
a) Tamil Nadu
b) Uttar Pradesh
c) West Bengal
d) Gujarat
5. Who among the following has been nominated by the US President Donald Trump for the post of Energy Minister?
a) Dan Brouillette
b) Mark Esper
c) Kevin Macaleen
d) Henry Roots
6. The Colonel Chewang Rinchen Setu was recently inaugurated by Defence Minister Rajnath Singh at which place?
a) Assam
b) Ladakh
c) Karnataka
d) Nagaland
7. What is the name of the ad campaign that UNWFP has launched in India to eradicate hunger?
a) No to Hunger
b) Stop Malnutrition
c) United against hunger
d) Feed our Future
8. When is the United Nations Day observed globally?
a) 22nd October
b) 23rd October
c) 24th October
d) 25th October
9. Which Minister launched the first national protocol to specify snow leopard population in India?
a) Prakash Javadekar
b) Amit Shah
c) Rajnath Singh
d) Smriti Irani
10. Which institution fired two BrahMos missiles at Trak Island in Andaman Nicobar on October 23, 2019?
a) ISRO
b) DRDO
c) IAF
d) All of them
Answers
1. (b) Turkey
India has issued a travel advisory for Indian nationals travelling to Turkey. The advisory has been issued to request Indians to exercise utmost concern while travelling to the nation even though there have been no reports of any untoward incidents in Turkey involving Indians.
2. (a) 157
Justin Trudeau's Liberal party won 157 out of the total 338 seats in Canada Elections 2019, falling short of the required majority. The party's vote share was 33 percent, lower than the Conservatives which had 34.4% vote share.
3. (b) Jagmeet Singh
The leader of the New Democratic Party, Jagmeet Singh is likely to play the role of Kingmaker, as his party has won 24 seats. The Justin Trudeau-led Liberal Party will require support to cross the majority 170 mark.
4. (c) West Bengal
The West Bengal government has decided to impose spot fines for storage, selling and purchasing of banned fire crackers in the state.
5. (a) Dan Brouillette
Dan Brouillette has previously worked at Ford Motor Company on various positions. President Trump said that Dan Brouillette's experience in this department is unique and he is confident that he will do a fantastic job.
6. (b) Ladakh
Colonel Chewang Rinchen Setu is 400 meters long bridge located between Karakoram and Chang Chenmo mountain ranges in Ladakh. It has been built at an altitude of about 15,000 feet using micro piling techno logy.
7. (d) Feed our Future
The United Nations World Food Program (UNWFP) has launched an advertising campaign "Feed Our Future" with Bollywood in India. The objective of this campaign is to create awareness and take steps against hunger and malnutrition in India.
8. (c) 24th October
The United Nations (UN) Day 2019 will be observed across the world on October 24, 2019 to mark the 74th anniversary of the UN Charter and celebrate ever achievement and initiative of the UN.
9. (a) Prakash Javadekar
Prakash Javadekar, the Minister of Environment, Forest and Climate Change launched the first national protocol to specify the snow leopard population of India on the occasion of the 2019 International Snow Leopard Day on October 23, 2019.
10. (c) IAF
Indian Air Force fired 2 BrahMos missiles on October 23, 2019 at Trak Island in the Andaman Nicobar group of islands as a part of the routine operational training.
Also read: India issues advisory for Indian nationals travelling to Turkey
Also read: Top Current Affairs Quiz: 22 October 2019