Top Current Affairs Quiz: 27 August 2019
The day's updated quizzes cover topics such as Arun Jaitley stadium, first Indian player to beat Roger Federer and G7 Summit 2019 among others.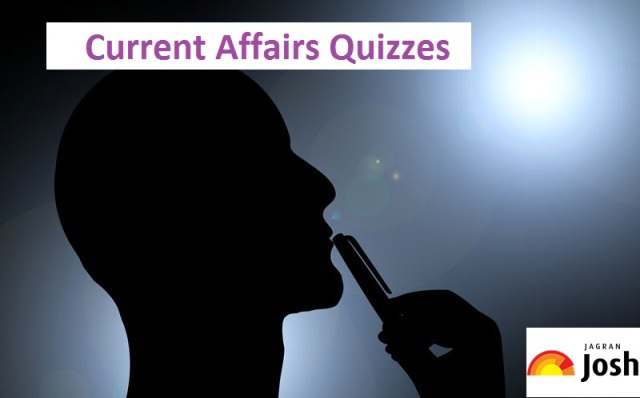 Top Current Affairs Quiz
26 August 2019: The Current Affairs Quizzes section of Jagranjosh aims to help every competitive exam aspirant to revise the day at ease. The day's updated quizzes cover topics such as Arun Jaitley stadium, first Indian player to beat Roger Federer and G7 Summit 2019 among others.
1. Which stadium will soon be renamed as Arun Jaitley Stadium?
a)Rajiv Gandhi International Cricket Stadium
b)Wankhede Stadium
c)Feroz Shah Kotla stadium
d)Vidarbha Cricket Association Stadium
2. Who became the first-ever Indian tennis player to win a set against Roger Federer?
a)Sumit Nagal
b)Rakesh Ranjan
c)Vikram Trehan
d)Ashwin Tyagi
3. Which item has been banned by the Directorate General of Civil Aviation while travelling in planes?
a)MI Phone
b)Samsung Charger
c)Lenovo Laptop
d)Apple Mac Book
4. US President Donald Trump called for reinstating of which nation as a permanent member in the G7 group?
a)China
b)Russia
c)Australia
d)India
5. Which country will be the host of G7 summit 2020?
a)Germany
b)United Kingdom
c)Japan
d)United States
6. Which country rejected the $22 million G7 aid to fight Amazon rainforest fire?
a)Argentina
b)Chile
c)Brazil
d)Bolivia
7. Which city will host the Indo Pacific Chiefs of Defence (CHOD) Conference 2019?
a)Beijing
b)Bangkok
c)Kuala Lumpur
d)Singapore City
8. Andhra Pradesh government recently announced that the Polavaram Project work will be resumed from November 2019. The project runs on which river?
a)Krishna
b)Godavari
c)Sabari
d)Penna
9. Which State Government recently announced that it will waive water arrears of people who live in colonies categorised as E, F, G and H?
a)Haryana
b)Rajasthan
c)Delhi
d)Uttar Pradesh
10. Which country recently requested the United Nations to call back all peacekeepers from the country by June 2020?
a)Algeria
b)Sudan
c)Turkey
d)Myanmar
Answers
1. (c) Feroz Shah Kotla stadium
Delhi's Feroz Shah Kotla Stadium will be renamed as Arun Jaitley Stadium in the memory of the late Union Minister, who had served as the DDCA President from 1999 to 2013.
2. (a) Sumit Nagal
In the first-round match of the US Open between India's Sumit Nagal and Swiss ace Roger Federer, the former stunned the tennis legend by claiming the first set 6-4. Nagal had qualified for the US Open main draw and became the youngest Indian in 25 years to qualify for the main draw of a Grand Slam.
3. (d) Apple MacBook
DGCA has banned some 15-inch MacBook Pro laptops sold by Apple between September 2015 and February 2017 from flights. The regulatory body said that these laptops have been deemed fire hazard because their batteries can overheat.
4. (b) Russia
US President Donald Trump pressed the G7 group to reinstate Russia as a permanent member of the grouping, saying it would be better to have Russia inside the group than outside. However, no consensus was reached on whether or not to invite Russia to the next year's G7 summit in the United States.
5. (d) United States
The United States will be hosting G7 Summit 2020. President Donald Trump announced on August 26, 2019 that he is looking at hosting the next G7 at his Trump National Doral Miami Golf Resort.
6.(c) Brazil
Brazil has rejected the $22 million aid pledged by the G7 nations to fight the Amazon rainforest fire. Brazil's Chief of staff to President, Onyx Lorenzoni said, " We appreciate the offer but maybe those resources are more relevant to reforest Europe."
7. (b) Bangkok
The Indo Pacific Chiefs of Defence (CHOD) Conference 2019 will be held in Bangkok, Thailand. Air Chief Marshal Birender Singh Dhanoa, the Chairman Chiefs of Staff Committee (COSC) and Chief of the Air Staff, will represent India at the Conference.
8. (b) Godavari
Andhra Pradesh government announced that the construction works relating to the Polavaram project will taken up again from November 2019, after the rainy season. Under the Polavaram project, a dam is being constructed across the Godavari River in West & East Godavari Districts of Andhra Pradesh.
9. (c) Delhi
Delhi Chief Minister Arvind Kejriwal announced to waive water arrears of consumers who live in E, F, G and H colonies and have functional domestic water meters. In Delhi, colonies are categorized from A to H.
10. (b) Sudan
Sudan requested the United Nations Security Council to lift its suspension of troop withdrawals and ensure all peacekeepers leave Darfur by June 2020. Omer Mohamed Siddig, Sudan's U.N. Ambassador, informed the council that it's time to shift from peacekeeping to peace-building in Darfur.
Download our Current Affairs & GK app for Competitive exam preparation. Click here for latest Current Affairs: Android|IOS