UNEP Report on Sand mining; Japan's first private rocket 'Momo-3' – Current Affairs
UNEP report on sand resources indicates that global demand for sand and gravel is at 40 to 50 billion tonnes per year.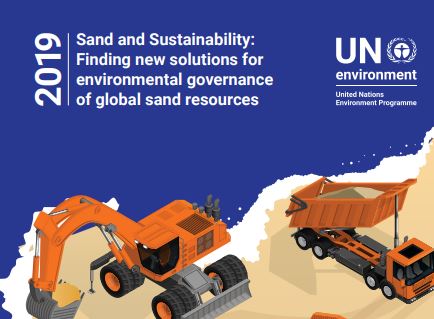 A UNEP Report
Story 1: Sand and Sustainability: UNEP Report on Sand Mining
United Nations Environment Programme (UNEP) has recently released a report on sand mining and its consumption. The report published with title - Sand and sustainability: Finding new solutions for environmental governance of global sand resources. It emphasises on the changing pattern of sand consumption, demand and role in growing population.
UNEP report on sand resources indicates that global demand for sand and gravel is at 40 to 50 billion tonnes per year. It also highlights the issues caused by illegal sand mining from rivers such as flooding, rising level of pollution, lowering of water aquifers and worse drought occurrences.
Key Findings of report
• Report informs that sand and gravel are the second largest natural resources extracted after water but least regulated.
• UNEP declares it one of the major sustainability challenges of the century.
• A growing trend of irresponsible and illegal extraction in marine, coastal and freshwater ecosystems makes this a sustainability challenge of significant proportions.
• China and India head the list of critical hotspots for sand extraction impacts in rivers, lakes and on coastlines, most likely because these countries also lead globally on infrastructure and construction.
• Report explores that ecological damage has been witnessed due to large sand mining as it breaks the natural system. Hydro-electricity production or irrigation is reducing the amount of sediment flowing downstream.
• There is no global monitoring or reporting for sand. However, countries are reporting their cement production.
India Specific Findings
• Two thirds of global cement production occurs in China (58.5%) and India (6.6%), as per United States Geological Survey.
• China stands out for aggregates production at 14.3 tonnes/capita per year. In total, China, India and Asia represent 67% of global aggregates production.
• Social and environmental impacts have been reported in India, China, and other locations across Asia, Africa and South America.
• Permeable pavements are used in cities around the world, particularly in new cities projects in China and India to reduce surface water runoff volumes and rates by allowing water to infiltrate soil rapidly, helping to reduce flooding while replenishing groundwater reserves.
Recommendations
Improving sustainable consumption and production of sand resources does not imply waiting for new global laws or rules to enable international cooperation. A hierarchy of three major strategies emerged that could lay new foundations for improved governance of sand resources in 2019 and thereafter:
Avoiding unnecessary natural sand consumption in construction;
Using alternative materials to replace natural sand in construction; and
Reducing sand extraction impacts with existing standards and best practices.
Story 2: Japan's first private rocket 'Momo-3' launched
Interstellar Technologies (IST) have become Japan's first private company who launched its own rocket momo-3 into space. Interstellar Technologies launched Momo-3 rocket from Hokkaido space centre. Founder of Interstellar Technologies Takafumi Horie said that it was a complete success. We'll work to achieve stable launches and mass-produce (rockets) in quick cycles.
Objective of this test is to bring cost at minimum level, plus, lesser use of fuel. After Momo-3 launched it was found that engines burned its liquid fuel for two minutes and reached at height of 113.4 kilometres.
Key Highlights
• Total flight duration was 515 seconds while reached at height of 113.4 kilometres.
• Duration from lift-off to apogee was 240 seconds and splashdown distance was 37 kilometres from the launch site.
• Interstellar Technologies is coming with ZERO rocket with objective of providing affordable, flexible access to space.
• ZERO will carry 100 kilograms of payload to an altitude of 500 kilometres.
• Interstellar Technologies revealed in a press release that Momo series rockets are development and experimental rockets their eventual goal is to prepare ZERO rocket.
About Interstellar Technologies
It is a Japanese Space company; making a low cost launching vehicle named Momo. Interstellar Technologies first tried to launch private launch vehicle Momo-1 in year 2017 but failed. Second attempt was made in year 2018 with Momo-2 but it was crashed just four seconds after its launch. This company is planning to build a full scale rocket that can launch small satellites into orbit by 2020. Takahiro Inagawa is president of Interstellar Technologies.
Other Space Technology companies in the world
SpaceX: Space Exploration Technologies Corp., is working as SpaceX. It is an American aerospace manufacturer and space transportation services provider company. its headquarter is located in Hawthorne, California. Elon Musk is founder of this company.
Boeing: It is another US based private company that designs, manufactures, and sells airplanes, rotorcraft, rockets, satellites, and missiles worldwide. It's headquarter is at Chicago, USA. Boeing was founded by William Boeing on July 15, 1916.
Sierra Nevada Corporation: Sierra Nevada Corporation (SNC) is an American company that contracts with the United States Armed Forces, NASA and private spaceflight companies. It is headquartered in Sparks, Nevada.
Virgin Galactic: It is a spaceflight company of Virgin Group. It aims to provide human spaceflights and spaceships in upcoming years. At present Virgin Galactic is developing commercial spacecrafts. It was founded by Richard Branson in year 2004.
Airbus: Airbus Defence and Space is a division of Airbus responsible for defence and aerospace products and services. Airbus Defence and Space has its corporate headquarters in Ottobrunn, Germany. It is manufacturer of Ariane launch vehicle.
Download our Current Affairs& GK app from Play Store/For Latest Current Affairs & GK, Click here
Take Weekly Tests on app for exam prep and compete with others. Download Current Affairs and GK app
एग्जाम की तैयारी के लिए ऐप पर वीकली टेस्ट लें और दूसरों के साथ प्रतिस्पर्धा करें। डाउनलोड करें करेंट अफेयर्स ऐप
Android
IOS