UNICEF India Appoints Actor Ayushmann Khurrana as National Ambassador for Child Rights
The Bollywood celebrity Ayushmann Khurrana has been selected as the national ambassador of the social welfare agency, UNICEF India. He was made UNICEF's Celebrity Advocate in September 2020 and since then he has worked visionarily for the required cause. Know what shaped him as an emerging voice of the nation.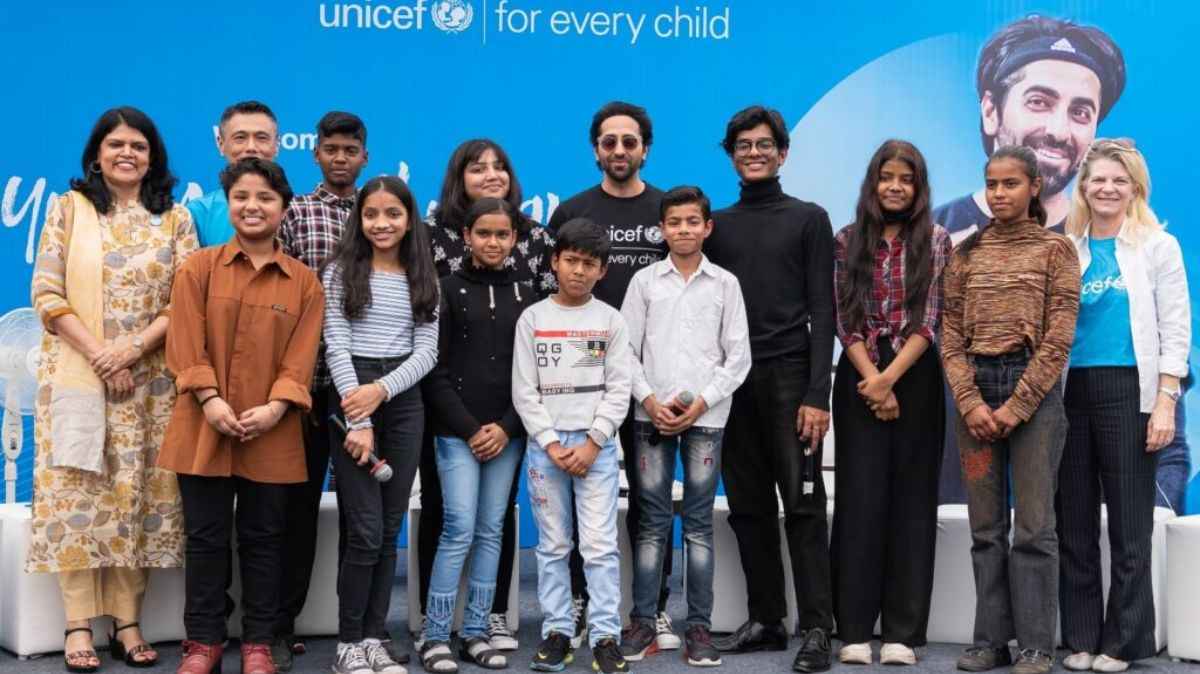 Ayushmann Khurrana assumes the role of UNICEF's National Ambassador
Ayushmann Khurrana as UNICEF's strong voice
On February 18, 2023, UNICEF India made an official announcement of the appointment of the National award-winning film star Ayushmann Khurrana as a National Ambassador. The actor collaborates with UNICEF in order to support ensuring the rights of each and every child to survive, thrive, and be protected. His role is also to encourage their voice and agency in necessary decisions that are related to them.
At the appointment ceremony, he was bestowed with the honour and position of ambassador Ayushmann Khurrana expressed his gratitude at the event stating that this acknowledgement will further advance his advocacy for children's rights. In the role of the National Ambassador of UNICEF India, he will bring forth his strong voice for the overall well-being of all children. He is passionate about giving an effective contribution to the issues facing children and adolescents in India.
UNICEF India is proud to announce @ayushmannk as our National Ambassador.

Ayushmann has previously supported #UNICEF as a Celebrity Advocate, raising awareness about ending violence against children.

We look forward to continuing this journey with you.

— UNICEF India (@UNICEFIndia) February 18, 2023
Celebrity Advocacy at UNICEF
The film 'Dream Girl' fame actor Ayushmann Khurrana added that as the Celebrity Advocate of the United Nations Children;'s Fund (UNICEF), he has had several interactions with deprived children.
He also has made his presence in the cause by speaking up on varied areas such as internet safety, cyberbullying, mental health, as well as gender equality. In this new role with UNICEF, he promises to raise a strong voice for children's rights, especially for the most susceptible ones and will stand in supporting solutions for various targeted problems that affect them the most.
Strong Voice for Children's Rights
The actor Ayushmann Khurrana was greatly welcomed as the National Ambassador for children's rights. At this event, Cynthia McCaffrey as UNICEF India Representative conveyed her regards to him and said, "I am delighted to welcome Ayushmann Khurrana as UNICEF India's National Ambassador. Ayushmann's strong commitment over the last two years as UNICEF's Celebrity Advocate has helped amplify and drive the work of protecting the rights of children."
She also expressed that he is one of India's biggest movie stars and the organisation is already excited that he will be using that powerful voice to abide by the goals of supporting children, and challenging derogatory social norms and gender stereotypes. Moreover, his voice matches UNICEF's work and ethos both in its sensitivity and passion. Now that the organisation has him as their envoy, it looks forward to working with him on the most critical issues of contemporary times and stopping violence, mental well-being, and gender equality and rights granted to every child. This step will be towards a better and bright future for the youth.
An honor to be appointed as the @UNICEFIndia National Ambassador.
I've been closely associated with UNICEF for the past two years and look forward to advocating for the rights of every child across India. pic.twitter.com/GAZYTUK1zs

— Ayushmann Khurrana (@ayushmannk) February 18, 2023
Ayushmann's Active Participation in the Cause

Ayushmann assumed the position of UNICEF India's Celebrity Advocate in September 2020. At that time, his role was to advocate against violence committed against children and the agenda of broader child rights. He has actively engaged while working on the cause at the root level.

At World Children's Day, he further influenced and promoted International Women's Day, International Day of the Girl Child, World Day Against Child Labour and Safer Internet Day. Through this, he raised the profile of children's issues and received wide public attention.

Talking about his most recent contributions, he focused attention on inclusion and non-discrimination through gender-inclusive sports on World Children's Day 2022 along with Sachin Tendulkar, Regional Ambassador for UNICEF South Asia. Girls and boys were also present and participated across the globe.

About his Glorious Career

On the professional front, Ayushman Khurrana marked his debut in this acting career with Vicky Donor. He achieved success by playing diverse roles in several films. The actor has also been a successful radio jockey, actor as well as a singer. He will now be seen in the upcoming romantic comedy film 'Dream Girl 2'.

Global, Regional and National Ambassadors are among the most distinguishable faces of the UNICEF corporation. Most prominent personalities from all walks of life come from different fields such as art, music, film, sport and more. They play a critical role in children's welfare and the challenges that they face around the world. Ambassadors volunteer their time to spread awareness and provide support. This helps UNICEF to reach the most disadvantaged children and adolescents with lifesaving help and hope.

Ayushmann has also given support by joining hands with the Ministry of Women and Child Development. This includes sarong his thoughts related to National Girl Child Day and initiatives, the Protection of Children from Sexual Offences Act (POCSO). It aims at making people aware of the protection and legal support that the Act offers against child sexual abuse. He commends the government through his actions and UNICEF's cause of protecting the future generations of the country.
Also Read: First Nuclear Power Plant to be set up in Northern India, Aims to Expand Nuclear Capacity
Take Weekly Tests on app for exam prep and compete with others. Download Current Affairs and GK app
एग्जाम की तैयारी के लिए ऐप पर वीकली टेस्ट लें और दूसरों के साथ प्रतिस्पर्धा करें। डाउनलोड करें करेंट अफेयर्स ऐप
Android
IOS