BJP launches 'Vijayi Bharat 2019' website to commemorate PM Modi's victory in Lok Sabha Elections
Lok Sabha Elections Results 2019 Updates: Following landslide victory of PM Modi in Lok Sabha Elections 2019, BJP launches a new website vijayibharat.narendramodi.in to congratulate him and the party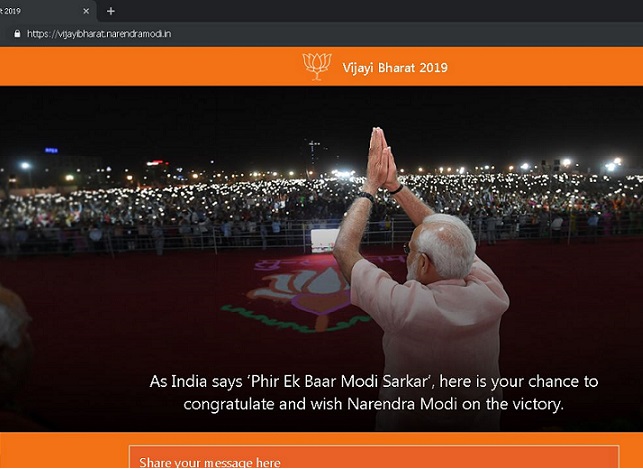 Lok Sabha Elections Results 2019 Updates
Following landslide victory of PM Modi in Lok Sabha Elections 2019, BJP launches a new website vijayibharat.narendramodi.in to congratulate him and the party. Any aam aadmi can visit this website and can congratulate him by writing a message along with his name. PM Narendra Modi is leading in Varanasi constituency with over 4,00,000+ votes. Now the final counting of Lok Sabha Election 2019 is going to finish soon, many celebrities and political leaders have started congratulating PM Narendra Modi and his party's historic win.
Here is how you can also send a personal message through the website vijayibharat.narendramodi.in along with your name and photograph.
• Visit vijayibharat.narendramodi.in
• Cleck on the 'Share your message box'
• Type your name
• Type your message in the space provided
• Upload a picture (if you want)
After clicking on the send button, your message will be send.
Narendra Modi led NDA government is all set to start its second term as BJP+ is leading by more than 300 seats out of 542 constituency seats. If you want to learn how Bollywood celebrities are congratulating PM Narendra Modi. Check out the article from the link given below
Bollywood and Sports Personalities reacts to BJP Historic win: Know who all congratulated PM Narendra Modi!
Let alone celebrities and sports personalities, political leaders from India and all over world have also started congratulating PM Modi. You can check some important tweets from the link given below
Congratulations pour in for Narendra Modi, Pak PM Imran Khan looking forward to work with Modi for peace
Check other articles related to Lok Sabha Elections Result 2019
Varanasi, Raebareli, Lucknow, Gorakhpur, Rampur Lok Sabha Election Result 2019 Live Updates: Ravi Kishan wins in Gorakhpur; PM Modi wins in Varanasi
Karnataka Lok Sabha Election Result 2019 Live Updates: BJP in for a victory in Karnataka
Bollywood Stars contesting in Lok Sabha Election 2019: Shatrughan Sinha Losing, Jaya Prada losing, Hema Malini Winning, Kirron Kher Winning, Raj Babbar Losing