Virat Kohli's record broken, Shubman Gill creates history
Virat Kohli has become the most successful Test captain of the Indian team. However, Shubhman Gill has broken his record of the youngest captain in Deodhar Trophy finals.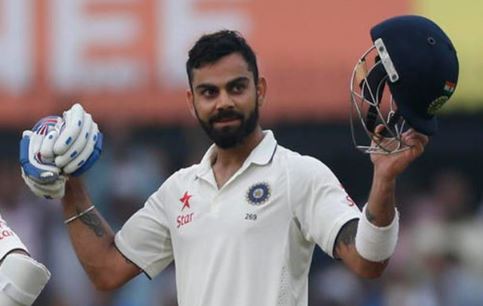 Virat Kohli
Virat Kohli: Shubman Gill, 20-year-old, has become the youngest player to captain India-C team in the final of the Deodhar Trophy. He went past the 10-year-old record of Indian team captain Virat Kohli to become the youngest captain of Deodhar Trophy.
Shubman Gill was 20 years and 57 days old during the final match. Virat Kohli captained the North Zone in 2009-10 when he was 21 years and 124 days old. The final match was played between India C and India B at the JKCA International Complex in Ranchi.
Youngest Captains in Deodhar Trophy Finals

Captain

Age

Team

Season/Year

Shubhman Gill

20 Years 57 Days

India C

2019-20

Virat Kohli

21 Years 124 Days

North Zone

2009-10

Unmukt Chand

22 Years 310 Days

India B

2015-16

Shreyas Iyer

23 Years 92 Days

India B

2017-18

Manoj Tiwari

23 Years 124 Days

East Zone

2008-09

Kapil Dev

23 Yeas 305 Days

North Zone

1982-83
Also Read | Shakib Al Hasan banned from all forms of cricket for two years
Virat Kohli Turns 31
Indian cricket team captain Virat Kohli is celebrating his 31st birthday on November 05, 2019. Born on 5 November 1988, Virat Kohli is named among the greatest cricketers in the world. The Board of Control for Cricket in India (BCCI) has shared an old video of Virat Kohli and congratulated him on his birthday.
About Virat Kohli
• Virat Kohli played the first international match against Sri Lanka on 18 August 2008.
• Virat had scored 12 runs in the debut match. He scored the first century of his career in 2009.
• Virat Kohli scored his first ODI century in the 2009 bilateral series between India and Sri Lanka. In this match, Virat scored a brilliant 107 runs in 114 balls.
• Virat Kohli came into the limelight after winning the under-19 World Cup title in 2008. India won this trophy under his captaincy.
• Virat Kohli has scored 7066 runs in 82 Tests at an average of 54.77 so far. Virat has scored 26 centuries in Test cricket.
• At the same time, in 239 ODIs, Virat has scored 11,520 runs at an average of 60.31. In ODI cricket, Virat has scored 43 centuries.
• In T20 cricket, Virat has scored 2450 runs in 72 T20 matches at an average of 50.00.
Also Read | Rohit Sharma creates new Test record, surpasses Australia's Don Bradman
Also Read | ICC alter super over rules, boundary count scrapped