World Cotton Day: Objective, significance and key highlights!
World Cotton Day: The WTO hosted the first-ever World Cotton Day on October 7 to highlight the challenges of cotton economies.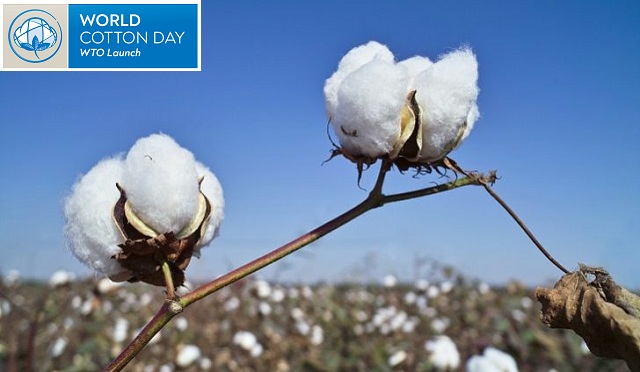 World Cotton Day
World Cotton Day: The first-ever World Cotton Day (WCD) will be hosted by the World Trade Organization (WTO) in Geneva on October 7, 2019. The international day aims to celebrate the advantages of cotton, ranging from its qualities as a natural fibre to the benefits people obtain from its production, transformation, trade and consumption.
World Cotton Day also aims to highlight the challenges faced by the world's cotton economies, as cotton is significant for the least developed, developing and developed economies worldwide.
Union Textiles Minister, Smriti Irani is expected to participate in a plenary session commemorating the World Cotton Day. The plenary session, which will be observed from October 7-11, aims to highlight the challenges faced by cotton economies across the world. It will be attended by heads of states, heads of international organizations and private sector executives.
Also read: Aarey forest controversy: What is it all about?
World Cotton Day: Objectives
World Cotton Day aims to:
• Provide exposure and recognition to cotton and all its stakeholders in production, transformation and trade.
• Engage donors, beneficiaries and strengthen development assistance for cotton.
• Seek new collaborations with the investors and private sector for the cotton related industries and production in developing countries.
• Promote technological advances and further research and development on cotton.
World Cotton Day event: Key Highlights
The World Cotton Day event will include a partners' conference where the development partners will discuss the new project on cotton by-products and other development initiatives.
There will also be a photo contest to encourage photographers from across the globe to send out strong messages underlying the importance of cotton and its value chain.
There will also be a fashion show that will display cotton fashion and designers from different parts of the world with a special focus on Africa.
The event will also include a cotton exhibition where the Handloom Export Promotion Council (HEPC), Cotton Corporation of India (CCI), TEXPROCIL and India's NIFT will be setting up their stalls.
The Cotton Corporation of India will be displaying various grades of raw cotton including SUVIN, the finest quality of extra-long staple cotton produced in Tamil Nadu, which has the highest fibre length.
World Cotton Day: Significance
World Cotton Day provides a common platform to the international community and the private sector to share knowledge and showcase cotton related activities and products.
World Cotton Day will be celebrated across the world every year. The day will host events that give exposure to the cotton farmers, processors, researchers and businesses.
Cotton: Why is it so important?
Cotton is produced all over the world and one single tonne of cotton provides almost one year-round employment for five people on average.
Cotton crop is perfectly suited for regions with an arid climate. Overall, cotton occupies just 2.1 percent of the world's arable land and yet meets 27 percent need of the world's textile sector.
While cotton fibre is used in textiles and clothing apparel, food products like edible oil are obtained from cotton and its seed is used as animal feed.
Background
The World Trade Organisation organized the World Cotton Day event at the request of four cotton countries- Burkina Faso, Benin, Chad and Mali to recognize their application to the United Nations to establish October 7 as World Cotton Day.
The WTO organized the World Cotton Day event in collaboration with the secretariats of the United Nations Conference on Trade and Development (UNCTAD), United Nations Food and Agriculture Organization (FAO), International Cotton Advisory Committee (ICAC) and the International Trade Centre (ITC).
Also read: FSSAI 'Trans-Fat Free' logo launched; boosts Eat Right India Movement
Also read: Government launches green crackers: Everything you need to know!