Feroz Shah Kotla renamed as Arun Jaitley Stadium: History, Events and Facts
Feroz Shah Kotla Stadium will be renamed as Arun Jaitley Stadium and ceremony will be held at the Jawaharlal Nehru Stadium on 12 September, 2019. The decision of renaming was announced by the Delhi and District Cricket Association (DDCA) on 27 August, 2019 to pay tribute to the late Union Minister Arun Jailey who breathed his last after a prolonged illness on 24 August, 2019. Let us read 10 unknown facts, history, etc. about the Stadium.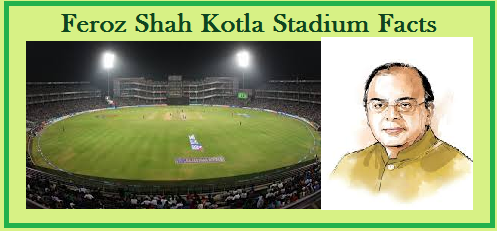 Feroz Shah Kotla Stadium Facts
The Chief Guest for the function will be Amit Shah, the Union Home Minister. Arun Jaitley's family members and Sports Minister Kiren Rijuju will also be present at the function to commemorate Jailey's enticing contribution as a former DDCA president in cricket and careers of cricketers. DDCA has also confirmed that the ground will continue to be called as the Feroz Shah Kotla.
According to the Rajat Sharma President of DDCA , it was Arun Jaitley's support and encouragement that players like Virat Kohli, Virender Sehwag, Gautam Gambhir, Ashish Nehra etc. could make India proud. During his tenure only, the stadium was renovated with new modern facilities; its accommodation capacity is increased, world class dressing room etc. Do you know when Feroz Shah Kotla Statdium was established, what is the seating capacity of the stadium, etc? Let us have a Look!
10 Unknown Facts about Feroz Shah Kotla Stadium
Feroz Shah Kotla Stadium was established in 1883. It is the second oldest international cricket stadium after the Eden Gardens in Kolkata which is functional in India.
Earlier, Feroz Shah Kotla Stadium was known as Wellingdon Pavilion.
The name of the stadium is derived from the Emperor of Delhi, Feroz Shah Tuqhlaq, who ruled from 1351 to 1388. It was also said that earlier it was not a stadium but a citadel and the stadium was built in its proximity was named after.
Note: Firozabad was the fifth city of Delhi which was built by Feroz Shah Tughlaq and the citadel was part of Firozabad. Also, according to some historians, Feroz Shah Kotla was the first city of Delhi to be built on the banks of Yamuna river.
Virat Kohli's ODI Centuries:Complete List
According to the history, during British Raj, Britishers built Wellingdon Pavilion to play cricket.
Feroz Shah Kotla ground has approx 65 square yards playing area and about 41, 820 seating capacity. It has 4 floodlights.
Delhi's Feroz Shah Kotla Stadium is managed and controlled by the Delhi and District Cricket Association (DDCA).
In 1948, the first Test match was played between India and West Indies in Feroz Shah Kotla Stadium.
The stadium is the home to the Delhi Ranji team and Delhi capitals in the Indian Twenty20 League.
In 1999, a record was formed by Anil Kumble in a single Test innings by taking 10 wickets at Feroz Shah Kotla Stadium.
Sunil Gavaskar had scored his 29th century equal to Don Bradman's long standing record for the highest number of hundreds in Test cricket in 1983-84. In fact in Feroz Shah Kotla Stadium, Sachin Tendulkar broke Gavaskar's record of most centuries with his 35th test century in 2005-06.
So, now you may have come to know about Feroz Shah Kotla Stadium like its history, events, records etc.
Arun Jaitley: Biography and Political Journey
ICC Cricket World Cup Records: Runs, Wickets and Centuries