H3N2 Influenza: Causes, Symptoms, Treatment, Precautions, Mortality Rate & More
H3N2 Influenza Virus: Influenza's subtype H3N2, the Centers for Disease Control (CDC) and World Health Organization both agree that this virus is a major contributor to human influenza.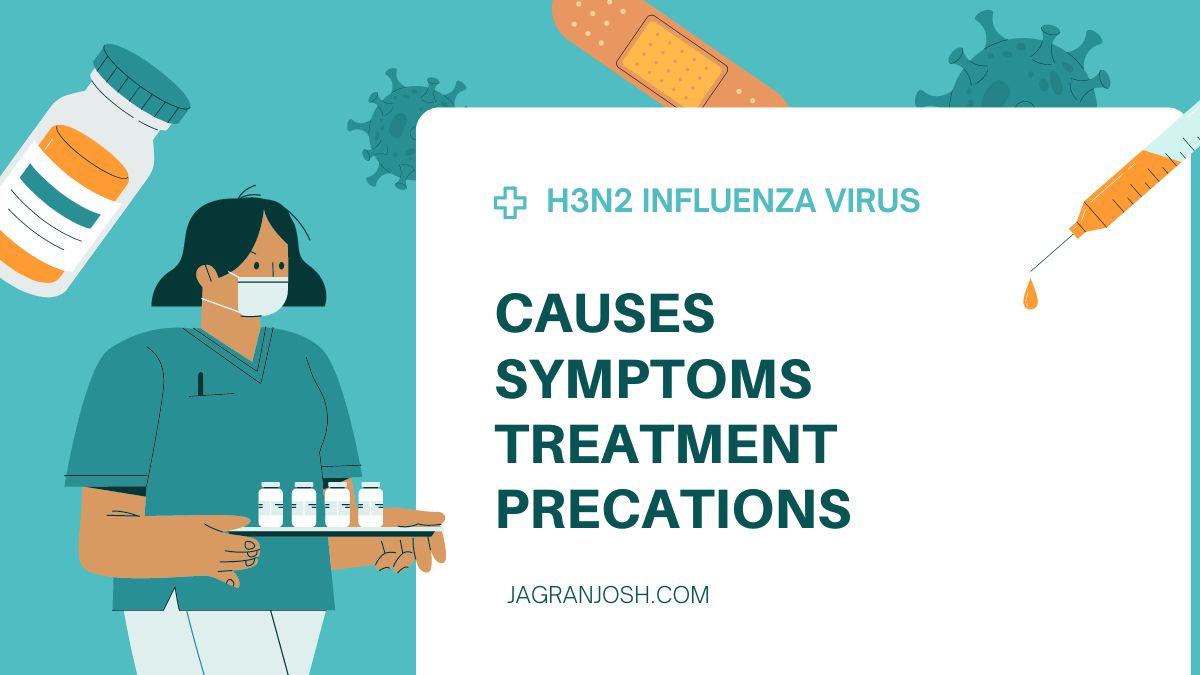 H3N2 Influenza Virus
H3N2 Influenza Virus: The H3N2 virus has been found to be the cause of a significant portion of the country's recent spike in influenza cases. The H3N2 subtype of influenza A is currently the main cause of respiratory illness in the nation, according to the Indian Council of Medical Research (ICMR). Indian authorities have now confirmed two additional deaths, one each from Haryana and Karnataka.
Influenza A subtype H3N2 is the major cause of current respiratory illness. ICMR-DHR established pan respiratory virus surveillance across 30 VRDLs. Surveillance dashboard is accessible at https://t.co/Rx3eKefgFf@mansukhmandviya @DrBharatippawar @MoHFW_INDIA @DeptHealthRes pic.twitter.com/3ciCgsxFh0

— ICMR (@ICMRDELHI) March 3, 2023
What is H3N2 Influenza Virus?
The "Hong Kong flu" is another name for the H3N2 virus. The influenza virus genus A, which is a major contributor to human influenza and causes respiratory infections, includes the subtype H3N2. Hemagglutinin(H) and neuraminidase(N), two types of proteins that are present on the surface of its coat, are the sources of its name.
Influenza (Flu) Viruses: Types, Symptoms, Naming and Vaccine
H3N2 Influenza Virus: Causes
Droplets emitted when a person with the highly contagious H3N2 influenza coughs, sneezes, or speaks can spread the illness from one person to another. In addition, the virus can be spread if a person touches their mouth or nose after coming into contact with a surface that has the infection. Complications from the flu are more likely to occur in pregnant women, young children, elderly adults, and people with underlying medical conditions.
What is Zika Virus? Causes, Symptoms, Treatment, Precautions, and More
H3N2 Influenza Virus: Symptoms
H3N2 Influenza Virus can show symptoms similar to Covid-19. The list of early signs includes:
Chills

Coughing

Fever

Nausea

Vomiting

Throat ache/sore throat

An ache in muscles and body

In some cases, diarrhea

Sneezing and runny nose
These symptoms usually may last for about a week, however, some people may endure them for a longer period of time too. If a person experiences difficulty in breathing, pain or discomfort in the chest, continuous fever, and pain in the throat while gulping down food, it is very important to see a doctor.
What is Leprosy? Causes, Symptoms, Treatment, Prevention, Transmission & More
H3N2 Influenza Virus: Treatment
The H3N2 flu treatment plan includes getting enough rest, drinking plenty of fluids, and reducing fever with over-the-counter pain relievers. Antiviral medications may also be suggested by a doctor if a patient has severe symptoms or is at a high risk of complications.
WHO recommends that neuraminidase inhibitors are prescribed as soon as possible (ideally, within 48 hours of symptom onset) in suspected and confirmed cases to maximize therapeutic benefits.
Meanwhile, the Indian Medical Association (IMA) has urged physicians to avoid giving patients antibiotics before determining whether the infection is bacterial because doing so can cause resistance to develop. Most cases of fever, cough, sore throat and body aches right now are caused by influenza, which doesn't require antibiotics.
What is Camel Flu? Symptoms, Causes, Diagnosis, Prevention, & More
H3N2 Influenza Virus: Precautions
Doctors have recommended Covid-like safety measures, such as consistent hand washing and mask use. The Indian Council of Medical Research (ICMR) advises drinking plenty of fluids, refraining from touching one's eyes or nose, covering one's mouth and nose while coughing and sneezing, and taking paracetamol for fever and body aches.
Some Dos and Dont's for the H3N2 influenza Virus are:
Dos
:
Keep your hands clean: Regularly wash your hands with soap and water.

Avoid crowded areas; wearing a face mask is still recommended.

When you cough or sneeze, cover your mouth and nose.

Drink plenty of liquids to keep yourself hydrated.

Use paracetamol if you have a fever and body aches.

When sick, avoid going to work or school.
Don'ts:
Touch your mouth and face.

Public spitting

Make contact with sick people

the hands.

Utilize self-medication and antibiotics
According to experts, the virus primarily affects people under the age of 15 and over the age of 50, and it also causes fever and upper respiratory infections. The most at risk for contracting the infection are the elderly, children, and pregnant women. The doctors advised this group along with patients suffering from chronic conditions to take extra precautions.
FAQ
How is H3N2 treated?
Resting, drinking lots of fluids, and using over-the-counter painkillers can give some relief to H3N2 causes.
How long does H3N2 Flu last?
H3N2 Flu lasts for 3-4 days.
Is H3N2 Flu serious?
H3N2 can cause respiratory illnesses ranging from mild to severe, and it can lead to complications such as pneumonia, particularly in high-risk populations such as the elderly, young children, and people with weakened immune systems.