Important Geographical Facts about Africa
Africa is the most interesting and diverse continent on the earth. It is the land of an incredible variety of people, animals and climates. It is the second largest continent, after Asia as well as the only continent to extend from the northern temperate zone to the southern temperate zone. In this article, we are giving important geographical facts about African continent, which is very useful for the competitive examinations like UPSC-prelims, SSC, State Services, NDA, CDS, and Railways etc.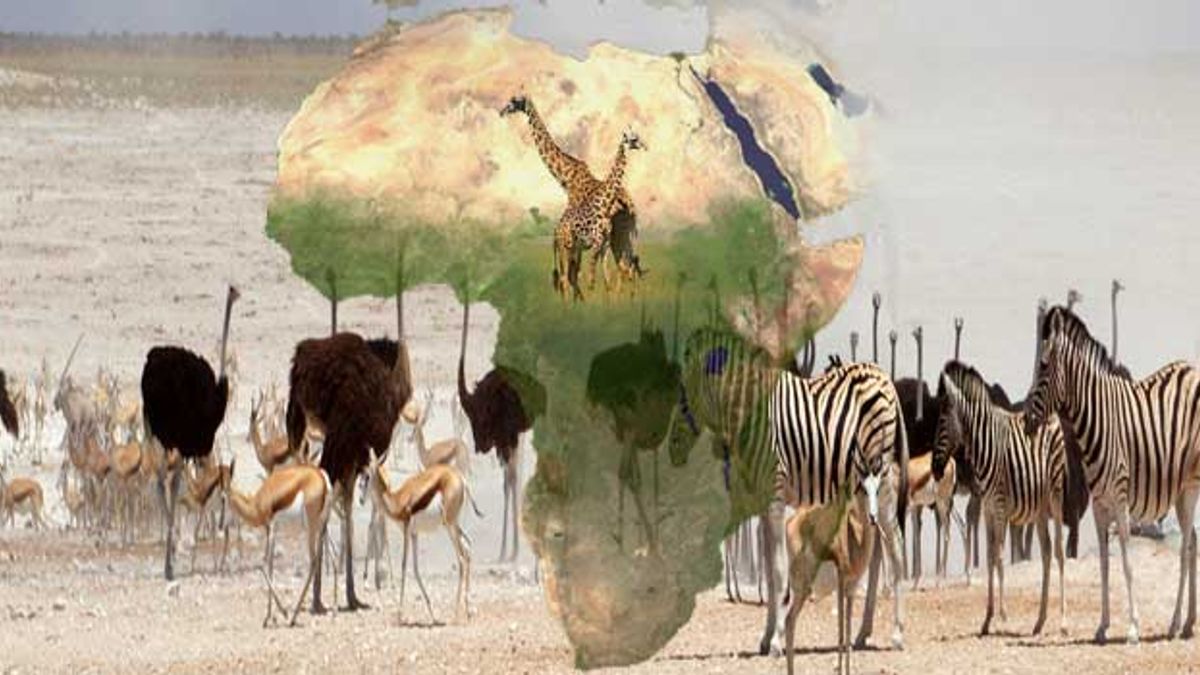 Important Geographical Facts about Africa
Africa is the second largest continent, after Asia. According to the paleoanthropologists (One who study the human fossils scientifically), Africa is the oldest territory of the Earth where the human species evolved. It is the only continent to extend from the northern temperate zone to the southern temperate zone.
Important Geographical Facts about Africa
1. The Tropic of Cancer, the Equator and the Tropic of Capricorn passes through it.
2. The Strait of Gibraltar, Mediterranean Sea, Suez Canal, Red Sea and the Arabian Sea separate it from Asia and Europe.
3. Major Mountain Ranges: Ahaggar Mountains; Ahmar Mountains; Aberdare ranges, Kenya; Amaro Mountains, Ethiopia; Atlantika Mountains, Cameroon, Nigeria; Atlas Mountains, Algeria, Morocco, Tunisia; Anti-Atlas, Morocco; Aures Mountains, Algeria, Tunisia; High Atlas, Morocco; Middle Atlas, Morocco, Rif, Morocco; Saharan Atlas, Algeria; Tell Atlas, Algeria, Morocco, Tunisia, Bale Mountains, Ethiopia; Bakossi Mountains, Cameroon; Bvumba Mountains, Mozambique, Zimbabwe; Cal Madow, Somalia; Cederberg, South Africa; Drakensberg, South Africa Eastern Arc Mountains, Kenya, Tanzania; Eastern Highlands, Mozambique, Zimbabwe; Entoto Mountains, Ethiopia; Erta Ale Range, Ethiopia; Golis Mountains, Somalia; Kilimanjaro and Meru, Tanzania; Kipengere Range, Tanzania; Lebombo Mountains, Mozambique; Magaliesberg, South Africa; Mahale Mountains, Tanzania; Mandara Mountains, Cameroon, Nigeria; Mount Cameroon; Mount Nimba; Mt. Kenya, Kenya; Ogo Mountains, Somalia; Outeniqua, South Africa; Pare Mountains, Tanzania; Piton des Neiges – Piton de la Fournaise, Reunion; Rwenzori, Uganda; Semien, Ethiopia; Swartberg, South Africa; Tibesti Mountains; Udzungwa Mountains, Tanzania; Uluguru Mountains, Tanzania; Usambara Mountains, Tanzania.
4. Mt. Kiimanjaro and Mt. Kenya is the highest mountain peak of Africa. These two peaks are volcanic mountains.
5. Major Rivers: Nile, Limpopo, Niger, Senegal, Congo, Orange and Zambezi
6. The Nile River is the longest river in the world is situated in Africa. It originates from the Lake Victoria and drains into the Mediterranean Sea.
10 Important Facts related to the Ocean Currents
7. The Congo River (also known as the Zaire River) is the most voluminous river in Africa. It is one the great rivers of the world that flow out of equatorial zones where heavy rainfall occurs throughout all or almost all of the year. It crosses the equator two times.
8. Major Waterfalls: Victoria Falls, Mutarazi Falls, Chisimba Falls, Kabwelume Falls, Kalambo Falls, Kundalila Falls, Mumbuluma Falls, Mutumuna Falls, Ngonye Falls, Murchison Falls, Sipi Falls, Augrabies Falls, Kalandula Falls, Kagera Falls, Rusumo Falls, Gauthiot Falls, Boyoma Falls (formerly known as Stanley Falls), Inga Falls, Livingstone Falls, Lofoi Falls, Blue Nile Falls, Boti Falls, Kintampo Falls, Tagbo Falls, Wli Falls, Tinkisso Falls, Thomson's Falls, Maletsunyane Falls, Derna Falls, Andriamamovoka Falls, Mahamanina Falls, Mandraka Falls, Rianbavy Falls, Sakaleona Falls, Gouina Falls, Ouzoud Falls, Ruacana Falls, Erin-Ijesha Falls, Farin Ruwa Falls, Gurara Falls, Lamadaya Falls, KwaZulu-Natal, Tugela Falls, Howick Falls, Ncandu Falls, Berlin Falls, Bridal Veil Falls, Lisbon Falls, Lone Creek Falls, and Mac-Mac Falls.
9. Tugela Falls is the second highest waterfall in the world lies in Africa.
10. Major Lakes: Chad, Mai-Ndombe, Turkana, Malawi, Albert, Tanganyika, Ngami, Mweru, Edward, Bangweulu, Victoria, Abaya, Kivu, Tana and Naivasha.
11. Victoria is the largest lake in Africa. The Equator passes through it.
12. Major Plateaus: Adrar Plateau, Ankarana Reserve, Bateke Plateau, Boma Plateau, Buberuka Highlands, Djado Plateau, East African Plateau, Ennedi Plateau, Ethiopian Highlands, Highveld, Ijafene, Katanga Plateau, Kinangop Plateau, Kwahu Plateau, Mafinga Hills, Nyika Plateau, Ouatchi Plateau, Roggeveld, Sanetti Plateau, Tademaït, Tagant Plateau, Thaba Bosiu and Udi-Nsukka Plateau.
List of Major Plateaus of the World
13. Major Desert: Sahara Desert, Kalahari Desert, Karoo Desert, Namib Desert, Eritrean Coastal Desert, Mocamedes Desert, Danakil Desert, Guban Desert, Grand Bara Desert, Ogaden Desert, Chalbi Desert, Nyiri Desert, and Lompoul Desert.
14. Major Food Crops: Rice, Wheat, Maize, Sorghum, Pearl millet and finger millet.
15. Major Cash Crops: Oil Palm, Groundnut, Cocoa, Coffee, Cotton and Sisal.
16. Major Strait: Bab Iskender, Bab-el-Mandeb, Canal de Bolama, Strait of Gibraltar, Mafia Channel, Mozambique Channel, Pemba Channel, Strait of Sicily, Straits of Tiran and Zanzibar Channel.
17. Time Zone: There are six time zones and thirteen standard time zone names to describe them. The time zone range from UTC/GMT -1 to UTC/GMT + 4.
18. Climate: The equatorial climate, the tropical wet and dry climate, the tropical monsoon climate, the semi-desert climate (semi-arid), the desert climate (hyper-arid and arid), the subtropical highland climate.
19. Ethnic groups and language: There are 3000 distinct ethnic groups, 2000 languages. Zulu, Maasai, San Bushmen, Yoruba, Xhona, Hausa, Himba, Oromo, Kalenjin, and Chaga are the most popular tribes of Africa.
20. According to the United Nation, there are 54 countries in Africa.
Africa is the land of an incredible variety of people, animals and climates. It is bounded by the Mediterranean Sea to the north, by the Atlantic Ocean to the west, by the Red Sea to the northeast, and by the Indian Ocean to the southeast.