20 Inspirational and Famous Mahatma Gandhi Quotes
Mahatma Gandhi full name is Mohandas Karamchand Gandhi. He played a crucial role in freedom struggle of India. His powerful political tools were Satyagraha and non-violence who had inspired other political leaders around the world. He was also a good writer. Here in this article we are giving some inspirational and famous quotes of Mahatma Gandhi.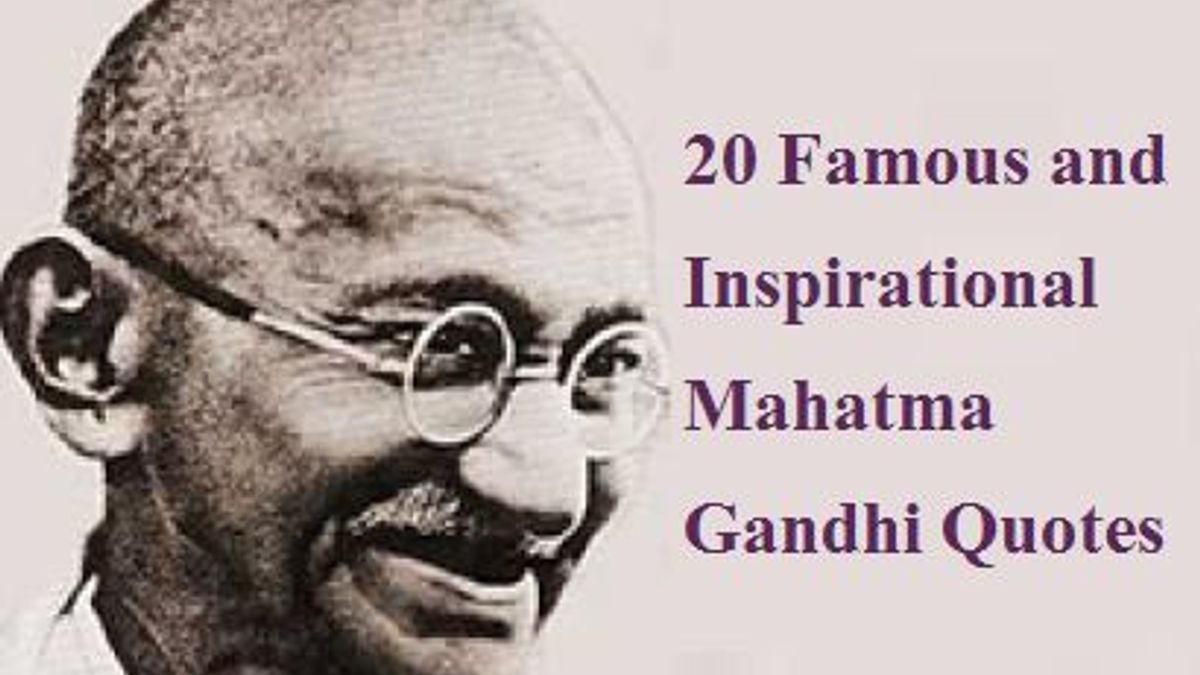 20 Inspirational and Famous Mahatma Gandhi Quotes
Mahatma Gandhi is one of the history's most inspirational figures. He is popularly known as the Father of Nation or Bapu. He was a lawyer, politician, social activist and writer who fought against British rule and emerge as a nationalist movement leader. From 1903 to 1948 he continued writing. His collected works are now present in 100 volumes. Basically, they are the collections of his articles and speeches on truth and ahimsa.
Do you know that he believed in expressing the reality and hope? His writings are very direct and bold. He used simple language and expressed his thoughts. He always believed in reality rather than imagination. According to some British Viceroys "Gandhi was direct and expressed himself in excellent English". Let us study some inspirational and famous quotations of Gandhi Ji which inspire not only Indians but the whole world.
20 inspirational and Famous Quotes of Mahatma Gandhi
1. The best way to find yourself is to lose yourself in the service of others.
2. First they ignore you, then they laugh at you, then they fight you, then you win.
3. Live as if you were to die tomorrow. Learn as if you were to live forever.
4. The weak can never forgive. Forgiveness is the attribute of the strong.
5. You must be the change you wish to see in the world.
6. Anger and intolerance are the enemies of correct understanding.
7. A man is but the product of his thoughts what he thinks he becomes.
8. Prayer is not asking. It is a longing of the soul. It is daily admission of one's weakness. It is better in prayer to have a heart without words than words without a heart.
Journey of Mahatma Gandhi from South Africa to India
9. The essence of all religions is one. Only their approaches are different.
10. It is health that is real wealth and not pieces of gold and silver.
11. Strength does not come from physical capacity. It comes from an indomitable will.
12. In a gentle way, you can shake the world.
13. No one can hurt me without my permission.
14. Where there is love there is life.
15. All compromise is based on give and take, but there can be no give and take on fundamentaks, Any compromise on mere fundamentals is a surrender. For it is all give and no take.
16. Self-respect knows no considerations.
17. My religion is based on truth and non-violence. Truth is my God. Non-violence is the means of realising Him.
18. The difference between what we do and what we are capable of doing would suffice to solve most of the world's problems.
19. Faith is not something to grasp, it is a state to grow into.
20. An eye for eye only ends up making the whole world blind.
These are some famous and inspirational quotes of Mahatma Gandhi.
Why Gandhi Jayanti is celebrated on 2nd October?
20 Interesting and Unknown Facts about Mahatma Gandhi