10 unknown facts about Sharada Peeth Corridor
Sharada Peeth temple is an ancient temple and an important cultural site located in the PoK. Do you know that Pakistan government gave the approval of opening Sharada Peeth corridor due to which Hindu pilgrims from India can visit this temple? But what is Sharada Peeth temple, what is its significance, its histoary, who built it, what is Sharada Peeth University etc. Let us study through this article.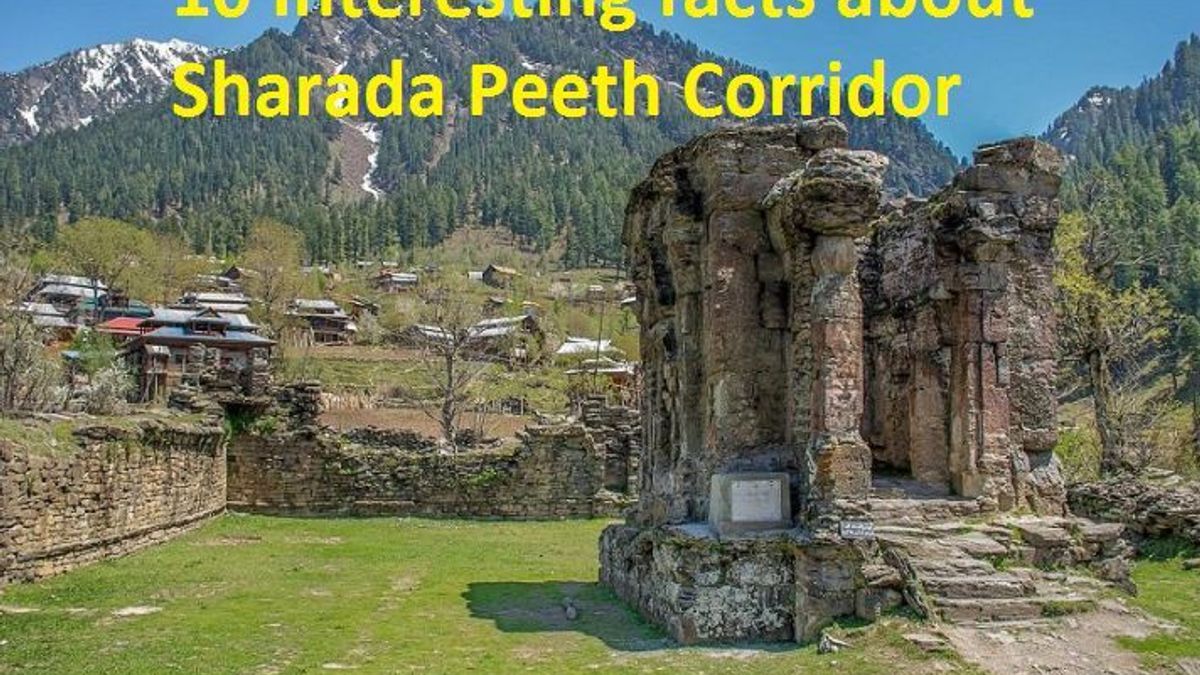 Interesting facts about Sharada Peeth Corridor
An ancient temple and cultural site Sharada Peeth is located in the Pakistan-occupied Kashmir region. It is said that it is one of the three famous holy sites for Kashmiri Pandits, the others are Martand Sun Temple in Anantnag and the Amarnath Temple. Do you know about Sharada Peeth, when it was established, who established it, is Sharada Peeth was a university also etc. Let us study about Sharada Peeth temple through this article.
Interesting facts about Sharada Peeth
1. Some accounts states that during the reign of Emperor Ashoka, Sharada Peeth was established in 237 B.C. So, it is almost 5000 years old ancient temple and also a centre of learning which was dedicated to the Hindu goddess of learning. According to another account this temple was built during the rule of Kushans early 1st century. While other account says that Buddhists had a strong involvement in the Sharada region but to support the claim researchers didn't find any evidence.
2. Faiz ur Rehman Case Study of Sharada Temple states that Raja Lalitaditya had built the Sharada Peeth for containing the religious and political influence of Buddhism. This claim is supported because Lalitaditya was a master of building massive temples.
3. Sharada Peeth stands on the bank of Neelam River close to the Line of Control (LoC) in Pakistan Occupied Kashmir (PoK) at a distance of around 140 km from Muzaffarabad and 30 km from Kupwara.
15 Interesting Facts and History about Pakistan Occupied Kashmir (POK)
4. According to some ancient accounts, the height of the temple is 142 feet and width is 94.6 feet. The outer walls of the temple are 6 ft. wide and 11 ft. long. Arches are of 8 ft. height. But the structure is damaged.
5. Let us tell you that temple Sharada is also regarded as a Shakti Peeth a shrine built on places where body parts of Devi Sati had fallen while being carried by her husband Lord Shiva. Therefore, it is one of 18 Maha Shakti Peethas or Grand Shakti Peethas, a highly revered temple throughout South Asia.
6. Sharada Peeth means "the seat of Sharada" which is the Kashmiri name for the Hindu goddess Saraswati.
7. Sharada Peeth is said to be an ancient centre of learning where the texts written by Panini and other grammarians were stored. Therefore, this place is regarded as a major centre of higher learning of Vedic works, scriptures and commentaries.
8. One of the country's oldest universities known as Sharada University also stand here which is famous for his own script that is Sharada and it is said that earlier it has around 5,000 scholars and the biggest library of that time.
9. Do you know that the foundation of the Sharada Peeth was also goes back to the time when the Kashmiri Pandits transformed their land of scenic beauty into an intellectual centre known as Sharada Peeth or Sarvajnanpeetha. Goddess Sharada was also referred to as Kashmira-Puravasani.
10. Since 1947 partition the temple has been completely deserted. Restrictions from visiting the shrine also discouraged the devotees.
So, now you may have got the idea about the Sharada Peeth which is one of the Shakti Peethas and also, an important centre of learning in ancient times.
Indus Water Treaty (IWT): Water-Sharing Agreement
What were the reasons behind Indo-Pakistan War and its effects?