International Day of Charity 2019: History and Significance
International Day of Charity is celebrated on 5 September every year to commemorate the death anniversary of Mother Teresa and to make people understand about the importance of charity. When first International Day of Charity was celebrated, how it is celebrated, how International Day of Charity was created etc? Let us have a look!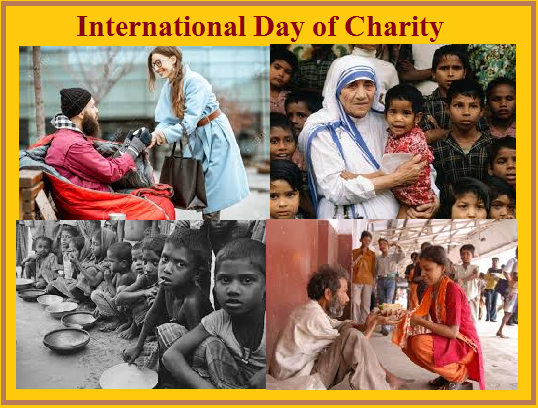 International Day of Charity
Charity is helping others, giving to the poor and yes it starts from home. The concept of charity now has been blurred. Very few people come forward and help others.
Charity helps and supports those people who are in need. It allows us to think wide and reach into different society. No doubt, this day promote and recognise charity and motivate people to help poor and needy person. This day also focuses on the role played by several charitable organisations around the world and actions that have created more inclusive and resilient societies.
"The hunger for love is much more difficult to remove than the hunger for bread."-— Mother Teresa
International Day of Charity: History
The International Day of Charity officially was declared by the UN General Assembly in 2012. Also, this day was created by the Hungarian Civil society initiative in 2011 with the support of the Hungarian parliament and Government. 5 September is selected as the Date to celebrate the International Day of Charity because this date commemorates the anniversary of passing of Mother Teresa who worked tirelessly for the people who are in need, to overcome poverty, distress and suffering of the poorest in the world.
In fact in the 2030 Agenda on Sustainable Development that was adopted on 15 September, the United Nation recognises and focuses on eradicating poverty in all its forms and dimensions including extreme poverty which is the greatest global challenge and an indispensable requirement for sustainable development. The Agenda also focuses on the needs of the poorest and most vulnerable section in the society.
"When a poor person dies of hunger, it has not happened because God did not take care of him or her. It has happened because neither you nor I wanted to give that person what he or she needed." — Mother Teresa
How International Day of Charity is celebrated?
The United Nations invite all the member states, several organisations, businessman, citizens to celebrate this day by giving donation or by contributing to charity efforts in any possible way.
In fact UN also encourages charity donations, driving education, awareness campaign which focus on the importance of charity.
We can't ignore the fact that charity around the world help to save and improve lives of people in fighting diseases, protecting children and also it give hope to various thousands of people.
"It is not about how much you do, but how much love you put into what you do that counts." - Mother Teresa
"Not all of us can do great things. But we can do small things with great love."—- Mother Teresa