Manohar Parrikar Biography: Family, Education, Political Life and Awards
Manohar Parrikar was a politician, leader of BJP, member of RSS and a CM of Goa. He died due to pancreatic cancer at his hometown Panaji, Goa. Let us study biography of Manohar Parrikar, his family, education, Political Life, Awards conferred to him etc. through this article.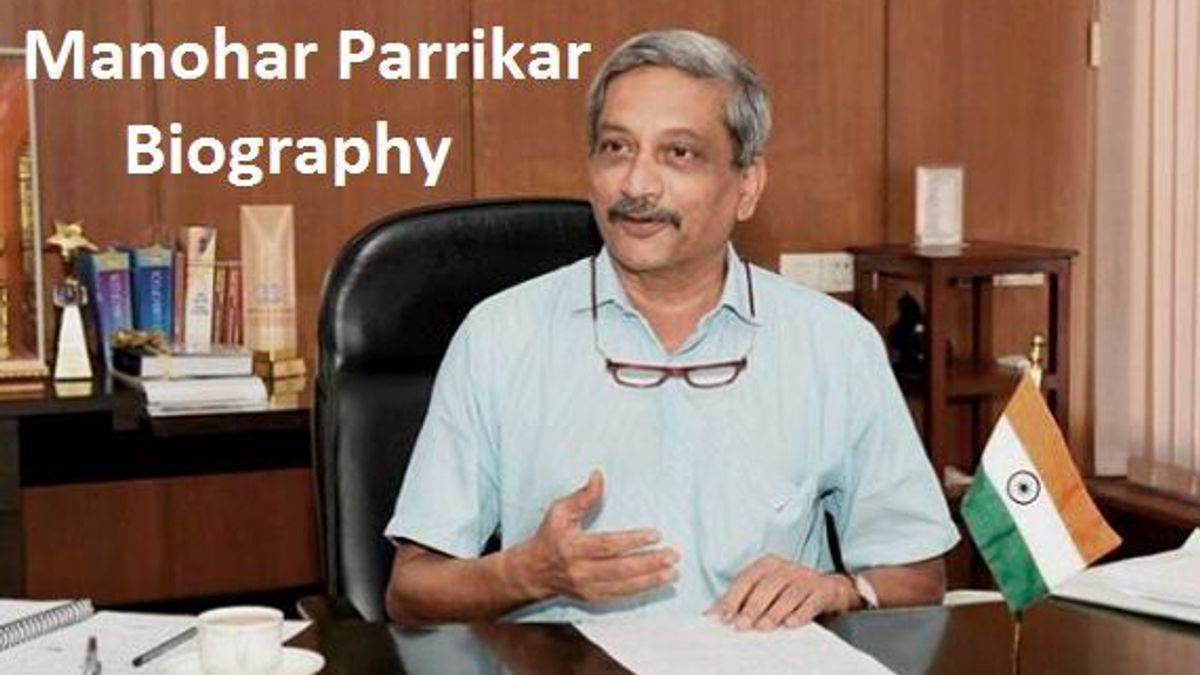 Manohar Parrikar Biography
Full Name: Manohar Gopalkrishna Prabhu Parrikar
Born: 13, December, 1955
Place of Birth: Mapusa, Goa, India
Father: Gopalkrishna Parrikar
Mother: Radhabai Parrikar
Wife: Late Medha Parrikar
Children: Abhijit Parrikar and Utpal Parrikar
Education: B. Tech. (MET) Educated at I.I.T. Bombay
Profession: Politician
Politcal Party: Bharatiya Janata Party (BJP)
Died: 17 March, 2019
Place of Death: Panaji, Goa
Cause of Death: Pancreatic Cancer
Manohar Parrikar was an Indian Politician and the most dynamic right-wing leaders. He was the Chief Minister of Goa from 14 March, 2017 till his death. In the past two decades he belongs to BJP. The state saw a degree of political stability when he was at the helm and he was destined that he will not be able to complete a full term as a chief minister. He died from pancreatic cancer on 17 March, 2019. Earlier, he was the Chief Minister of Goa from 2000 to 2005 and from 2012 to 2014. Let us study more about Manohar Parrikar through this article.
Manohar Parrikar: Early Life
He was born on 13 December, 1955 in Goa's Mapusa. He did his schooling from Margao and completed his schooling from Loyola High School. In 1973, he became a mukhya shikshak in RSS and he was in an intermediate at that time. After completing his graduation from IIT he continues his services to RSS. Then, he had done metallurgical engineering from IIT Bombay. Do you know that in 2001, he received his Distinguished Alumnus Award from his renowned institute? He was married to Medha and blessed with two sons. In 2000 his wife died of leukemia cancer.
Pramod Sawant: 10 Interesting facts about CM of Goa
Manohar Parrikar: Political Career
His journey from engineering to the politician is mind boggling. Let us tell you that the political career of Manohar Parrikar started in 1994 when he became an MLA in the Assembly of Goa as a member of BJP. From June to November 1999, he was a leader of opposition. On 24 October, 2000 for the first time he became the Chief Minister of Goa but his tenure lasted only until 27 February, 2002. On 5 June, 2002, he was re-elected as a Chief Minister of Goa and again the tenure shut down as four of the BJP MLAs resigned from the house. He was again sworn in as Goa Chief Minister in March 2012 and remain until November, 2014. Then, he moved to Delhi as Prime Minister Narendra Modi named Manohar Parrikar as the Defence Minister of India. In March 2017, he resigned as the Union Defence Minister and was sworn in as the Chief Minister of Goa.
Manohar Parrikar: Awards
By India Today Magazine, he was conferred as 'The Best Chief Minister' in 2004. He was also known as Mr. Clean in Goa. Do you know that when he was Defence Minister, under his leadership the One Rank One Pension (OROP) scheme was introduced. Also, in his term India carried out surgical strike in Pakistan-occupied Kashmir and Myanmar. In 2001, he received Distinguished Alumnus Award IIT-Mumbai. In 2012, CNN-IBN Indian of the Year in politics category. On September, 2018, Honorary Doctorate by National Institute of Technology Goa.
Manohar Parrikar: Illness and Death
In US,in March-June 2018, he was taking treatment for pancreatic ailment . After returning to India from US, in September, he was admitted in the AIIMS, Delhi for further treatment. He was diagnosed with pancreatic cancer in October 2018. And at the age of 63, he passed away on 17 March, 2019 at his residence in Panaji, Goa.
So, now you may have come to know that Manohar Parrikar was a politician and his service to the nation will always be remembered. No doubt his simplicity and his elegance always attract and motivate people.
List of Chief Ministers of Goa