Rani Lakshmibai Biography: Birth, Family, Life History and Death
Rani Lakshmibai Biography: Lakshmibai was the queen of Maratha princely state of Jhansi in Uttar Pradesh, India. Today is the 162nd death anniversary of Lakshmibai.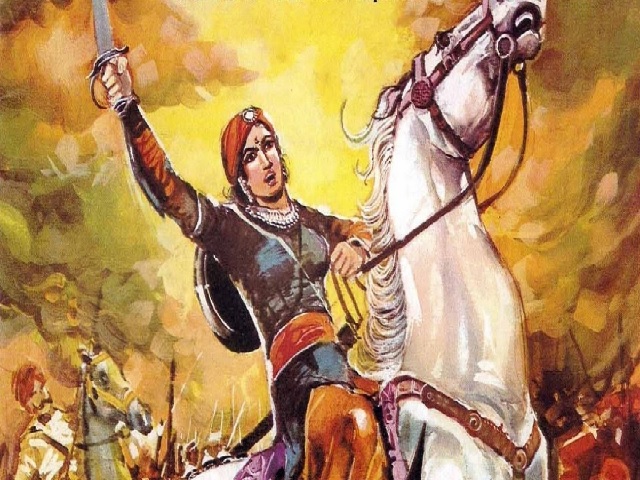 Rani Lakshmibai Biography
Lakshmibai, Jhansi ki Rani was the queen of Maratha princely state of Jhansi in Uttar Pradesh, India. Lakshmibai actively participated in the 1857 rebellion against the British colonial government. Today is the 162nd death anniversary of Lakshmibai.
Colonel Santosh Babu Biography: Birth, Martyrdom, Education, Family, Military Career and Last Rites
Rani Lakshmibai: Birth, Family and Education
Rani Lakshmibai was born as Manikarnika Tambe on November 19, 1828, in a Marathi Karhade Brahmin family to Moropant Tambe (Father) and Bhagirathi Sapre (Mother). Lakshmibai's mother died when she was four years old. Her father worked for Peshwa Baji Rao II of Bithoor district.
Rani Lakshmibai was educated at home and could read and write. She was also trained for shooting, horsemanship, fencing and mallakhamba. She has three horse-- Sarangi, Pavan and Badal.
Rani Lakshmibai: Personal Life
In May 1852, Manikarnika was married to Gangadhar Rao Newalkar (Maharaja of Jhansi) and was later names as Lakshmibai as per the traditions. In 1851, Lakshmibai gave birth to her son Damodar Rao who died after 4 months. The couple later adopted Gangadhar Rao's cousin, who was renamed, Damodar Rao. The procedure of adaption was carried out in the presence of a British officer. A letter was handed to the officer from the Maharaja with the instructions that the adopted child should be given due respect and Jhansi should be given to Lakshmibai for her entire lifetime.
However, in November 1853, after the death of Maharaja, British East India Company, applied Doctrine of Lapse, under the Governor-General Lord Dalhousie. Under this policy, Damodar Rao's claim to the throne was rejected as he was adopted son of Maharaja and Rani. In March 1854, Lakshmibai was given Rs. 60,000 as annual pension and was asked to leave the palace.
Rani Lakshmibai: The 1857 Rebellion
On May 10, 1857, the Indian Rebellion started in Meerut. When this news reached Jhansi, Lakshmibai increased her protection and conducted a Haldi Kumkum ceremony to convince her people that the British were cowards and there's no need to fear them.
In June 1857, the 12th Bengal Native Infantry seized the Star Fort of Jhansi, persuaded British to lay their arms and promised no harm to them, but the Infantry broke their word and massacred the British officers. However, Lakshmibai's involvement in this incident is still a matter of debate.
Sepoys threatened Lakshmibai to blow up the palace, obtained huge money from Jhansi and left the place after 4 days of this incident.
Orchia and Datia kingdoms tried to invade and divide Jhansi amongst them. Lakshmibai appealed the British government for help but received no reply as the British officials believed that she was responsible for the massacre.
On March 23, 1858, Sir Hugh Rose, the commanding officer of the British forces demanded Rani to surrender the city and warned that if she refused, the city will be destroyed. To this, Lakshmibai refused and proclaimed, 'We fight for independence. In the words of Lord Krishna, we will if we are victorious, enjoy the fruits of victory, if defeated and killed on the field of battle, we shall surely earn eternal glory and salvation.'
On March 24, 1858, the British forces bombarded the Jhansi. The defenders of Jhansi sent an appeal to Lakshmibai's childhood friend Tatya Tope. Tatya Tope responded to this request and sent more than 20,000 soldiers to fight against the British Army. However, the soldiers failed to relieve Jhansi. As the destruction continued, Rani Lakshmibai with her son escaped from the fort on her horse Badal. Badal died but the two of them survived.
During this time, she was escorted by her guards-- Khuda Bakhsh Basharat Ali (commandant), Gulam Gaus Khan, Dost Khan, Lala Bhau Bakshi, Moti Bai, Sunder-Mundar, Kashi Bai, Deewan Raghunath Singh and Deewan Jawahar Singh. She left to Kapli secretly with a handful of guards and joined the additional rebel forces, including Tatya Tope. On May 22, 1858, British forces attacked Kapli and Lakshmibai was defeated.
Rani Lakshmibai, Tatya Tope and Rao Sahib fled from Kapli to Gwalior. The three of them joined the Indian forced defending the city. They wanted to occupy the Gwalior Fort due to its strategic importance. The rebel forces occupied the city without facing any opposition and proclaimed Nana Sahib as Peshwa of Maratha dominion and Rao Sahib as his governor. Lakshmibai was not able to persuade other rebel leaders to defend the force and on June 16, 1858, British forces made a successful attack on Gwalior.
Rani Lakshmibai: Death
On June 17, in Kotah-ki-Serai near the Phool Bagh of Gwalior, the British forces charged the Indian forces commanded by Rani Lakshmibai. The British Army killed 5,000 Indian soldiers. Rani Lakshmibai was unhorsed and was wounded. There are two views on her death: Some people say that she was bleeding on the roadside and upon recognising the soldier fired at him. She was dispatched with his carbine. However, another view is that she was dressed as a cavalry leader and was badly wounded. Rani did not want the British forces to capture her body and told hermit to burn it. Rani Lakshmibai died on June 18, 1858.