Today In History, 22 February: What Happened On This Day
What happened today in history (22 February): George Washington and Drew Barrymore were born, Kasturba Gandhi and Abul Kalam Azad died, Dolly the Sheep was cloned, Galileo's most popular book was published, Heath Ledger won the Oscar for The Dark Knight, Cristiano Ronaldo played his 1000th game, and more.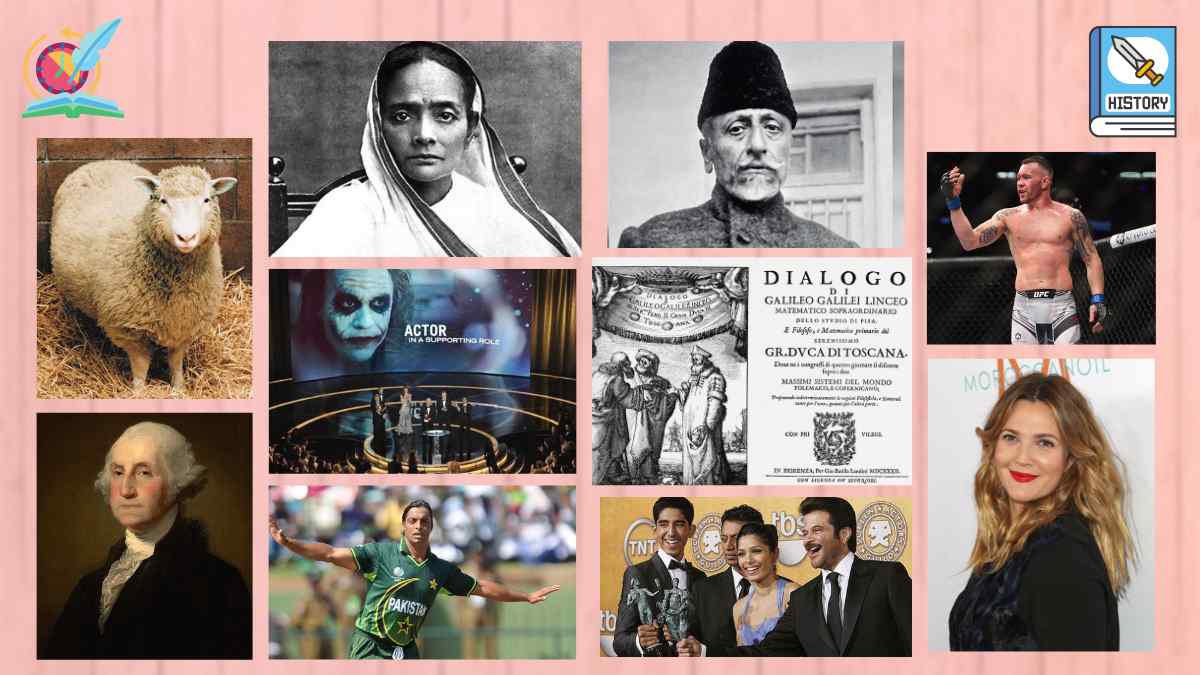 This day in history (22 Feb): Death Anniversary of Kasturba Gandhi and Abul Kalam Azad
Today in History, 22 February: We're in the final week of February, the month of love. Winter is on the decline, and spring is fast approaching. This is the time to take care of your health.
But the best way to improve mental health is by constantly exercising it. So, learn about the historical significance today, 22 February here.
It may not appear like it, but February 22nd is a significant day in world history.
Check what major events transpired on this day, (Feb. 22) in sports, politics and art, along with famous birthdays and deaths in world history.
Historical Events On This Day
In 1797, the Last Invasion of Britain, launched by the French during the Revolutionary Wars, began near Fishguard, Wales.
In 1819, Spain signed the Adams-Onís Treaty, ceding Florida to the United States.
In 1997, Scottish scientists announced that they had cloned a sheep named Dolly, the first mammal to be cloned from an adult cell.
In 1943, Sophie Scholl, Hans Scholl, and Christoph Probst, members of the White Rose, a non-violent resistance group in Nazi Germany, were arrested and later beheaded.
In 1944, American Air Force mistakenly bombed the Dutch towns of Nijmegen, Arnhem, Enschede and Deventer, resulting in over 800 civilian deaths during World War II.
Sports Events Today
In 1959, Lee Petty won the first Daytona 500, the premier event of the NASCAR Cup Series.
In 1980, the US ice hockey team defeated the Soviet Union in a shock upset at the Lake Placid Winter Olympics and went on to win the Gold Medal.
In 2003, Pakistan fast bowler Shoaib Akhtar bowled the fastest delivery in international cricket, measuring 161.3 kph.
In 2020, Portugal and Real Madrid forward footballer Cristiano Ronaldo played his 1,000th game.
Art and Culture Events Today
In 1632, Galileo's "Dialogue Concerning the Two Chief World Systems" was published in Florence, Italy. This work was seen as a challenge to the traditional views of the Catholic Church, which led to Galileo's eventual house arrest for the rest of his life.
In 2009, Slumdog Millionaire won the Oscar for Best Picture at the 81st Academy Awards. Heath Ledger won the "Best Supporting Actor" award posthumously.
In 2015, Eddie Redmayne and Julianne Moore won the Best Actor and Best Actress Oscars at the 87th Academy Awards.
In 2017, American rapper and businessman Jay-Z became the first rapper to be inducted into the Songwriters Hall of Fame, alongside Max Martin, Jimmy Jam, and Terry Lewis.
Notable Deaths On This Day
| | | |
| --- | --- | --- |
| Sr No | Death Year | Personality |
| 1 | 1512 | Amerigo Vespucci, Italian explorer and cartographer, known for giving the name "America" to the continent he explored. |
| 2 | 1832 | Johann Wolfgang von Goethe, German writer and statesman, who is considered one of the greatest literary figures of his time. |
| 3 | 1944 | Kasturba Gandhi, the wife of Mahatma Gandhi, and an active participant in India's freedom struggle who played a crucial role in organizing women's groups to participate in civil disobedience movements. |
| 4 | 1958 | Abul Kalam Azad, Indian independence activist and first education minister of independent India. |
| 5 | 1987 | Andy Warhol, American artist and filmmaker, who is considered one of the most important figures of the Pop Art movement. |
Famous Birthdays On This Day
| | | |
| --- | --- | --- |
| Sr No | Birth Year | Personality |
| 1 | 1403 | Charles VII, King of France from 1422 to 1461 |
| 2 | 1732 | George Washington, American military leader and founding father who became the first president of the United States |
| 3 | 1788 | Arthur Schopenhauer, German philosopher known for his pessimistic views on human nature and existence |
| 4 | 1857 | Heinrich Hertz, German physicist who is best known for his work on the electromagnetic waves that led to the development of radio communication |
| 5 | 1857 | Robert Baden-Powell, Founder of the Boy Scouts and Girl Guides, was a British military officer who wrote the book "Scouting for Boys" and started the Scout movement, which spread worldwide |
| 6 | 1918 | Al Gross, inventor of the walki-talkie |
| 7 | 1929 | James Hong, American actor and voice actor who appeared in more than 500 films and television series, including "Blade Runner" and "Kung Fu Panda" |
| 8 | 1949 | Niki Lauda, Austrian Formula One driver and three-time world champion known for his rivalry with James Hunt |
| 9 | 1950 | Julius Erving, American basketball player known for his high-flying dunks and flashy style of play who was a prominent figure in the American Basketball Association before joining the NBA |
| 10 | 1969 | Thomas Jane, American actor, has appeared in films such as The Punisher and Boogie Nights, as well as the television series "Hung" |
| 11 | 1975 | Drew Barrymore, American actress and producer known for her work as a child actress in films such as E.T. the Extra-Terrestrial and later in Scream and Charlie's Angels |
| 12 | 1988 | Colby Covington, American mixed martial artist known for his outspoken and controversial trash talking style before fights |
Related | Today in History (20 February)
Related | Today in History (21 February)