Today In History, 21 February: What Happened On This Day
What happened today in history (21 February): Alan Rickman, Robert Mugabe and Suryakant Tripathi were born, Malcolm X and Jethro Tull died, NASCAR was founded, International Mother Language Day celebrated, the Communist Manifesto was published, and more.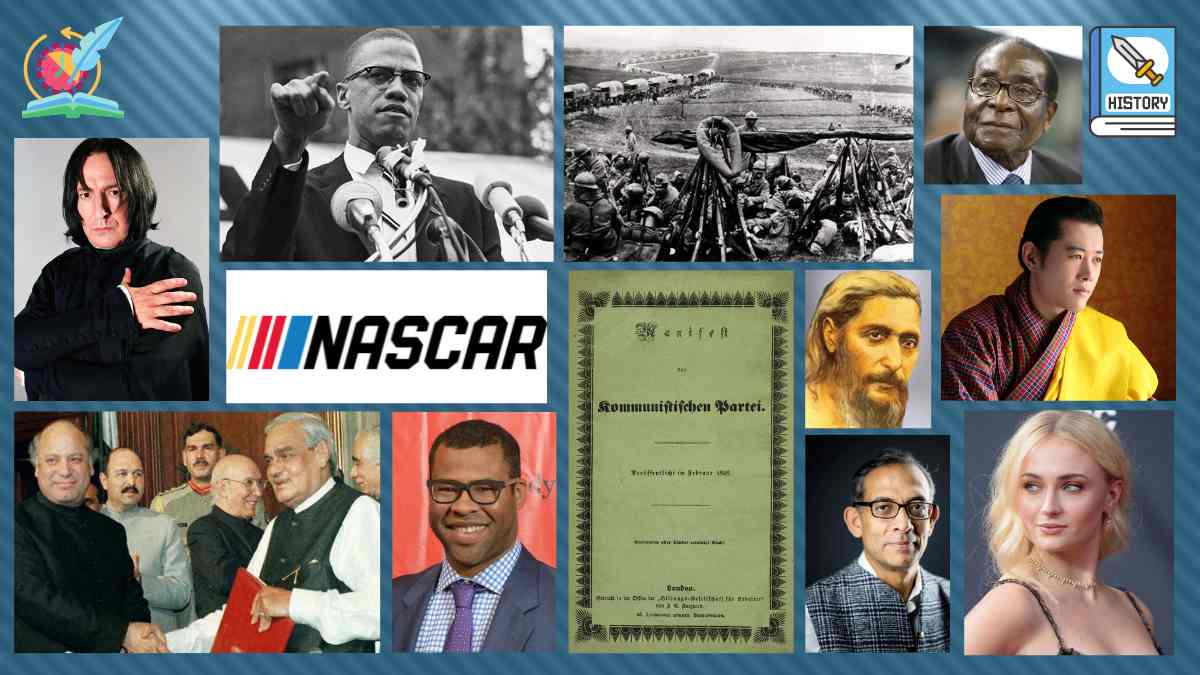 This day in history (21 Feb): International Mother Language Day
Today in History, 21 February: As we further slide into 2023, the month of love, February, nears its end. Valentine's Day may have passed, but the afterglow still remains; not for long though.
Today is 21 February, also known as "Breakup Day." This day is meant for those seeking closure for a past relationship or looking to end the current one. Whatever the case, it's probably the least fun part of Valentine's events. However, that shouldn't deter you from learning. It's important to keep moving ahead in life. Let's take a look at the historical significance of 21st February. Many critical events occurred today.
Dive in to find out what happened on this day (Feb. 21) in sports, politics and art, along with famous birthdays and deaths in world history.
Historical Events On This Day
In 1613, Mikhail I was elected Tsar of Russia, starting the Romanov dynasty.
In 1804, the first self-propelling steam locomotive was debuted by British mining engineer and inventor Richard Trevithick.
In 1916, one of World War I's deadliest and longest battles, the Battle of Verdun, began with a German offensive.
In 1921, an Iranian military officer and politician Reza Shah led a successful coup and became the first shah of the House of Pahlavi of the Imperial State of Iran.
In 1965, Malcolm X, an American activist, black nationalist and Islamic leader, was assassinated by members of the Nation of Islam.
In 1972, US President Richard Nixon visited the People's Republic of China, ending the 21-year estrangement between the countries.
In 1995, American businessman and aviator Steve Fossett became the first person to make a solo flight across the Pacific Ocean in a balloon.
In 1999, the Lahore Declaration was signed on the use of nuclear weapons between India's Atal Bihari Vajpayee and Pakistan's Nawaz Sharif.
Sports Events Today
In 1948, the American auto racing sanctioning and operating company NASCAR was founded by Bill France Sr.
In 1980, Liechtenstein became the smallest country to produce an Olympic champion when Hanni Wenzel won the women's giant slalom at the Lake Placid Winter Olympics.
Art and Culture Events Today
In 1848, Karl Marx and Friedrich Engels published "The Communist Manifesto" in London.
In 1925, the popular American weekly magazine The New Yorker published its first issue.
In 2003, American political commentator Bill Maher's talk show "Real Time with Bill Maher" debuted on HBO.
Notable Deaths On This Day
| | | |
| --- | --- | --- |
| Sr No | Death Year | Personality |
| 1 | 1677 | Baruch Spinoza, Dutch philosopher who believed that "the sum of the natural and physical laws of the universe and certainly not an individual entity or creator" |
| 2 | 1741 | Jethro Tull, English agriculturist and writer who invented the seed drill |
| 3 | 1829 | Kittur Chennamma, Indian queen of Kittur and a folk hero in Karnataka who fought the British East India Company |
| 4 | 1941 | Frederick Banting, Canadian physician and scientist who won the Nobel Prize with John Macleod for discovering insulin |
| 5 | 1965 | Malcolm X, American human rights activist and Black nationalist who served as the spokesman for the Nation of Islam |
| 6 | 1999 | Gertrude B. Elion, American biochemist and drug researcher who developed treatments for leukemia and herpes |
Famous Birthdays On This Day
| | | |
| --- | --- | --- |
| Sr No | Birth Year | Personality |
| 1 | 1894 | Shanti Swaroop Bhatnagar, Indian colloid chemist who was the first director-general of the Council of Scientific and Industrial Research and is regarded as the "father of research laboratories" in India |
| 2 | 1899 | Suryakant Tripathi Nirala, Indian poet, essayist and story-writer considered one of the greatest writers of Hindi literature |
| 3 | 1924 | Robert Mugabe, Zimbabwean revolutionary and politician who ruled the country as a dictator for nearly four decades |
| 4 | 1933 | Nina Simone, American singer and civil rights activist who created music in various genres like classical, folk, gospel, blues, jazz, R&B and pop |
| 5 | 1946 | Alan Rickman, English actor known for his versatility and intense performances as iconic characters Hans Gruber in Die Hard and Severus Snape in the Harry Potter series |
| 6 | 1961 | Abhijit Banerjee, Indian economist and Nobel Laureate |
| 7 | 1962 | David Foster Wallace, American author known for his best-selling and one of the greatest novels of the century, Infinite Jest |
| 8 | 1962 | Chuck Palahniuk, American novelist best known for writing the books Fight Club and Choke |
| 9 | 1979 | Jordan Peele, American actor, writer and filmmaker known for his comedic roles and directing the blockbuster horror films Get Out and Up |
| 10 | 1980 | Jigme Khesar Namgyel Wangchuck, Druk Gyalpo of the Kingdom of Bhutan, the fifh king |
| 11 | 1987 | Elliot Page, Canadian actor who rose to fame for his performances in Juno, Inception and Hard Candy |
| 12 | 1996 | Sophie Turner, English actress best known for playing Sansa Stark on the HBO fantasy series Game of Thrones |
Related | Today in History (20 February)
Related | Today in History (19 February)