Today In History, 19 February: What Happened On This Day
What happened today in history (19 February): Nicolaus Copernicus, Shivaji and Millie Bobby Brown were born, Gopal Krishna Gokhale and Harper Lee died, the battle of Iwo Jima began, deadliest volcano in South America erupted, Fidel Castro resigned as President of Cuba, EastEnders premiered on BBC, World Whale Day, and more.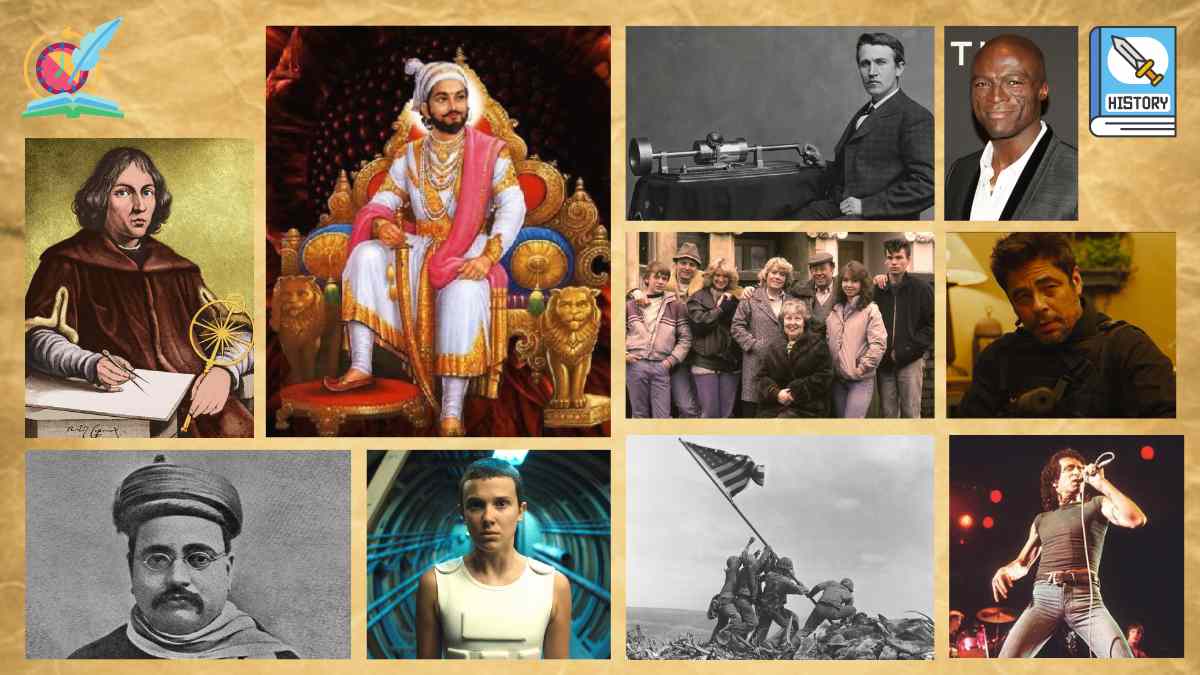 This day in history (19 Feb): The Birth Anniversary of Chhatrapati Shivaji
Today in History, 19 February: Valentine's Day has gone by, and it's time to get back to reality now. Exam season is here.
Today is 19 February, also celebrated as Confession Day. This is the day when partners spill their deepest, darkest secrets to each other. People also confess their feelings to their crushes. Hopefully, your secret won't be that you haven't studied for a month from being lovestruck. We're here with the historical significance of today, February 19. Many important events took place on this day.
Dive in to know more about what happened on (Feb. 19) in sports, politics and art, along with famous birthdays and deaths in world history.
Historical Events On This Day
In 1600, the Peruvian stratovolcano Huaynaputina erupted, causing the most violent eruption in the history of South America, killing over 1,000 people and severely affecting the climate of the planet.
In 1649, the Dutch colonization efforts were put to an end by the Portuguese after the second Battle of Guarapes in Brazil.
In 1878, American inventor Thomas Edison patented the phonograph.
In 1913, Pedro Lascurain became the President of Mexico for 45 minutes, the shortest term for a president of any country.
In 1942, US President Franklin D. Roosevelt signed an executive order after the Pearl Harbor attack to incarcerate all Japanese Americans living in the country.
In 1945, the strategically important island of Iwo Jima was invaded by the 30,000 US Marines to seize control from the Japanese in the final stage of World War II.
In 1978, Egyptian forces made a botched raid at the Larnaca International Airport to intervene in a hijacking without the permission of Cyprus authorities. 15 Egyptian commandos were killed by the police.
In 2007, the popular blogging website Tumblr was founded by David Karp.
In 2008, Cuban revolutionary and communist leader Fidel Castro resigned as president.
Sports Events Today
In 1984, Phil and Steve Mahre-Salom became the first brother pair to win Gold and Silver medals in the same event at the Olympics.
In 1989, Darrell Waltrip won the 31st Daytona 500 when the Hendrick Racing team decided to use fuel strategy, being the only car not to pit in the closing laps.
Art and Culture Events Today
In 1949, the first Bollingen Prize for poetry was awarded to American poet Ezra Pound.
In 1963, Betty Friedan's The Feminine Mystique was published, sparking second-wave feminism in the United States.
In 1985, the British soap opera EastEnders premiered on BBC.
Notable Deaths On This Day
| | | |
| --- | --- | --- |
| Sr No | Death Year | Personality |
| 1 | 1916 | Ernst Mach, Austrian physicist known for his studies of shock waves and the speed of sound is named after him |
| 2 | 1915 | Gopal Krishna Gokhale, Indian political leader and social reformer who founded the Servants of India Society for the betterment of underprivileged Indians |
| 3 | 1980 | Bon Scott, Australian singer who was the lead vocalist and lyricist of the iconic hard rock band AC/DC |
| 4 | 1997 | Deng Xiaoping, Chinese revolutionary leader and military commander who served as the paramount leader of the People's Republic of China from 1978 to 1989 |
| 5 | 2016 | Umberto Eco, Italian philosopher, novelist, cultural critic and political commentator best known for his novel The Name of the Rose |
| 6 | 2016 | Harper Lee, American novelist who wrote the best-selling and Pulitzer Prize-winning novel To Kill a Mockingbird |
Famous Birthdays On This Day
| | | |
| --- | --- | --- |
| Sr No | Birth Year | Personality |
| 1 | 1473 | Nicolaus Copernicus, Polish mathematician and astronomer who first formulated that the Earth revolved around the Sun and not vice versa |
| 2 | 1630 | Shivaji Bhonsle, also known as Chhatrapati Shivaji Maharaj, Indian warrior and founder of the Maratha Empire which even exceeded the mighty Mughal Empire at its height |
| 3 | 1922 | Beant Singh, Indian politician who served as the Chief Minister of Punjab from Indian National Congress from 1992 to 1995 |
| 4 | 1924 | Lee Marvin, American actor and World War II veteran known for his deep voice, white hair and rugged persona |
| 5 | 1955 | Jeff Daniels, American actor, musician and playwright known for his versatility and roles in films, television and on stage |
| 6 | 1963 | Seal, British singer famous for his hit songs "Crazy" and "Killer", "Kiss from a Rose" |
| 7 | 1967 | Benicio del Toro, Oscar-winning Puerto Rican actor known for his intense and commanding roles in films like Traffic and Sicario |
| 8 | 2004 | Millie Bobby Brown, British actress who rose to fame playing Eleven in the Netflix blockbuster series Stranger Things |
Related | Today in History (18 February)
Related | Today in History (17 February)