Today In History, 26 February: What Happened On This Day
What happened today in history (26 February): Johnny Cash and Victor Hugo were born, VD Savarkar and Carl Menger died, Balakot air strike, World Trade Center bombing, Hitler announced rearmament of Germany, Napoleon escaped exile, 89th Academy Awards, and more.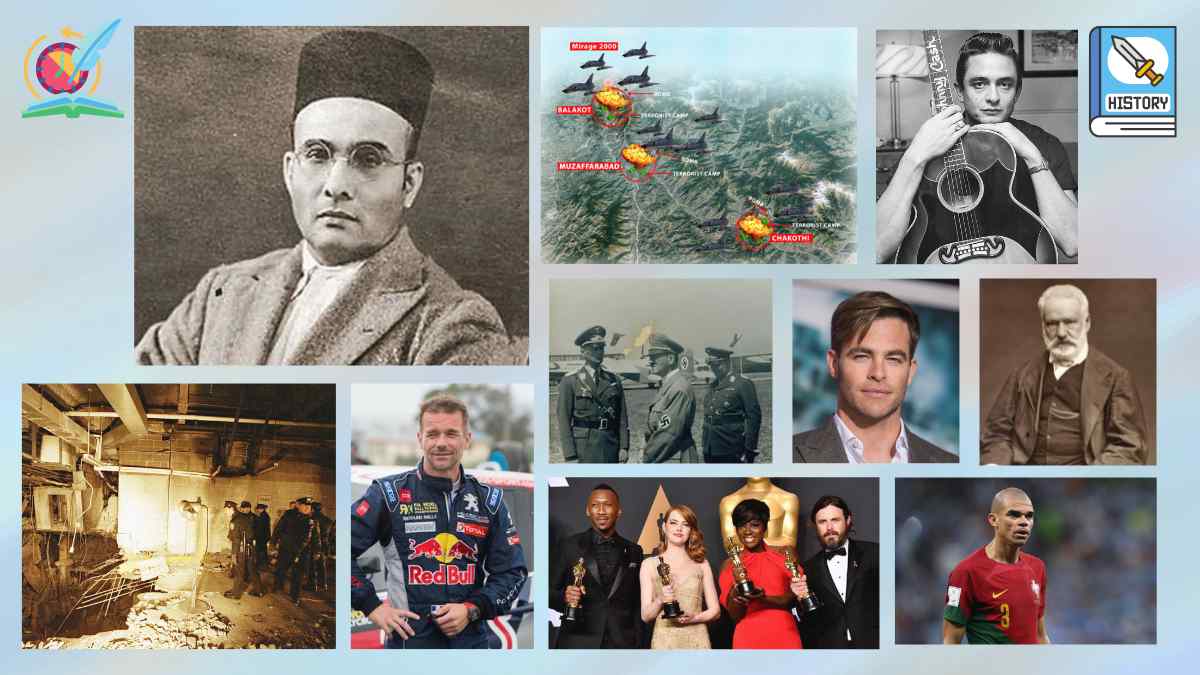 This day in history (26 Feb): The Death Anniversary of Vinayak Damodar Savarkar
Today in History, 26 February: As the month of love, February comes to an end, and Spring arrives with March, let's take a look at the historical significance of this day.
Today is 26 February, a seemingly ordinary day at first glance. However, 26th February holds a pivotal place in history.
Keep reading to know what major events transpired on this day (Feb. 26) in sports, politics and art, along with famous birthdays and deaths in world history.
Historical Events On This Day
In 1815, Napoleon Bonaparte escaped from exile from the island of Elba and later retook control of Paris as the Emperor of France.
In 1909, Kinemacolor, the first successful colour motion picture process, was first shown to the general public at the Palace Theatre in London.
In 1935, Adolf Hitler ordered the rearmament of Germany in violation of the Treaty of Versailles, beginning with the re-formation of the Luftwaffe.
In 1935, RADAR (Radio Detection and Ranging) was first demonstrated by Robert Watson-Watt.
In 1993, a truck bomb planted by Islamic militants exploded in the parking garage of the World Trade Center in New York City, killing six people and injuring over a thousand.
In 1995, Barings Bank, one of the oldest and most prestigious investment banking institutions in the United Kingdom, collapsed after a rogue trader, Nick Leeson lost billions of dollars in speculative trades.
In 2012, Trayvon Martin, a 17-year-old African American, was shot and killed by a neighbourhood watch volunteer in Florida while returning from a grocery store, sparking national protests and debates about racial profiling and gun control.
In 2019, Indian Air Force jets entered Pakistan and targeted Jaish-e-Mohammed terrorist training camps in Balakot in response to the Pulwama Attack.
Sports Events Today
In 1887, George Lohmann took the first 8-wicket haul in test cricket, 8-35, at the Sydney Cricket Ground in a match against Australia.
1967, Italy's Mario Andretti won his first and only NASCAR Grand National event at the 9th Daytona 500, becoming the only driver born outside the US to ever win the Great American Race.
Art and Culture Events Today
In 1917, the Original Dixieland Jazz Band recorded the first jazz record ever, "Livery Stable Blues."
In 2008, the New York Philharmonic performed in Pyongyang, North Korea, in the first event of its kind to take place in the dictatorship country.
In 2017, Emma Stone won Best Actress, and Casey Affleck won Best Actor Oscars at the 89th Academy Awards. Moonlight won Best Picture.
Notable Deaths On This Day
| | | |
| --- | --- | --- |
| Sr No | Death Year | Personality |
| 1 | 1887 | Anandi Gopal Joshi, Indian physician and the first Indian woman to obtain a medical degree in the United States |
| 2 | 1903 | Richard J. Gatling, American inventor famous for creating the first machine gun, the hand-cranked Gatling Gun |
| 3 | 1966 | Vinayak Damodar Savarkar, Indian politician, writer, and revolutionary who played a key role in the Indian independence movement and became known as a prominent member of the Hindu nationalist movement and Hindutva philosophy |
| 4 | 1921 | Carl Menger, Austrian economist known for his work on theory of marginal utility |
| 5 | 1994 | Bill Hicks, American stand-up comedian, social critic, and satirist who is known for his dark, acerbic humor and critiques of American society and culture |
Famous Birthdays On This Day
| | | |
| --- | --- | --- |
| Sr No | Birth Year | Personality |
| 1 | 1802 | Victor Hugo, French author, poet, and playwright who is widely regarded as one of the greatest writers in French history and is known for his novels Les Misérables and The Hunchback of Notre-Dame |
| 2 | 1852 | John Harvey Kellogg, American physician, nutritionist, and inventor who is best known for creating the breakfast cereal known as corn flakes |
| 3 | 1902 | Levi Strauss, German-American businessman who is best known for founding the clothing company Levi Strauss & Co. and inventing blue jeans |
| 4 | 1932 | Johnny Cash, American singer, songwriter, and actor, known for his deep, distinctive voice and his contributions to the country, rock and roll, and folk music genres with hit songs like "Ring of Fire" and "I Walk the Line" |
| 5 | 1957 | Shaktikanta Das, Indian bureaucrat who served as the 25th Governor of RBI |
| 6 | 1974 | Sebastian Loeb, French rally driver and multiple world champion in the World Rally Championship (WRC) |
| 7 | 1980 | Chris Pine, American actor known for his roles in films such as the Star Trek reboot franchise, Wonder Woman, and Into the Woods |
| 8 | 1983 | Pepe, Portuguese footballer known for his aggressive style of play and defensive skills |
Related | Today in History (25 February)
Related | Today in History (24 February)