Today In History, 28 February: What Happened On This Day
What happened today in history (28 February): Linus Pauling and John Turturro were born, Rajendra Prasad and Khosrau II died, National Science Day, Kosovo war started, DNA was discovered, first Gulf War ended, Raman effect discovered, and more.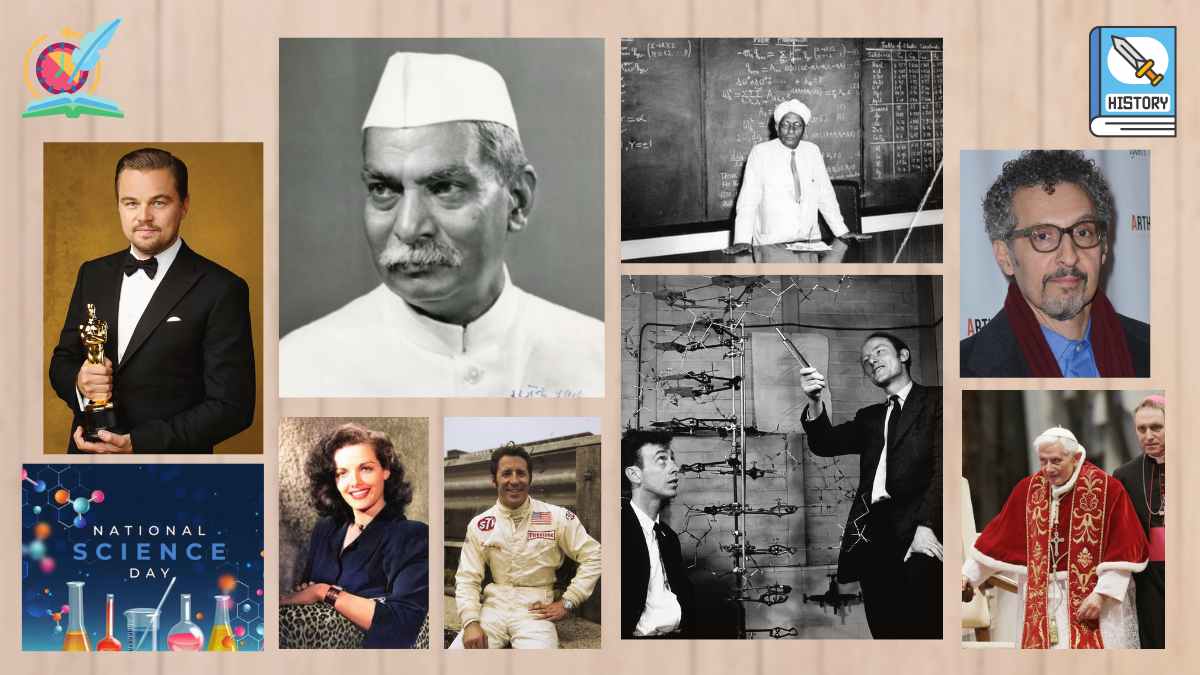 This day in history (28 Feb): The Death Anniversary of Rajendra Prasad
Today in History, 28 February: The month of love comes to an end today. Plenty of heartbreaks and flings happened in February, but hopefully, that hasn't distracted you from the goal of learning and bettering yourself.
Today is 28 February the last day in the lovely month of February. However, 28th February also holds a pivotal place in history.
Dive in to find out what major events happened on this day (Feb. 28) in sports, politics and art, along with famous birthdays and deaths in world history.
Historical Events On This Day
In 870, the Fourth Council of Constantinople closed, marking the end of the Byzantine Iconoclasm.
In 1710, Swedish forces defeated a Danish army at the Battle of Helsingborg, securing their control over southern Sweden.
In 1922, the United Kingdom granted Egypt its independence, although the country remained under British influence.
In 1928, Indian physicist C.V. Raman made the groundbreaking discovery of light scattering, later named the Raman Effect.
In 1933, German President Paul von Hindenburg signed the Reichstag Fire Decree, which suspended civil liberties and allowed the Nazi Party to arrest and detain political opponents.
In 1947, an anti-government uprising in Taiwan resulted in a violent crackdown by the Chiang Kai-shek-led Republic of China government, resulting n 18,000-28,000 deaths and beginning the White Terror.
In 1953, Scientists James Watson and Francis Crick announced the discovery of the structure of DNA.
In 1986, Swedish Prime Minister Olof Palme was assassinated in Stockholm.
In 1991, the Gulf War came to an end after a ceasefire was declared by the United Nations.
In 1998, Serbian police began an offensive against ethnic Albanian separatists in Kosovo, leading to a year-long conflict and NATO intervention.
In 2013, Benedict XVI resigned as Pope, becoming the first pope to resign since Gregory XII in 1415.
Sports Events Today
In 1940, the first televised basketball game was played between Pitts and Fordham in New York City.
In 1967, American basketball legend Wilt Chamberlain broke the NBA record 35th consecutive field goal.
Art and Culture Events Today
In 1983, the final episode of the television series MAS*H aired, becoming the most-watched television episode in American history till that time.
In 1984, King of Pop Michael Jackson won 8 Grammys at the 26th Grammy Awards.
In 2016, Leonardo DiCaprio won his long overdue Oscar for Best Actor for the survival-drama film The Revenant at the 88th Academy Awards. Brie Larson won the Best Actress Oscar.
Notable Deaths On This Day
| | | |
| --- | --- | --- |
| Sr No | Death Year | Personality |
| 1 | 628 | Khosrau II, last great king of the Sasanian Empire in Iran who ruled before the Muslim conquest and is known for his battles with the Byzantine empire |
| 2 | 1916 | Henry James, American-British author considered one of the greatest novelists in the English language and is known for his intricate, psychological portrayals of characters in works like "The Portrait of a Lady" and "The Turn of the Screw" |
| 3 | 1963 | Rajendra Prasad, Indian lawyer, scholar educationist, independence activist and politician who became the first President of India |
| 4 | 2011 | Jane Russell, American actress and singer who became a sex symbol in the 1940s and 50s through her good looks and the films Gentlemen Prefer Blondes and The Outlaw |
Famous Birthdays On This Day
| | | |
| --- | --- | --- |
| Sr No | Birth Year | Personality |
| 1 | 1901 | Linus Pauling, American chemist and peace activist widely regarded as one of the most influential scientists of the 20th century who won the Nobel Prize in Chemistry in 1954 for his work on the nature of chemical bonds and the Nobel Peace Prize in 1962 |
| 2 | 1940 | Mario Andretti, Italian-American racing driver considered one of the greatest racing drivers of all time and is the only driver to have won the Indianapolis 500, the Daytona 500 and the Formula One World Championship |
| 3 | 1969 | Uppalapu Srinivas, Indian mandolin player and Carnatic composer who is called the Mozart of classical Indian music |
| 4 | 1987 | John Turturro, American actor, writer and director known for her versatile performances in films like The Big Lebowski and The Batman |
| 5 | 1999 | Luka Doncic, Slovenian professional basketball player plays for the Dallas Mavericks in the National Basketball Association (NBA) |
Related | Today in History (27 February)
Related | Today in History (26 February)