Viswanathan Anand Grandmaster: Biography, Early Life, Education, Awards and Achievements
When we think about chess, the name strike in our mind is Viswanathan Anand. Isn't it! He is an inspiration to all of us. He is one of the greatest chess players. Let us read Viswanathan Anand's biography that consists of his early life, education, family, the journey of chess, awards, and achievements.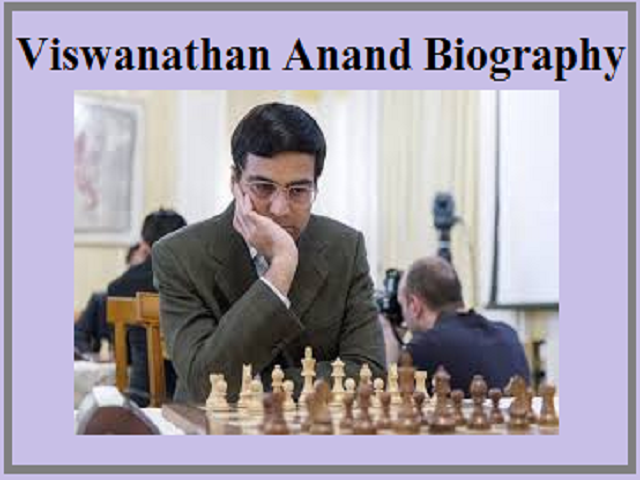 Viswanathan Anand Biography
In World Chess Championship, Viswanathan Anand is a five-time winner. He is a versatile player and chess Grandmaster who dominated the world of chess for six years from 2007 to 2013. He is the only chess player who had won the world championship playing in Match, Tournament and Knockout formats.
He was born on 11 December, 1969 in Tamil Nadu, India. He has also earned a nickname "Lightning Kid". He inspired generations to pursue chess game as the career. No doubt before Viswanathan Anand, nobody till now received commercial attention as an Indian Chess player.
Viswanathan Anand: Facts at a Glance
Born on: 11 December, 1969
Place of Birth: Mayiladuthurai, Tamil Nadu
Father's Name: Krishnamurthy Viswanathan
Mother's Name: Susheela
Spouse Name: Aruna Anand
Children: Akhil Anand
Sport: Chess
World Champion: 2000-2002 (FIDE) and from 2007-2013
Ranking: 6 (February 2019)
Viswanathan Anand: Early Life, Family, and Education
Father of Viswanathan Anand was a general manager in the Southern Railways and his mother is a housewife. As we know that he was born in Tamil Nadu into a Brahmin family and is the youngest of three siblings. He had completed his schooling from Don Bosco Matriculation Higher Secondary School before joining Loyola College, Chennai. For the first time, he was introduced to chess by his mother who was a big chess aficionado. He started playing chess at the age of 6.
Sanna Marin: The youngest Prime Minister of the World
His mother's motivation and encouragement made him one of the best chess players. At the age of 14, he became the National Sub-Junior Chess Champion. And at the age of 16, he became the national chess champion. In 1897, he won the World Junior Chess Championship and became the first Indian to do so and at just 18 years of age, he became India's first Grandmaster. He had received a Bachelor degree in Commerce and till then he became a National Champion. In 1996, he was married to Aruna and has one son. He always keeps himself away from the controversies and is a very simple person
Viswanathan Anand: Career and Journey of Chess Tournaments
In 1991, he won the Reggio Emilia tournament, finishing ahead of world champion Garry Kasparov and former world champion Anatoly Karpov. Do you know that for the first time, a non-Russian had emerged to become world chess champion?
- In 1991, his first attempt to win FIDE's World Chess Championship ended when he lost quarter-finals to Karpov.
- In 1995, Viswanathan Anand in the PCA World Chess Championship played against Garry Kasparov and lost the match.
- He cleared the candidates round by defeating Michael Adams in 1998 and faced the reigning champion Karpov in the World Chess Championship finals.
- In 2000, he won his first title in World Chess Championship and beat Alexei Shirov.
- In 2002, he lost in the semi-finals to Russia's Vassily Ivanchuk.
- In 2003, Viswanathan Anand won the World Rapid Chess Championship.
- In 2006, he became the fourth player in history to cross 2800-mark in ELO ratings.
- In 2007, he won the double round-robin tournament against most of the best players in the world.
- He won the World Championship in 2008 against Kramnik.
- In 2010, he won World Chess Championship against Veselin Topalov.
- In the 2012 World Chess Championship, he won against Boris Gelfand who was the winner of 2011 Candidates Matches.
- In 2013, World Chess Championship, Anand lost the game and winner was a 22 year old Magnus Carlsen who was the winner of the 2013 Candidates Tournament.
Let us tell you that he first earned the nickname of the "Lightning Kid" in India due to his quick tactical calculations and won numerous "speed chess" titles. In 1998, he had published a collection of his games, Vishy Anand: My Best Games of Chess and expanded it with new games in 2001.
National Sports Day: A Tribute to Major Dhyan Chand
Viswanathan Anand: Awards and Achievements
He received several awards namely,
Arjuna Award in 1985,
The Padma Shri in 1987,
National Citizens Award and Soviet Land Nehru Award, 1987
The Rajiv Gandhi Khel Ratna Award (1991-1992)
Sportstar Best Sportsperson of the Year, 1995
Book of the Year, 1998 (For his book My Best Games of Chess)
Sportstar Millennium Award, 1998
He received Chess Oscar in several years namely 1997, 1998, 2003, 2004, 2007, and 2008
The Padma Bhushan in 2000.
We can't forget that he is considered one of the best chess players in the world. He is a five-time winner of the World Chess Championship and World Number 1 from 2007 to 2013.
Viswanathan Anand proved that the brain is our strongest weapon and biggest strength. He had made unbelievable sport as a career and inspired generations. He is one of the greatest sports people in India.
Important Days and Dates in December 2019
Sundar Pichai: Biography, Education and Salary