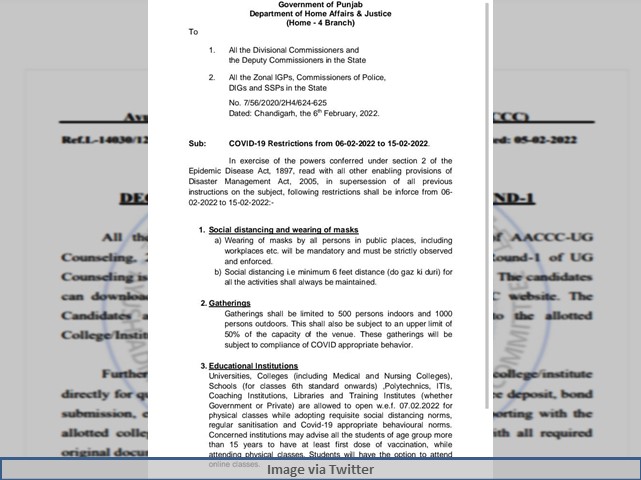 Punjab Schools and Colleges Reopening: Schools and Colleges across Punjab will reopen for offline classes starting from 7th February – Monday. The decision has come across as a surprise to many students and parents as the state government had earlier announced that all educational institutions will remain closed in the state until 8th February 2022. To confirm the development, the state government has released an official notification about relaxations in COVID-19 curbs and relaxations applicable from Sunday.
Punjab School Reopening Guidelines
To ensure safe return of school and college students back to campuses the state government has also issued detailed guidelines about school reopening and offline classes in the same. The guidelines mention the schools in the state will reopen for students of Class 6 and above. In addition to this, colleges, universities and coaching institutions and other educational institutions have also been permitted to resume offline classes from Monday onwards.
Hybrid Education Mode: Schools in Punjab will reopen in Hybrid Model and students will be given the choice to either opt for online classes or attend physical lectured at schools and colleges.
COVID Safety Precautions: All schools and colleges reopening from tomorrow are required to have adopt precautionary measures including social distancing, sanitization of school and college premises and spaced seating arrangements.
Vaccination: All eligible students between age group of 15 to 18 years should have received at least 1st dose of COVID-19 vaccine. All college and university students and teachers should have preferably have had their both doses of COVID-19 vaccine.
Decision After Protests from Parents, Teachers
According to the earlier order passed by the Punjab State Government, schools in the state were to remain closed until 8th February 2022. However, the state government decided to revisit its earlier order looking at the protests and demands put forth by parents and teachers. Media reports have confirmed that many parents, teachers, and school management staff began to protest while claiming they won't vote in the upcoming assembly elections if schools are not reopened. In a way this has also nudged the state government in reopening schools and colleges in the state from Monday onwards.
Also Read: ICSE 10th, ISC 12th Semester 1 Results 2021-22 Tomorrow: CISCE to Issue Computer Generated Marksheet