Online Registration for CBSE Classes 9th and 11th Begins: Check details & Important Study Material
As the CBSE has asked all its affiliated schools to register oniline for classes 9th and 11th, emphasizing on the importance of these two classes we have collected a full-fledged study material for both the classes that will help students make an easy and effective preparation.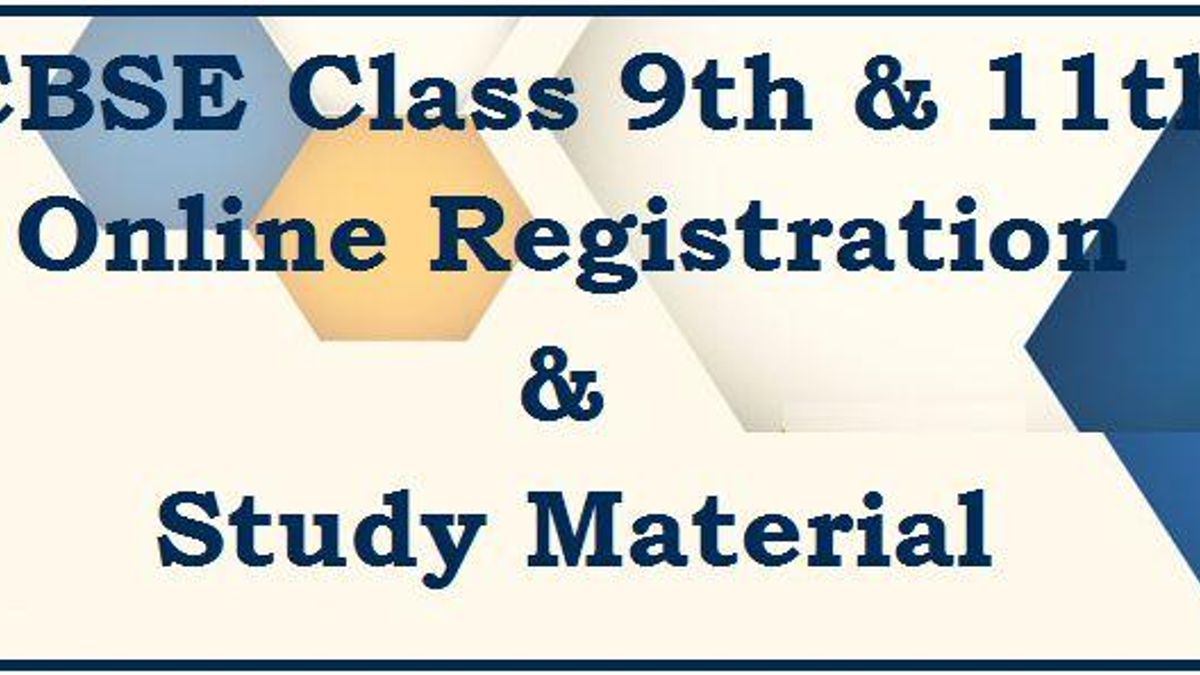 CBSE Class 9 and Class 11
The Central Board of Secondary Education (CBSE) issued a notice stating that the online registration process for all the CBSE schools for Class 9 and Class 10, has begun. CBSE has asked all its affiliated schools to register themselves before proceeding with online submission.
Schools can register online on Boards official site: cbse.nic.in
As per the registration by-laws, schools must enter the Aadhaar Number or Aadhaar Enrolment Number of all its students. Wherever Aadhar number is not available; Aadhar enrolment number can be provided. Whereas for the Indian states where Aadhar enrolment is not being done may provide Bank details in lieu of Aadhar Number.
For the detail of by-laws which schools must fulfil before registring online, Click here
Importance of Class 9 and Class 11
Before stepping into the two most important stages, board classes 10th and 12th, of one's academic career, a strong foundation is placed only in class 9 and class 11. A good hold over the concepts and fundamentals learned during class 9 and class 11 can go a long way in paving the way ahead in cracking not only the board exams but also the important entrance exams that a student takes after class 12. While many have started realizing this fact and started preparation for the challenge ahead during class 9 or class 11, many students ignore this opportunity and end up regretting it later on.
Preparation for Class 9 and Class 11 at Jagranjosh
Realising the importance of class 9 and class 11, Jagranjosh has prepared a full fledged study material that can help students make an easy and organized preparation to score optimum marks and step into the Board Class with a strong foundation.
Find below the Important stuff present on jagranjosh that will help studenst excel their academic performance tremendously:
1. Check out the Updated Syllabus:
Before starting any preparation the first most important thing is to get acquainted with the latest syllabus. Here, students can find the latest updated syllabus for all important subjects of CBSE Classes 9th and 11th.
2. Go through the Chapter Notes
For an effective preparation one must have concise and precise study material. We provide here the chapter notes in which our subject experts have confined the large volumetric chapters into the useful chunks of information.
3. Follow the NCERT Books only
To have a strong hold on the basics and fundamentals, Students are always suggested to follow the NCERT Books only. These books strictly follow the CBSE syllabus and have all terms and topics explained in an easy language. We provide the NCERT Books as well as NCERT Solutions to help students get perfect study material at on eplace only.
| | |
| --- | --- |
| NCERT Books | NCERT Solutions |
| | |
| | |
NCERT BOOKS Vs CBSE Board Question Papers
Top 5 Benefits of NCERT Books & Exemplar Problems For CBSE Students
4. Take help from Video Lessons
Visual learning helps to grasp the information easily and quickly. Understanding this fact, Jagranjosh has prepared a collection of videos where experts teach important topics of Maths and Science which will help students understand these topics easily.
5. Solve previous year question papers and practice papers
After preparing all the best way to track the level of your preparedness is to solve more and more previous year papers and practice papres or sample papers. Solving them you will get an idea of the stuff which you are strong or weak in and start prepare accordingly. At Jagranjosh, we have a large collection of practice papres, sample papers and previous years' papers which students can use to get an idea of the important topics and questions to learn.
Importance of Class 9 in building a strong foundation for CBSE Class 10th Board Exams