GK quiz for all SSC exams: Miscellaneous set-6
Find out GK questions set comprising of 20 questions with their answers. These can be helpful as SSC CGL and CHSL exam is approaching fast. Go through the questions for more practice.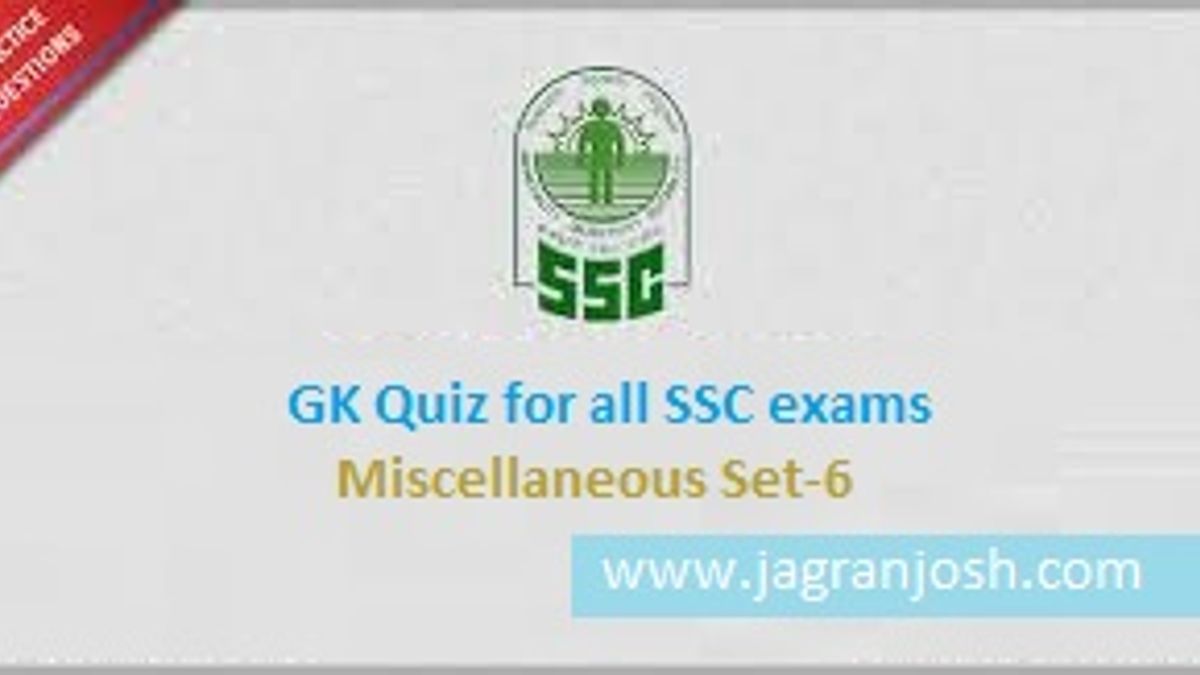 ssc gk questions
In this article, we have prepared a set of 20 questions with answers which pertains to History, Geography, Politics, Science, Indian Culture and others. As you know, SSC used to put questions as per its own questions breakup strategy. So, there is a demand of GK questions which can probably come in SSC CGL, CHSL and other exams.
Let us check them out-
Question set
1. An offence committed under the Scheduled Castes and Scheduled Tribes (Prevention Atrocities of Act, 1989 shall be investigated by a police officer not below the rank of
a. Sub-Inspector
b. Inspector
c. Deputy Suprintedent
d. Suprintendent

2. Article 17 of Indian Constitution deals with
a. Education
b. Health
c. Abolition of untounchability
d. Food guarantee

3. A court can presume that any act constituting offence was committed on the ground of 'untouchability' – if such of-fence is committed in relation to
a. a member of Scheduled Castes
b. a member of Scheduled Tribes
c. a member of any community
d. None of the above

4. Author of the book 'World of All Human Rights' is:
a. Chetan Bhagat
b. Vishnu Sahai
c. Soli J. Sorabji
d. Arun Jaitely

5. 'Human Rights Day' is observed on:
a. 10 December
b. 9 December
c. 10 November
d. 10 October
6. How many Articles are there in 'Universal Declaration of Human Rights'?
a. 29
b. 28
c. 30
d. 32

7. Child Rights are protected in Article ……. Of ICCPR.
a. 35
b. 24
c. 21
d. 23

8. Great Ice-Age is related to:
a. Pleistocene
b. Oligocene
c. Holocene
d. Eocene

9. Which is the smallest Union Territory of India?
a. Chadigarh
b. Andaman and Nicobar
c. Lakshadweep
d. Dadar and Nagar Haveli

10. The term 'Monsoon' is originated from:
a. Arabic Language
b. Spanish
c. Hindi
d. English

11. Which of the following is not a public sector undertaking/enterprise?
a. N.T.P.C.
b. S.A.I.L.
c. B.H.E.L.
d. T.I.S.C.O.

12. Subrato Cup is associated with which of the following?
a. Football
b. Cricket
c. Chess
d. Badminton

13. Mary Kom is a recipient of:
a. Bronze medal in 2012 Olympic
b. Arjun Award
c. Padma Shree
d. All of the above

14. How many players play on the ground from one team in Kho-Kho, Kabaddi, volleyball and Basketball respectively?
a. 7, 9, 5, 6
b. 5, 6, 7, 9
c. 9, 7, 6, 5
d. 7, 5, 6, 9

15. What is the name of the goalkeeper of Indian Hockey team/teams which won gold medals in 1956 and 1964 Olympic games?
a. Dhyanchand
b. Ajitpal Singh
c. Roop Singh
d. Shankar Laxman

16. Who among the following won the world Billiard championship, 2012?
a. Mike Russel
b. Rupesh Shah
c. Dhruva Sitwala
d. Pankaj Advani

17. Maximum Soyabean is produced in which area of Madhya Pradesh among the following?
a. Malwa
b. Bundelkhand
c. Baghelkhand
d. None of the above

18. Who among the following was the first Chief minister of M.P.?
a. Ravishankar Shukla
b. Kailashnath Katju
c. Pattabhi Sitarmmaiya
d. None of the above

19. With whom among the following 'Mandu' is associated?
a. Jiwaji Rao
b. Rani Rupmati
c. Allauddin Khan
d. Jhalkari Bai

20. Where is the All India Classical Dance Festival organized every year in M.P.?
a. Pachmarhi
b. Khajuraho
c. Gwalior
d. Orachha
Answer Keys
| | | | |
| --- | --- | --- | --- |
| 1 | c | 11 | d |
| 2 | c | 12 | a |
| 3 | a | 13 | d |
| 4 | c | 14 | c |
| 5 | c | 15 | d |
| 6 | c | 16 | d |
| 7 | b | 17 | a |
| 8 | a | 18 | a |
| 9 | c | 19 | b |
| 10 | a | 20 | b |