How to use mobile phone for Bank Exam preparation?
Your mobile phone can also help you for bank exam preparation. Here are some ways to become your best tutor for yourself.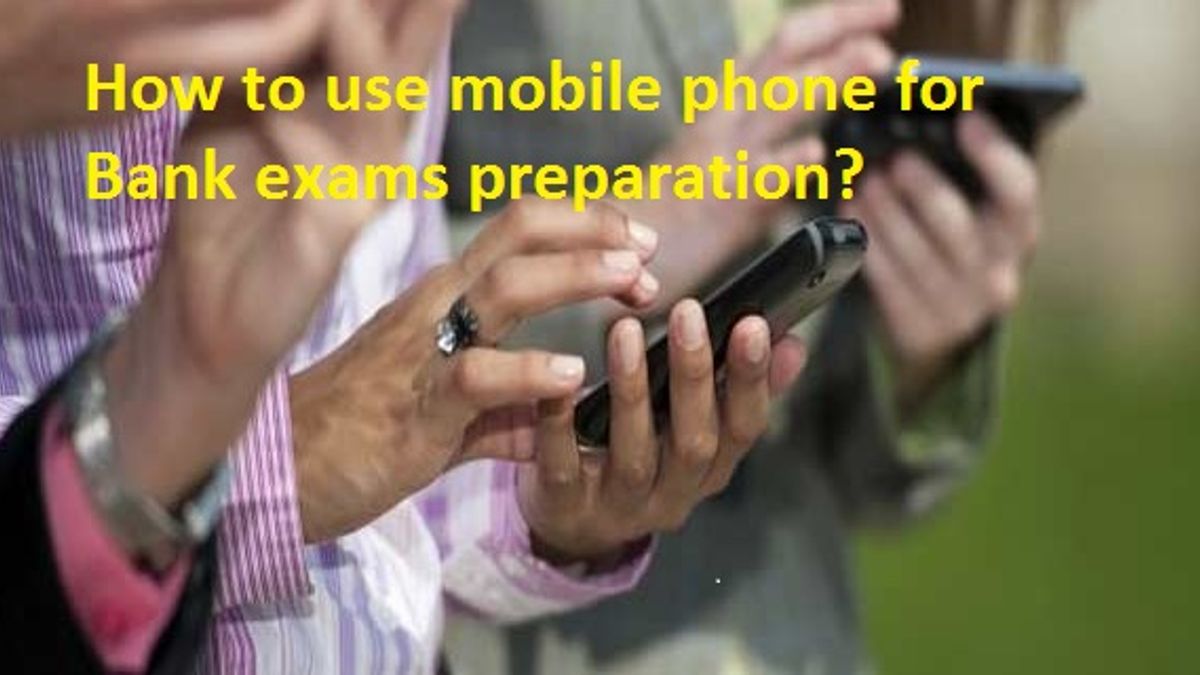 How to use mobile phone for Bank Exam preparation?
There is a use of technology in every field of life. We can't ignore the power of technology in this era. Mobile phones and internet have become an integral part of student's life. Now, people become overly dependent on mobile and internet for most of the things. There is a great impact of using mobile phones in the education. Mobile phones change the education system in many aspects. Here we are discussing how to use your mobile phone bank exam preparation.
Career opportunities in Banking Sector: Job Titles and Description
Mobile Application to Prepare Bank exams: There are many preparation apps that are devoted to bank exam only. Students can take the help of these apps for exam preparation efficiently. These apps provide Daily quiz on different topics, current affairs, Online Mock test, Practice paper, solved problems, tips and tricks etc. Aspirants can download the app and benefit themselves.
Video Tutorials: Video becomes an essential part of modern education. There are lots of video tutorials available on the internet. Students can download it and learn many things. It does not require physical presence in the class room; you can acquire essential knowledge and learn many things any time at any place. There are many youtube channels which provide regular videos on different topics for bank exam preparation.
Salary of Bank Employees after 11th bipartite Settlement
E-books- the eco- friendly study guide: You can also download an e- book on your phone and read it anytime, anywhere. There are many websites for banking examination preparation which provides preparation e-book for bank recruitment examinations for free. Also, there are many of eReader apps available for the Smartphone. Kindle, Goodreads and Google Play Books are some of them. Check some eReaders apps and pick the one which suits you most. In most of the cases eBooks are less expensive than paperbacks. One of the most important features of an e-book is that you can easily search for any specific information. This saves the student time and ensures that you can get the information more quickly.
IBPS PO Interview 2018: Importance of your educational background
Live Sessions: There are many websites for Bank exam preparation which conducts live sessions to resolve students' queries on regular basis.In the live session, aspirants can meet with their teachers/ exam experts in an online class-room on specific time decided by the website. Aspirants can ask queries or doubt in the live session and can interact with other aspirants too. Aspirants can also get a chance to interact with topper in the live session. You can attend a live session from anywhere using your phone.
Download note taking apps on your phone: One of the best features of a Smartphone is its ability to take notes. If you have a habit of taking notes or jot down the points immediately after reading, then you can download a note-taking application on your phone. FairNote, Evernote and FiiNote are some powerful note taking apps.
Listen to Audio: Another great use of your mobile phone for an exam preparation is to listen to educational audios any time. You can listen to the audios while commuting, exercising, doing households chores etc. There are some websites which provide free audio-book for bank exam preparation.
Discussions forums: There are many education communities in bank exam preparation space to help bank jobs aspirants for their preparation. The websites a provide platform, where aspirants can discuss their queries, ask questions, get an answer, share preparation strategies, share experience etc. Aspirates have to create an account on these forums and benefits themselves with the facilities.
Why you should read 'The Hindu' while preparing for Bank Exams
If you are preparing for bank exams, try the above tools. These tools will help you to crack the examination in very first attempt.
How to prepare for SBI PO exam 2018 along with full-time job?
Benefits of watching reruns of your favourite TV shows for Bank Exam Preparation