India has been undergoing a slow and silent digital transformation for almost a decade now. A slew of digital initiatives aimed at improving governance through e-payments, e-health, digital literacy and financial inclusion did give this process a much-needed impetus, but it was largely confined to metros and tier 1 cities. Then came 2020 and COVID-19; when we, Indians, decided to turn this ultimate Adversity into an Opportunity, embracing the digital world and turning this slow transformation into a revolution. In the last 18 months, India has undergone several changes be it the way we shop, conduct business or just the way we live our lives.
In an exclusive interview with Jagrnajosh.com, Mr Arun Srinivas, Director and Head - Global Business Group, Facebook India, gives us a few important pointers to decode India's transformation into a 'Digital First' economy during the pandemic.
Excerpts from the Interview:
1. We have seen large businesses gradually move online before the pandemic. What strategies have they adopted post pandemic to reach out to their audiences?
India is on the cusp of a massive digital transformation. After the pandemic, as consumers started moving online for their every need, businesses started rapidly building solutions and experiences to reach their customers online. In the last year, we've seen some of the largest offline retailers' pivot around this dramatic consumer shift by going direct-to-consumer. This has prompted a host of innovations such as BOPIS (Buy Online, Pick-up In-Store), for sectors such as watches and the jewellery segment.
We've also seen a significant shift in the way product launches happen, a majority being done virtually on the back of disruptive technologies such as augmented reality (AR).
Another interesting trend is around the collaboration between offline retailers with e-commerce platforms. In this context, Facebook's revolutionary ad product called 'Collaborative Ads', has played a pioneering role in helping some of the largest businesses to quickly establish a digital presence. 'Collaborative Ads' link products retailed through traditional retail channels to an online retail platform, and enable a smooth path-to-purchase. For instance, Marico India leveraged Collaborative Ads by showcasing its products and offers through Facebook ads and directing the interested consumers to the Grofers' platform to complete the transaction.
2. What are some of the interesting trends driving online shopping in India?
An exciting trend that is gaining momentum is around the role of discovery in our shopping journeys, which has now moved from offline store browsing to social media interactions.
New brands and ideas are constantly being 'discovered' on the net; many of them have been born successfully on digital. A Facebook-commissioned online survey by GFK showed that 96% of the surveyed people said that they discover brands and products online.
As the primary engine of discovery in the virtual world, social media is an essential link in the path to purchase. So, it's not surprising that according to the same study, 83% of those who discover new brands or products online typically discover them on a Facebook platform.
Influencers, the growth of video, interactive formats, and personalized ads are making it easier for people to discover brands and products that they need and love. For instance, a study by YouGov for Facebook told us that last year nearly 80% of Gen-Z and Millennials' festive shopping was influenced by Facebook and Instagram. We expect this trend to strengthen in the coming years.
With the Indian e-retail market projected to grow to 300-350 million shoppers in the next five years, discovery commerce is going to play a pivotal role in the growth of online shopping in India.
3. How are large businesses digitizing their value chains end-to-end and what is the impact on small retailers associated with them?
Large businesses are also linked together through a series of small businesses and the pandemic pushed some of the largest businesses to accelerate their online journeys by digitizing their value chains. Over the last year, we have worked with some of the largest brands to help them deepen the digitization across their value chains by bringing the smallest unit of their business, such as offline retailers and dealers, online.
We partnered with Maruti Suzuki to train their dealers across 1000+ outlets across India to build an online presence. This initiative was started in 2018 and accelerated over the last year. Similarly, we partnered with Samsung to train their retailers to become discoverable to their local communities by building a presence on the Facebook family of apps. This initiative has enabled and empowered thousands of Samsung's offline partners to become a part of the digital ecosystem, in turn helping them to reach out to a larger base of customers in their vicinity.
4. How are brands leveraging the new interactive formats such as video technologies, AR experiences and influencers to connect with their consumers?
The pandemic underlined the need for innovative virtual experiences that not only captivate the consumer in a remote setting but also deliver business impact. From leading auto brands to smartphone brands, all have had to rely on virtual formats and experiences to drive new product launches. To support the virtual launches, we've brought together our host capabilities in the form of a virtual launch toolkit'. AR forms an integral part of the toolkit along with influencers, interactive ads, and messenger bots. Vivo, for instance, worked with Spark AR, Facebook's augmented reality studio, to launch the V19 smartphone. The campaign earned a 9.5-point increase in ad recall. A Facebook and IPSOS study also showed that 81% of those surveyed in India consider AR a fun way to interact with brands.
Brands across sectors, even those which have traditionally required customers to have a high-touch experience to make a purchase decision, have now pivoted to creating unique digital experiences. Leading auto brands are using AR to create life-size 3D renders of the car in the space of their choice - living room, garage, driveway or in some open space. Intuitive cues are also used to guide the person to the key highlights of the car specifications such as the engine, and the entertainment system.
5. How are businesses building hyperlocal solutions to connect with consumers? Have large businesses found success with this?
As consumers continue to stay at home and practice social distancing businesses will need to keep connecting with their audience where they are. During the past year-and-a-half, we have seen companies, large and small alike, harness the increased mobile influence across the value chain by helping even the smallest of retailers and dealers establish an online presence through the Facebook family of apps and other digital platforms.

Sharp targeting based on hyperlocal strategies will get further fuelled this year. Eno, for instance, used Facebook to reach rural audiences with ads in local languages to highlight the product's benefits. They used the National Census and postal code directories to identify and match rural populations to Facebook audiences, amounting to a total of 27 million people residing in rural areas. This resulted in a 27% increase in sales.
About the Expert: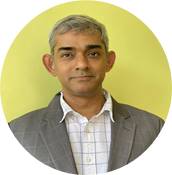 Arun Srinivas is Director and Head - Global Business Group, Facebook India. He spearheads Facebook's strategic relationship with brands, agencies, and partners for accelerating adoption of digital tools by businesses.