As Independence Day approaches, I see a vision for our Great Nation; a beautiful vision where all the people are bound by one common purpose i.e., to make India truly Invincible. A country on the pinnacle of growth, which is exemplary in all aspects and is the happiest nation in the world. The very thought of this vision makes me proud to the extent that I start having Goosebumps. Who says that this vision cannot be achieved? What is it that the power of common vision and purpose cannot do? And we, Indians, have the power of over 1.3 billion people, who are working towards a common purpose of transforming this vision into a reality.
Challenging but Rewarding Journey
A purposeful journey can be challenging and yet very rewarding, and we are already on it! We have ample examples in history where strong beliefs of individuals have created miraculous outcomes. One of the most recent ones is the victory of the Indian hockey team in the Olympics, where the team was trailing in their bronze-medal match. Despite trailing during the initial period, they turned the match into a huge victory by beating Germany and getting the medal for India. This was possible only because each player in the team had a common purpose and an unshakable belief that they will be the winners. When the collective belief of one hockey team can achieve this, what is it that the collective belief of the entire nation cannot do?
Learning from Our Past
If you need more proof to accept that we can truly be an invincible nation, we can look at our past and learn from it. 75 years ago, the collective consciousness of our people scripted wonders, when we, Indians, united with a common purpose and fought for our independence. Our belief in a common united and free nation brought us together and in turn forced the Britishers to leave this country and we attained independence without any bloodshed.
Unlearning Materialistic Mental Perspective
The past 75 years of our independence have been devoted to build a growth trajectory for the nation that caters to the materialistic perspective. We take huge pride in our worldly possessions and leading a far more comfortable life. This is where we as a nation stand today. The glitter & glamour of the new world has induced a false sense of entitlement and individualism in us. It is not considered savvy to celebrate Independence Day with a lot of festivities. Some of our young people are not even aware that our Prime Minister makes a national address from the ramparts of Red Fort. Just as every change comes with a price tag, so has this been. There goes a saying that "sometimes we win and sometimes we learn". It's time to learn and make a change. For any change to be effective, we need to transform people's minds.
Shedding Limiting Beliefs to Realize our True Potential
There is a need to create awareness about the limiting beliefs that we carry in our minds. It's time we consciously shed these limiting beliefs and become more progressive in our minds. It is also time that we start believing that our nation is truly invincible and start working towards it. Human minds have great potential to achieve anything that they believe in; all we need is a compelling reason. And what reason can be more compelling than that of realizing our vision of an Invincible India!
Role of Education in Making India Invincible
It is this positive mindset and collective belief that is also going to help propel India towards its invincible future. Imagine this great nation with each and every citizen having a purposeful mind and belief of India being on a pinnacle of growth. But to achieve this, mindset awareness must be made an active part of our education system. It is only then that we will be able to re-ignite the lost identity of our nationality that is required to build a strong nation, a nation that is truly Invincible.
What a day that would be, when we would once again celebrate Independence Day as the most important day; where all the citizens are bound by a strong bond of love, unity and common purpose. This will be the day when we all will be proud to have built a nation which is truly Invincible.
About the Expert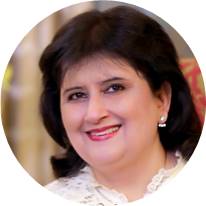 Anjali Ahuja is a Mindset Coach, a Trainer, a thought leader and an author. Anjali has authored a book, "Career Misadventures &; how to avoid them". She has created a scientific system " Invincible Me" which is meant for people who are stuck and are not able to achieve what they want or people who want to fast track their life but do not know how.