2017 set to be among top three hottest years with record breaking extreme weather: WMO
The year 2017 witnessed an extraordinary weather, including temperatures topping 50 degrees Celsius in Asia, record-breaking hurricanes in the Caribbean and Atlantic reaching as far as Ireland. Extreme events affect the food security of millions of people, especially the most vulnerable.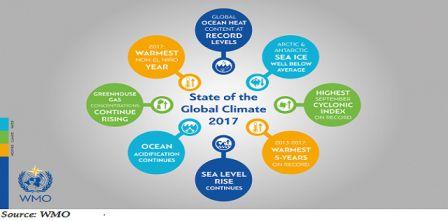 2017 set to be among top three hottest years
The World Meteorological Organization (WMO) on 6 November 2017 stated that the year 2017 will be one of the three hottest years on record, with many high-impact events including disastrous hurricanes and floods, devastating heatwaves and drought.

The average global temperature from January to September 2017 was approximately 1.1°C above the pre-industrial era.

As a result of a powerful El Nino, 2016 is likely to remain the warmest year on record, with 2017 and 2015 being second and/or third. 2013-2017 is set to be the warmest five-year period on record.

The above WMO statement was released on the opening day of the United Nations Climate Change Conference in Bonn, Germany.
Key Findings
• The year 2017 witnessed an extraordinary weather, including temperatures topping 50 degrees Celsius in Asia, record-breaking hurricanes in the Caribbean and Atlantic reaching as far as Ireland.
• Extreme events affect the food security of millions of people, especially the most vulnerable.
• As per the review of the Food and Agriculture Organisation (FAO), agriculture accounted for 26 per cent of all the damage and loss associated with storms, floods and drought.
• According to WHO, the global health impacts of heatwaves depend not only on the overall warming trend, but on how heatwaves are distributed across the worold.
• Recent research shows that the overall risk of heat-related illness or death has climbed steadily since 1980, with around 30 per cent of the world's population now living in climatic conditions that deliver prolonged extreme heatwaves.
• In 2016, 23.5 million people were displaced during weather-related disasters. Majority of these internal displacements were associated with floods and occurred in the Asia-Pacific region.
• In Somalia, more than 760000 internal displacements were reported.

Global temperatures in 2017: Global mean temperature for the period in 2017 was 0.47°±0.08°C warmer than the 1981-2010 average at 14.31°C, an approximate 1.1°C increase in temperature. Parts of southern Europe, South Africa and Russian Federation were recorded warm and China was the equal warmest.

Precipitation: Southern South America (particularly in Argentina), western China, and parts of southeast Asia were wetter than average. January to September was the wettest on record for the contiguous United States. Rainfall was near to above average in South and Central America.

Ice and snow: Arctic sea-ice extent was well below average throughout 2017. Antarctic sea ice extent was also well below average. Northern Hemisphere snow cover extent was 10.54 million square km, near the median value in the 1967-2017 record. The Greenland ice sheet saw an increase of more than 40 billion tons of ice due to above-average snowfall and a short melt season.

LEGOS Sea level: The Global Mean Sea Level (GMSL) is one of the best climate change indicators. Global mean sea level has been relatively stable in 2017 to date, similar to levels first reached in late 2015.

Ocean Heat: Global sea surface temperatures are on track to be among the three highest on record. Global ocean heat content in 2017 to date has been at or near record high levels.

Ocean Acidification: Ocean absorbs up to 30 per cent of the annual emissions of CO2 in the atmosphere, helping to alleviate the impacts of climate change on the planet. However, the absorbed CO2 changes acidity levels in the ocean, which directly influences the health of coral reefs and key organisms.

Greenhouse gases: The rate of increase in CO2 from 2015 to 2016 was the highest on record reaching 403.3 parts per million. Global average figures for 2017 will not be available until late 2018.

Source: World Meteorological Organization